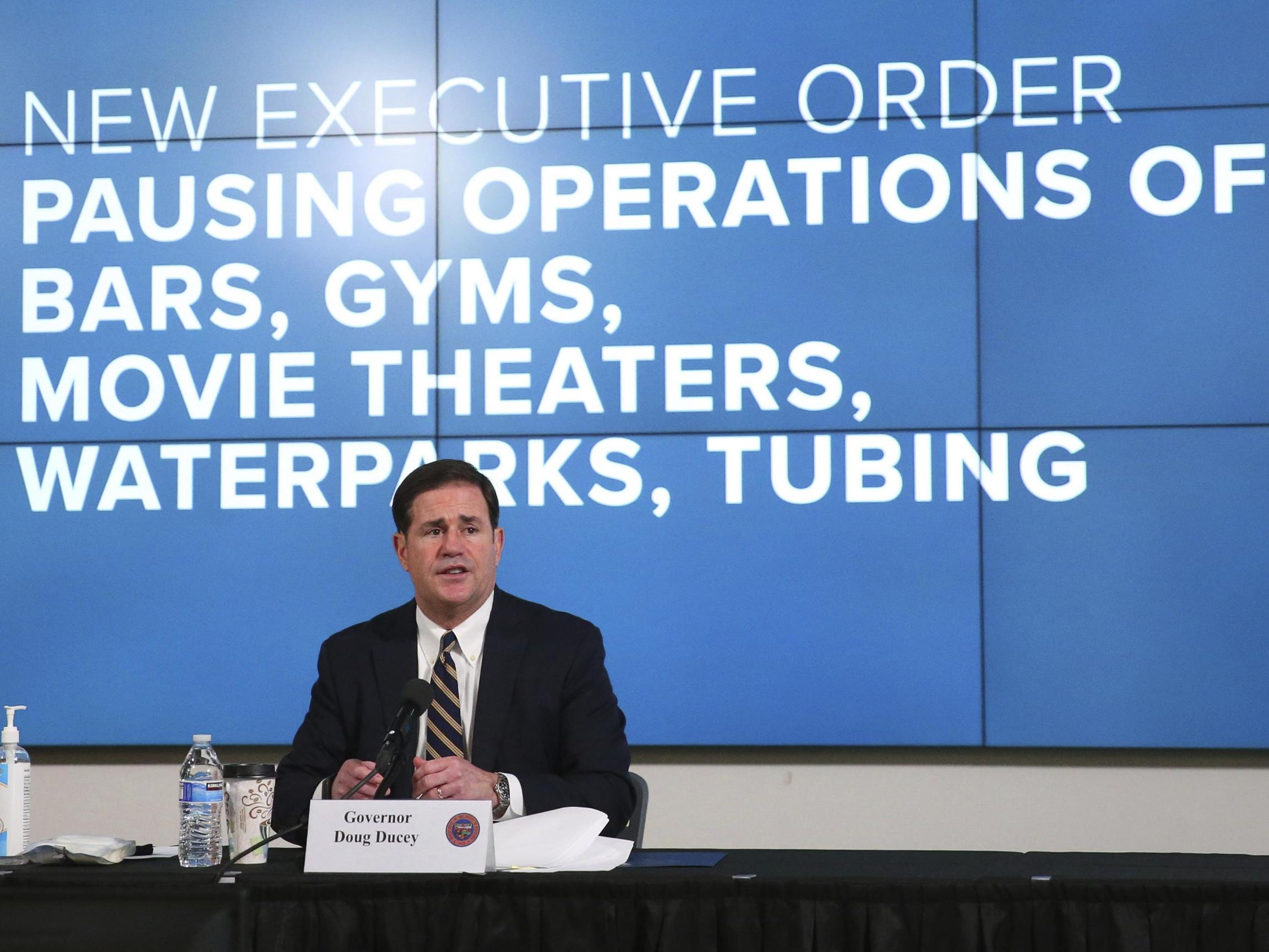 Arizona governor Doug Ducey announced that the state has closed bars, gyms and movie theatres for 30 days, amid a rise in coronavirus cases.
The state has also shut down water parks that reopened in May, and Mr Ducey has imposed a limit of 50 people at gatherings both indoors and outdoors.
Arizona announced a record daily total of coronavirus cases on Sunday, with 3,800 people testing positive for Covid-19.
Download the new Independent Premium app
Sharing the full story, not just the headlines
The daily total has been steadily rising in the state, since non-essential business reopened in mid May, and Sunday was the seventh time in 10 days that cases have totalled more than 3,000, according to NPR.
"Our numbers continue to increase," the governor said at a press conference in Phoenix on Monday. "Our expectation is that our numbers next week will be worse," he added.
The reopening of schools has been delayed until 17 August, and the governor has asked residents of the state to wear face masks when they go outside, but has not made it mandatory.
Mr Ducey also asked residents to get any urgent tasks done before the order began on Monday evening and stressed: "Remember you are safer at home. If you do not need to go out, do not go out."
There has been a rise in coronavirus cases across the US in the past month, since most states reopened non-essential businesses.
Florida, California and Texas have also been forced into implementing stricter social distancing measures, after they recorded record daily totals in the last few weeks.
Mr Ducey told reporters that the planned expiry date of 27 July for the new order is "aspirational" and depends on the number of cases and hospitalisations, as he is keen to keep cases under control and safely move the state out of lockdown.
"In Arizona, they're going in the wrong direction and we're going to take some additional action today to contain this virus and get back on track," Mr Ducey said.
According to a tracking project hosted by Johns Hopkins University, there are now more than 2.6 million people who have tested positive for coronavirus in the US. The death toll has reached at least 129,544.
Sorgente articolo:
Arizona lockdown: State shuts down again for 30 days amid spike in coronavirus cases – The Independent