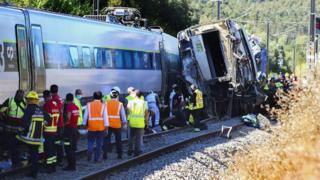 A high-speed train has derailed in the Portuguese district of Coimbra, killing two and injuring at least 30 others.
The train was travelling north from Lisbon to Braga, with scheduled stops in the cities of Coimbra and Porto.
However, at about 15:30 (14:30GMT) it crashed into a railway maintenance machine in the town of Soure.
President Marcelo Rebelo de Sousa said that he offered "his condolences to the families and friends of those killed" in this "serious accident".
The country's national relief operations authority CNOS told Reuters news agency that emergency services were at the scene.
A spokesman said there were 163 rescue personnel, including firefighters, and two medical helicopters.
There were 240 passengers on board the Alfa Pendular train, which is the fastest in Portugal, they said.
A witness told Portuguese newspaper Diário de Noticias that there was panic inside the train at the time of the crash.
"I thought I was going to die," they said. "The carriage took about 10 or 15 seconds to stop. People were screaming and lying on the ground. Then the carriage started to fill with dust.
"We were stuck inside the carriage, because the doors were destroyed. Someone managed to break one of them and we started to get out and help other people get out."
Sorgente articolo:
Coimbra train crash: Two dead after train derails in Portugal – BBC News