Hong Kong has announced free mass testing for all residents, amid a continuing third wave of infections.
More than half the city's total number of infections were detected in July, with 12 days in a row with cases above 100. The death toll reached 46.
Recent days have seen consecutive case numbers below 100, but they remain high, and the government is expanding its testing and treatment capabilities. The testing is expected to be rolled out in two weeks and would be voluntary.
Carrie Lam, the region's chief executive, made the announcement a short time ago. She appeared before a new government backdrop, with the former slogan of "we together" replaced by "fight the virus with Central Government's full support".
The arrival of medical assistance from mainland China for new temporary hospitals and mass testing, had sparked suspicion among some Hong Kongers, including fears of mass DNA collection for surveillance purposes.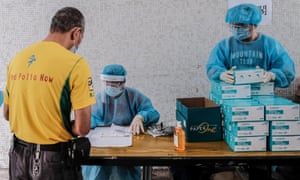 Lam urged people not to resort to conspiracy theories and "please do not undermine our relationship with the central people's government".
There was "too much sneering and rumours going on," and the labs were receiving de-identified samples, which would be disposed of after testing, Lam said.
The city is also trying to head of a Singapore-style outbreak among the population of foreign domestic workers, with as many as 51 coming into contact with two women infected with Covid-19.
Health authorities are conducting contact tracing after an Indonesian woman was diagnosed with the illness after having shared a number of crowded accommodations with other workers after she left her job. Some of those workers have since moved into their employers' residences.
Another woman tested preliminary positive after moving into her employer's house earlier this month, having spent a month living with four to six others in a flat managed by an employment agency.
Emmanuel Macron has called a meeting of France's defence council for next week after concerns about the continued rise of Covid-19 in the country.
Macron said he was calling for "the greatest vigilance". People should "systematically wear masks" inside and "when it is not possible to keep the safe distance".
The president said France's scientific experts, government ministers and health workers were on alert. "I believe we all have to get into the habit of wearing masks," he said.
Macron's comments came as the number of new patients diagnosed with the coronavirus rose 33% in a week between 27 July and 2 August, according to the public health body, Santé Publique France. The week before saw a jump of 57% in the number of new cases.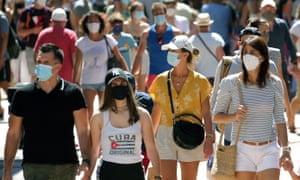 On Thursday, 1,604 new cases were reported in the previous 24 hours. The daily number has topped 1,000 a day repeatedly since the end of July.
On Tuesday, the scientific council advising the government warned France was in danger of a second wave and urged the French to respect protection measures, including social distancing and wearing masks.
The official figures released on Thursday show a total of 30, 312 deaths from the coronavirus in France, seven more in hospital in the previous 24 hours.
There are 175 clusters under investigation, an increase of 14 in 24-hours. The percentage of positive tests is 1.6%.
Sorgente articolo:
Coronavirus live news: deaths in US 'could reach 300,000'; Africa passes 1 million confirmed cases – The Guardian