France has imposed a curfew in Paris and eight other cities from Saturday.
"We have to act. We need to put a brake on the spread of the virus," President Emmanuel Macron said in a TV appearance, announcing the 9pm-6am curfew that will remain in force for at least four weeks, except for essential reasons.
"We are going to have to deal with this virus until at least the summer of 2021," Macron said, saying "all scientists" were in agreement on that point.
Other major French cities such as Lyon, Mediterranean port Marseille and southwestern Toulouse will similarly impose curfews, with around 20 million people affected in all, out of a total population of some 67 million.
Macron said new daily coronavirus cases must be brought down to "3,000 or 5,000", from current levels, which have reached up to almost 27,000.
"We won't be leaving the restaurant after 9pm," Macron said. "We won't be partying with friends because we know that that's where the contamination risk is greatest."
Just minutes before Macron's announcement, his government had said it would prolong a state of health emergency, giving officials greater powers to impose new measures to contain the spread of the pandemic.
He urged people to limit gatherings in their homes to six people, and to wear protective masks on such occasions.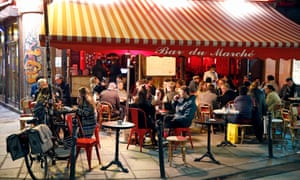 Anyone found to be outdoors during the curfew without special authorisation would face a fine of 135 euros ($159), and more than 10 times that sum for repeat offenders, Macron said.
Macron said 32% of France's 5,000 intensive care places were currently occupied by coronavirus patients, a proportion that needed to be brought down to "10 to 15% at most".
Hello and welcome to the Guardian's live coverage of the coronavirus pandemic, with me, Alison Rourke.
France has imposed curfews while other European nations are closing schools, cancelling surgeries and enlisting student medics as overwhelmed authorities face a Covid-19 resurgence at the onset of winter. With new cases hitting about 100,000 daily, Europe has by a wide margin overtaken the United States in new daily infections.
Here are the main developments so far today:
France became the latest European country to toughen its coronavirus measures, declaring a public health state of emergency and imposing a curfew on Paris and eight other cities. The French president Emmanuel Macron announced night restrictions for some 20 million people across Paris, Rouen, Lille, St Etienne, Lyon, Grenoble, Montpellier, Marseille and Toulouse. The curfew will be in place between 9pm and 6am from Saturday and will remain in force for at least four weeks. Anyone violating the curfew will be fined 135 euros. Here is the moment Macron announced the measures.
Donald Trump's son, Barron, 14, tested positive for Covid but exhibited no symptoms, after both of his parents contracted the virus, the first lady Melania Trump said on Wednesday. "Luckily he is a strong teenager and exhibited no symptoms," she said in a statement, adding that she and Barron had since tested negative for the virus.
The German chancellor Angela Merkel announced tougher measures on gatherings and the wearing of face masks. She urged young people to do their part to halt the spread of the coronavirus after private parties were repeatedly blamed for localised outbreaks in German cities.
The WHO's chief scientist, Soumya Swaminathan, has warned that despite the push for a vaccine, speedy, mass shots were unlikely. He said health workers and were likely to be vaccinated first with and a "healthy young person might have to wait until 2022".
Spain will close bars and restaurants across Catalonia for the next 15 days following a surge in cases, as the country tackles one of the highest rates of infection in Europe, with nearly 900,000 cases and more than 33,000 deaths. All bars and restaurants in the region will be limited to a takeaway and delivery service for two weeks from Thursday night. Shops and markets will operate at 30% capacity, gyms, cinemas and theatres at 50%, and children's play areas will close at 8pm.The strict measure comes after the weekly total cases in Catalonia rose from 7,000 to 11,000 over the course of a few days.
Measures also came into force across the Netherlands, including restrictions on alcohol sales and new mask requirements.
Tough measures are to be introduced in Portugal from Thursday as the country reported a new record in cases. Gatherings will be limited to five people. Weddings and baptisms can be attended by a maximum of 50, but university parties will be banned. Fines for businesses which do not comply with the rules will be doubled from an upper limit of 5,000 to 10,000 euros. The prime minister, Antonio Costa, will also submit a proposal to parliament to make face masks compulsory in crowded outdoor spaces, and use of the government's tracing app StayAway Covid compulsory for some workforces.
Northern Ireland announced a four-week closure of pubs and restaurants. The devolved government announced plans to tighten restrictions on social gatherings and extend the mid-term school break to counter soaring case numbers there. Infection rates "must be turned down now or we will be in a very difficult place very soon indeed," the first minister Arlene Foster said.
Ireland's prime minister Micheal Martin announced a raft of new curbs along the border with Northern Ireland, including the closure of non-essential retail outlets, gyms, pools and leisure centres. Donegal, Monaghan and Cavan moved to Level 4 of its five-step framework of Covid-19 constraints and banned almost all visits to homes across the country.
Iran announced new travel restrictions affecting Tehran and four other major cities, as well as new single-day records in both Covid-19 deaths and new infections.
Iraq's death toll since the start of the pandemic passed 10,000 people.
Brazil has registered 749 additional coronavirus deaths over the last 24 hours and 27,235 new cases, the nation's Health Ministry said on Wednesday. That takes the country's total deaths to 151,747 total deaths and confirmed cases to 5,140,863.
Sorgente articolo:
Coronavirus live news: Paris introduces curfew, Barron Trump recovers from Covid – The Guardian