India is expected to fly doctors in from other regions of the country to double its testing capacity in an effort to contain the spread of coronavirus in the capital New Delhi, reports Reuters.
Home minister Amit Shah said in a statement on Sunday that "hospital capacity and availability of other medical infrastructure should be ramped up considerably".
Despite India's daily increase in cases being under the 50,000 mark for more than a week, the city-state of Delhi has recorded over 7,000 cases a day over the past five days, which is a record level.
India's health minister, Dr Harsh Vardhan, tweeted on Sunday: "Delhi has witnessed a huge surge in daily active cases which is likely to worsen over the next few weeks".
He added that the country will employ retired doctors and conduct door-to-door surveys to ramp up tracking and combat the spread of the virus.
The Iranian president, Hassan Rouhani, on Sunday declared "the general mobilisation of the nation and the government" after health authorities announced the highest ever number of daily cases in the country.
In the statement published by Iranian state media, Rouhani said: "I call on all governmental organisations and other forces and institutions to rush to the aid of the health ministry and health workers with all possible means."
As the Middle East's worst-hit country, health officials report 12,543 new infections in the past 24-hours, a record high for the country, and bring the total cases in the nation to 762,068. The health ministry has also reported, according to Reuters, 459 new deaths, which brings the overall death toll to 41, 493.
One of the scientists behind the expected Covid-19 vaccine has said that the impact of the jab will appear by next summer, with normality expected by the winter.
Prof Ugur Sahin, chief executive of BioNTech, said that it was "absolutely essential" to have a high vaccination rate before next autumn to ensure a return to normality during winter.
Provisional results from the jab were found to be more than 90% effective but safety and efficacy data continue to be collected.
Sahin told the BBC's Andrew Marr show: "If everything continues to go well, we will start to deliver the vaccine end of this year, beginning next year."
The UK reports 24,962 new Covid cases on Sunday, down from by 1,898 from Saturday's 26,860. Daily deaths have also fallen to 168 from yesterday's 462 number of deaths reported within 28 days of testing positive – marking the nation's death toll as 51,934.
Hi, I'm Edna Mohamed. I'll be taking over from my colleague Caroline for the next few hours. You can get in touch through Twitter or email me: edna.mohamed.casual@theguardian.com
Hi. That's all from me, Caroline Davies. Once again, thank you for your time.
Italy has reported 546 COVID-related deaths, up from 544 the day before, the health ministry said on Sunday. The country also registered 33,979 new coronavirus infections over the past 24 hours, down from 37,255 on Saturday. The northern region of Lombardy, centred on Italy's financial capital Milan, remained the hardest hit area on Sunday, reporting 8,060 new cases against 8,129 on Saturday.
Iranian opposition figure Mir Hossein Mousavi and his wife, who have been under house arrest for nearly a decade, have tested positive for Covid-19, an opposition website reported on Sunday.
Mousavi and his wife Zahra Rahnavard "were examined by a doctor at their home… and their general state of health is good," added the Kaleme site, close to the former prime minister-turned-dissident,AFP reports.
Mousavi, now 79, along with Mehdi Karroubi, 83, were reformist candidates in the controversial election of 2009, which was won by hardliner Mahmoud Ahmadinejad. They claimed the vote was rigged, triggering months of mass protests dubbed the "Green Movement".
Hundreds of thousands took to the streets, particularly in the capital Tehran, in the biggest challenge to the system since the Islamic revolution of 1979. Mousavi and Karroubi were placed under house arrest without trial in early 2011, along with their wives.
Iran has been battling the Middle East's deadliest novel coronavirus outbreak since February. It has recorded almost 41,500 deaths out of 762,000 cases, according to official figures considered to be underestimated, even by Iranian officials.
Here are some key developments from the last few hours:
The global death toll climbed above 1.3 million and more than 53 million have been infected worldwide by Covid-19, as the virus runs rampant through America and Europe.
Young and previously healthy people with ongoing symptoms of Covid-19 are showing signs of damage to multiple organs four months after the initial infection, a study suggests.
A further nine people with Covid-19 have died in Northern Ireland, the Department of Health has said.The death toll recorded by the department now stands at 855.
Germans should brace for another 4-5 months of severe measures to halt the rise in coronavirus infections and should not expect the current rules to be eased quickly, Economy Minister Peter Altmaier told weekly Bild am Sonntag.
The number of confirmed coronavirus cases in Germany increased by 16,947 to 790,503, data from the Robert Koch Institute for infectious diseases showed on Sunday. The reported death toll rose by 107 to 12,485.
Ten Covid-19 patients were killed and others were in critical condition after fire broke out in an intensive care unit in northeast Romania on Saturday, a hospital spokesperson said. The fire occurred in the early evening in the intensive care of the hospital in the town of Piatra Neamt. It was under control an hour later by the emergency services.
Algerian President Abdelmadjid Tebboune has finished treatment for COVID-19 but will undergo follow-up checks, the North African country's presidency said
UN food agency warned 2021 will be worse than 2020. The head of the World Food Program says the Nobel Peace Prize has given the U.N. agency a spotlight and megaphone to warn world leaders that next year is going to be worse than this year, and without billions of dollars "we are going to have famines of biblical proportions in 2021."
North Dakota has become the 35th US state to require face coverings be worn in public, as governors across the country grapple with a surge in coronavirus infections that threatens to swamp their healthcare systems. North Dakota joined 38 other states this month in reporting record daily jumps in new cases, 17 others with record deaths and 25 others with a record number of Covid-19 patients in hospitals, according to a Reuters tally.
Mexico passes 1m cases. Mexico has registered more than 1 million total coronavirus cases and nearly 100,000 test-confirmed deaths, though officials agree the number is probably much higher. Health Director General Ricardo Cortés Alcalá said late Saturday the number of confirmed cases had reached 1,003,253, with at least 98,259 deaths from Covid-19.
A member of the International Monetary Fund mission in Argentina has tested positive for COVID-19, forcing the team to isolate and conduct next week's meetings online, the IMF said in a statement on Sunday.
The mission arrived in Argentina last week to discuss a new financing program with officials of the South American nation, which is battling a tenacious outbreak of coronavirus that has further slammed its already ailing economy, Reuters reports.
The IMF said in the statement that each member of team that arrived from Washington, as well as local staff, was tested for the virus on Saturday, according to Argentine protocols. Only one tested positive, but all would take another test as a precaution.
Young and previously healthy people with ongoing symptoms of Covid-19 are showing signs of damage to multiple organs four months after the initial infection, a study suggests, writes Linda Geddes.
The findings are a step towards unpicking the physical underpinnings and developing treatments for some of the strange and extensive symptoms experienced by people with "long Covid", which is thought to affect more than 60,000 people in the UK. Fatigue, brain fog, breathlessness and pain are among the most frequently reported effects.
On Sunday the NHS announced it would launch a network of more than 40 long Covid specialist clinics where doctors, nurses and therapists will assess patients' physical and psychological symptoms.
Algerian President Abdelmadjid Tebboune has finished treatment for COVID-19 but will undergo follow-up checks, the North African country's presidency said on Sunday.
Tebboune, 75, was flown to a German hospital 19 days ago after he tested positive for coronavirus
A further nine people with Covid-19 have died in Northern Ireland, the Department of Health has said.
The death toll recorded by the department now stands at 855. There were also another 472 confirmed cases of the virus recorded in the last 24-hour reporting period.
A total of 46,831 people have tested positive for Covid-19 in Northern Ireland since the pandemic began.
In Northern Ireland, Stormont's health minister has said he is likely to be asking for further coronavirus restrictions before the scheduled reopening of the hospitality sector.
Robin Swann's remarks raise the prospect of more executive discord in the near future, following a week when the coalition administration was consumed with in-fighting over its pandemic response, PA Media reports.
After four days of acrimonious exchanges, a majority of ministers finally backed a proposal that saw the region's four-week circuit-break lockdown extended by one week followed by a phased reopening of hospitality businesses.
Swann had wanted a comprehensive two-week extension of the lockdown and said he only voted for the compromise deal as ministers had "run out of time" and a failure to strike a deal would have resulted in all the restrictions on hospitality lapsing by default on Friday night.
He told the BBC's Sunday Politics programme, "I'm disappointed, I'm embarrassed and ashamed that it took us to Thursday to actually come up with this compromise agreement, that doesn't go in my opinion far enough."
The minister has made clear he will be asking for changes to the current plans before they are fully rolled out.
Here is the Guardian report on claims from the scientist behind the first potential Covid-19 vaccine to clear interim clinical trials that the jab could reduce transmission of the disease perhaps by 50%, resulting in a "dramatic" reduction in cases.
One of France's best-known authors, Alexandre Jardin, has vowed that writers will bail out rebel bookshop owners fined for opening in defiance of a nationwide coronavirus lockdown.
Jardin, who wrote bestselling romance novels Le Zebre and Fanfan, told France's Europe 1 radio that Didier van Cauwelaert, winner of the Prix Goncourt, France's top literary prize for his 1994 novel Un Aller Simple, would begin the revolt by offering to cover any penalty imposed on a bookshop in the city of Cannes.
"The next bookshop will be me, and the next somebody else," he said, according to the AFP news agency, declaring that "no state has the moral right to close bookshops".
France's literature lovers are fuming over the closure of bookstores, along with all other outlets selling "non-essential" goods or services, for the second time this year.
A handful of bookshops have openly flouted the shutdown, backed by writers, literary critics and tens of thousands of bookworms who argue that books are essential to wellbeing.
Romanian officials will check all intensive care units after a fire killed 10 people at a hospital treating coronavirus patients, the country's leaders have said.
The fire broke out on Saturday in a room at the intensive care unit of the Piatra Neamt county hospital in northeastern Romania and spread to an adjoining room.
Six intubated Covid-19 patients were injured and were transferred to another hospital, Reuters reports.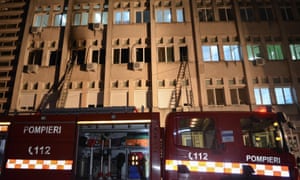 The doctor on call, who sustained severe burns as he tried to rescue the patients from the flames was flown to a specialised hospital in Belgium early on Sunday.
The government said public health inspectors and the agency for emergency situations would check the conditions under which medical equipment was operating in all intensive care units from Monday.
Prosecutors said an investigation was underway into what triggered the fire.
Sorgente articolo:
Coronavirus live news: German minister predicts five more months of 'severe restrictions'; UK reports 24,962 more cases – The Guardian