More now on South Korea:
The country will impose stricter social distancing rules for the greater Seoul area a month after easing them, officials said on Tuesday, warning of an even bigger crisis if anti-Covid-19 efforts fail to dampen a spike in new cases.
Reuters reports that starting Tuesday midnight, tighter curbs will ban public gatherings of 100 people or more, limit religious services and audiences at sporting events to 30% capacity, and require high-risk facilities including clubs and karaoke bars to broaden distance among guests.
The tougher restrictions came as the daily case tally hovered above 200 for a fourth consecutive day, with a series of cluster outbreaks emerging from offices, medical facilities and small gatherings in Seoul and surrounding regions where around half of the country's 52 million population live.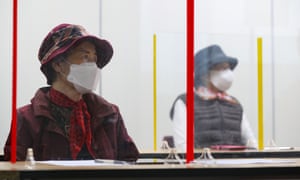 "Our anti-coronavirus efforts are facing a crisis, and the situation is particularly serious in the Seoul metropolitan area," Prime Minister Chung Sye-kyun told a meeting.
"The heightened curbs would cause greater inconvenience in our daily lives … but we all know from our experiences that there would be an even bigger crisis if we don't act now."
The Korea Disease Control and Prevention Agency (KDCA) reported 230 cases as of Monday midnight, marking the ninth straight day of triple-digit rises and the highest since early September.
Of them, 202 were locally transmitted and 28 imported, and nearly 68% of the domestic infections came from the greater Seoul area, KDCA data showed.
The numbers took the country's total infections to 28,998, with 494 deaths.
KDCA director Jeong Eun-kyeong warned on Monday the daily tally could go as high as 400 within coming weeks, asking citizens to stick to strict hygiene rules and minimise year-end celebrations.
The Belgian government said Monday it intends to make any coronavirus vaccine available to around 70% of the population, some eight million people, and free of charge, AFP reports.
The jab will not be compulsory, added Health Minister Frank Vandenbroucke as he and regional counterparts attended an interministerial health conference.
"The objective is to vaccinate at least 70 percent of the population. Priority groups will be determined on the basis of scientific opinion and social debate," Vandenbroucke stated.
"Vaccination will be free for every citizen" receiving it, he added.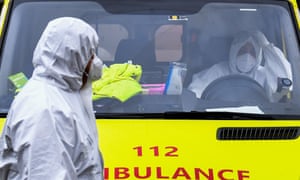 Belgium, population 11.5 million, has registered almost 540,000 cases of coronavirus and more than 14,000 deaths to date. Its death rate per million residents is one of the worst in Europe.
As an EU member state Belgium is engaged in bloc-wide procedures for bulk purchases of anti-Covid-19 vaccines once they emerge in the coming months.
Earlier Monday, Brussels indicated it was signing a contract with German pharmaceutical company CureVac for another potential Covid-19 vaccine, bringing to five the number of vaccines in the bloc's portfolio and a sixth on the way from US firm Moderna.
Belgium itself has so far signed up to receive 7.7 million doses from AstraZeneca (administered in two doses) and a further 5.5 million from Johnson & Johnson, national news agency Belga reported.
In Australia, returned travellers quarantining in an Adelaide hotel linked to a coronavirus cluster that has now infected 20 people are being told they may have to restart their quarantine in a new hotel, regardless of how many days they have already served.
It means some returned travellers may ultimately be forced to quarantine for up to 28 days.
The action is being taken out of concern Covid-19 could spread inside the Peppers medi-hotel in Adelaide's city centre, where three Covid-19 cases in the cluster are linked to workers at the hotel:
More now on the measures being taken in US states.
Reuters: Ohio, where daily case tallies have increased by 17% and total hospitalisations by at least 25% in the past week, the state's health department issued a revised order to limit mass gatherings starting on Tuesday, Governor Mike DeWine announced.
Oklahoma Governor Kevin Stitt announced a new 11pm curfew for bars and restaurants starting on Thursday, while some 33,000 state employees will be required to wear masks at work beginning on Wednesday.
New Mexico Governor Michelle Lujan Grisham urged residents to stay home for all but essential activities. "We face a life-or-death situation and we cannot fail to act," Grisham wrote on Twitter.
Michigan and Washington state on Sunday imposed sweeping new restrictions on gatherings, including halting indoor restaurant service.
The flurry of measures came as 40 states have reported record daily increases in Covid-19 cases this month, while 20 states have registered all-time highs in daily coronavirus-related deaths and 26 reported new peaks in hospitalizations, according to a Reuters tally of public health data.
The United States as a whole has averaged more than 148,000 new cases a day, and 1,120 daily deaths, over the past week.
In one of the most aggressive actions taken in the US to confront the looming crisis, Philadelphia officials on Monday ordered a ban on "indoor gatherings of any size in any location, public or private," except among individuals who live together.
"We need to keep this virus from jumping from one household to another," city Health Commissioner Thomas Farley told a news conference.
If the current rate of "exponential" growth in cases continues, hospitals will soon be strained to their limits and more than 1,000 people could die in Pennsylvania's largest city over the next six weeks, Farley said.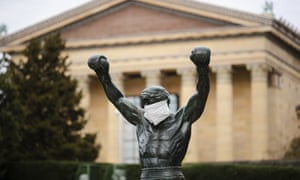 In neighbouring New Jersey, one of the hardest-hit states in the early phase of the pandemic, Governor Phil Murphy said he was ordering indoor gatherings of individuals from different households to limit to 10 people, down from 25, while the mandatory cap on outdoor gatherings will be lowered next week to 150 from 500.
Airbnb Inc's initial public offering (IPO) registration showed on Monday that the home rental startup turned a profit in the third quarter despite the Covid-19 pandemic, as it gears up for one of the most anticipated stock market debuts in recent years, Reuters report.
The filing, published ahead of Airbnb's anticipated stock market debut in December, showed a dramatic recovery in its fortunes, after the coronavirus outbreak dragged down its core home rental business during the first half of the year.
The slump forced it to lay off 25% of its workforce in May, suspend marketing activities for the year and seek $2bn emergency funding from investors, including Silver Lake and Sixth Street Partners, at a valuation of $18bn. It has recovered by focusing on listing homes away from cities that people want to rent during the pandemic.
Airbnb's revenue fell 18% in the third quarter to $1.34bn from a year earlier, but it reported net profit of about $219m, helped mainly by a clamp-down on costs. Its business took a bigger hit internationally than in the United States, reflecting the financial fallout of extensive lockdowns in Europe to contain the spread of the virus.
Movie theatre operator Cinemark Holdings Inc struck a deal that will allow Universal Pictures to offer its movies in US homes as soon as 17 days after they debut in theatres, the companies said on Monday, Reuters reports.
The multi-year agreement is similar to one that Comcast-owned Universal made in July with AMC Entertainment Holdings Inc, the world's largest theater chain, embracing a major shift from traditional movie release patterns.
Under the arrangement, Universal could offer movies for sale via premium video-on-demand after they have played for at least three weekends in theaters, a statement from the companies said. That would shrink the exclusive window a movie plays in theaters from the roughly 74 days that was typical before the Covid-19 pandemic shut down cinemas.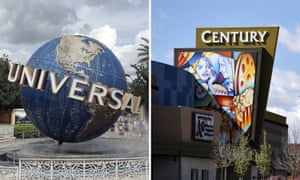 Movies that open with more than $50 million at box offices would be exclusive to theaters for at least five weekends, or 31 days, before they could be offered on demand. That would likely include Universal's big franchises such as "Fast & Furious" and "Jurassic World."
Universal is one of the few major studios sending movies to theaters in the coming months as many movie houses remain closed due to the pandemic. The studio will debut animated film "The Croods: A New Age" on 25 November, Tom Hanks drama "News of the World" on 25 December and three other movies before year's end.
Asian stocks opened firmer on Tuesday after the S&P 500 and Dow Jones indexes hit record highs on news of another promising coronavirus vaccine, which supported hopes of a quicker economic recovery, Reuters reports.
Investor sentiment shot up after Moderna Inc said its experimental Covid-19 vaccine was 94.5% effective in preventing infection based on interim late-state data.
The Cambridge, Massachusetts-based firm became the second drugmaker, after Pfizer Inc, to announce promising trial data in the development of a vaccine to defeat the pandemic. Its shares gained 9.6% on the day.
"This is a continuation of what we saw last week as the vaccine being a catalyst for a rotation into cyclical sectors such as energy, financials, and defense with expectations for renewed demand and travel," said Thomas Hayes, managing member at Great Hill Capital in New York.
Australia's S&P/ASX 200 rose 0.6% in early trading, while Hong Kong's Hang Seng index futures gained 0.27%. Japan's Nikkei 225 climbed 0.5%.
All three main Wall Street indexes advanced on Monday, with the Dow Jones Industrials Average setting a record as it neared the 30,000 mark for the first time in nine months. The benchmark Dow is the last of the three to reclaim levels reached in February, before lockdowns sent the markets into free-fall. The S&P 500 surpassed its own record set on Friday.
Mainland China reported 15 new Covid-19 cases on 16 November, up from eight cases a day earlier, the country's national health authority said on Tuesday.
The National Health Commission said in a statement all new cases were imported infections originating from overseas. The number of new asymptomatic cases, which China does not count as confirmed Covid-19 cases, fell to 12 from 14 a day earlier.
The total number of confirmed Covid-19 cases in mainland China now stands at 86,361, while the death toll remains unchanged at 4,634.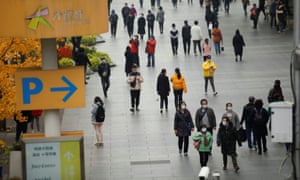 We have more detail now on the curbs in Seoul, from Yohap agency.
The level will be raised to 1.5, which means that a cap will be placed on school attendance, limiting it to two thirds of the total student body – and restricting the use of "multi-use high-risk facilities" (such as some bars, karaoke rooms, restaurants and coffee shops), Yonhap reports:
The government decided Tuesday to raise the social distancing level by one notch to 1.5 in the greater Seoul area, amid a resurgence of new COVID-19 cases in and around the capital.

…

Under Level 1, people are required to follow basic guidelines, such as wearing masks, and gatherings of over 500 people are not recommended.

Under Level 1.5, the operation of multi-use and high-risk facilities will be restricted, and the attendance cap in schools is placed at two-thirds of the total student body.
South Korea decided to tighten social distancing curbs for the greater Seoul area amid recent spikes in new coronavirus cases, the Yonhap news agency reported on Tuesday, citing a meeting hosted by Prime Minister Chung Sye-kyun.
We'll have more detail shortly.
California will dramatically roll back its reopening efforts, the state's governor, Gavin Newsom, announced on Monday, saying he was pulling the "emergency brake" amid a troubling surge in cases.
The changes, which take effect Tuesday, will see more than 94% of California's population and most businesses across the state return to the most restrictive tier of rules aimed at slowing the spread of the virus. The state is also strengthening its guidance on masks; Newsom announced face coverings would now be required outside people's homes with limited exceptions.
You can read the full report, by Lois Beckett and Vivian Ho, here.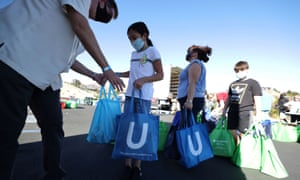 The WHO is experiencing its own outbreak of coronavirus, with Tedros spending 17 days in quarantine – though he said he had not developed any symptoms.
Five new cases within the same WHO team have been registered in the past week, WHO official Maria Van Kerkhove said.
"We don't know if there is an actual cluster," she said, adding that experts were trying to work out if transmission had happened on the premises.
WHO emergencies director Michael Ryan stressed that the Geneva region is experiencing "some of the most intense transmission in the world right now".
"We are human beings and we live within a society," he said.
Reported breakthroughs in Covid-19 vaccine research are "encouraging", the World Health Organization's chief said on Monday, but voiced concern about surging cases and warned against complacency, AFP reports.
"We continue to receive encouraging news about Covid-19 vaccines," WHO chief Tedros Adhanom Ghebreyesus told a virtual press briefing.
Tedros, who has just spent more than two weeks in quarantine after coming in contact with someone with Covid-19, said he was "cautiously optimistic" that new tools would start to arrive in the coming months.
But he added: "This is no time for complacency."
His comments came as hopes trials of a second candidate vaccine suggested it was nearly 95 percent effective against the virus.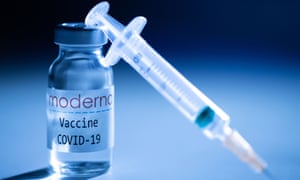 The news from US biotech firm Moderna followed similar interim results last week for Pfizer and BioNTech's candidate vaccine.
But WHO has warned that widespread availability of any vaccine remains a long way off, and Covid-19 cases and deaths are surging in many parts of the world.
"Those countries that are letting the virus run unchecked are playing with fire," he said.
He voiced particular alarm about the situation in Europe and the Americas, where he said health workers and systems were being pushed to breaking point.
"A laissez-faire attitude to the virus … leads to death, suffering and hurts livelihoods and economies," he said.
"The quickest way to open up economies is to defeat the virus."
Hello and welcome to today's live coverage of the coronavirus pandemic.
My name is Helen Sullivan and I'll be bringing you the latest Covid-19 news from around the world for the next few hours.
Reported breakthroughs in Covid-19 vaccine research are "encouraging", the World Health Organization's chief said on Monday, but voiced concern about surging cases and warned against complacency.
"We continue to receive encouraging news about Covid-19 vaccines," WHO chief Tedros Adhanom Ghebreyesus told a virtual press briefing. But he added: "This is no time for complacency."
His comments came as hopes trials of a second candidate vaccine suggested it was nearly 95% effective against the virus.
The news from US biotech firm Moderna followed similar interim results last week for Pfizer and BioNTech's candidate vaccine.
In South Korea, officials reported more than 200 new coronavirus cases for the third consecutive day on Monday, as the government considers tightening social distancing.
"We are at a critical crossroads where we might have to readjust distancing," South Korean Health Minister Park Neung-hoo said.
"The current situation is taking a very dangerous turn considering the rising infections from daily lives and the unrelenting pace of the spread."
The US biotech firm Moderna has claimed that its Covid-19 vaccine is 94.5% effective, according to an interim analysis released on Monday and based on 95 patients with confirmed Covid infections. The company plans to apply to the Food and Drug Administration for emergency-use authorisation.
Greeting the news, the head of the World Health Organization said a vaccine will not by itself halt the pandemic.
Scientists have expressed hope that the preliminary success of mRNA vaccines could be a "leap forward" for fighting other diseases, including cancer.
France's coronavirus hospitalisations reach new record. French health authorities have reported that the number of hospitalised coronavirus patients has increased by 416 to reach a new all-time high of 33,497, even as the number of new cases reached a more than one-month low.
There have been a further 21,363 lab-confirmed coronavirus cases in the UK, according to government data, raising the cumulative total to 1,390,681. A further 213 deaths within 28 days of a positive test were reported on Monday, bringing the total to 52,147.
Greece has reported 2,198 new coronavirus infections and 59 fatalities. The country's caseloads stands at 76,403, while 1,165 have died.
Norway's minority government and the opposition party have agreed on an increased economic support package of 22.1bn Norwegian crowns (£1.84bn) amid the continuing coronavirus crisis.
The United States registered more than one million new coronavirus cases last week as new infections rose in every state except for Hawaii, according to a Reuters analysis of state and county reports.
A highly pathogenic strain of bird flu has been found in the pet section of a shop in one of Corsica's main cities, the French farm ministry has announced. It follows Denmark ordering the culling of 25,000 chickens after detecting H5N8 bird flu on a farm.
Sorgente articolo:
Coronavirus live news: vaccine progress 'encouraging' says WHO; South Korea at 'critical crossroads' – The Guardian