Iran has issued a criticism of President Donald Trump's personal lawyer Rudy Giuliani, taking aim at both his politics and physical appearance after a controversial press conference in which the former New York City mayor appeared to have a cosmetic malfunction.
Tweeting a picture of Giuliani perspiring a dark colored liquid from the side of his head during his tirade a day earlier, the Iranian Foreign Ministry issued an accompanying statement Friday mocking what observers have since speculated to be some form of hair dye or makeup made to run due to the Republican lawyer profusely sweating throughout his attack on the U.S. election earlier this month.
"He is collapsing (melting) in every sense of the word," the Iranian Foreign Ministry wrote.
Giuliani has led the charge in Trump's legal battles against the outcome of the recent race, in which vote counts increasingly indicate that the president lost. During his roughly hour-and-a-half press conference at the Republican National Committee headquarters in Washington, Giuliani went on a rant laced with allegations of electoral fraud and international conspiracies, complete with a movie reference, without providing evidence to back his claims.
His comments were blasted by a number of mainstream fact checkers, including those at The Washington Post, who called it "the craziest news conference of the Trump presidency."
Giuliani's close allegiance to Trump has earned him criticism among political opponents in the U.S. To Iranian officials, however, the Republican attorney has been vilified due to his links to the outlawed People's Mujahedin of Iran insurgent group, also known as Mujahedin-e-Khalq (MeK).
"The American people are probably surprised to see that Giuliani is defending a lying tyrant and terrorist in exchange for big money, but this is not new to Iranians," the Iranian Foreign Ministry statement said. "For years he's been a devil advocate, pocketing dollars by whitewashing the despicable crimes of terrorists."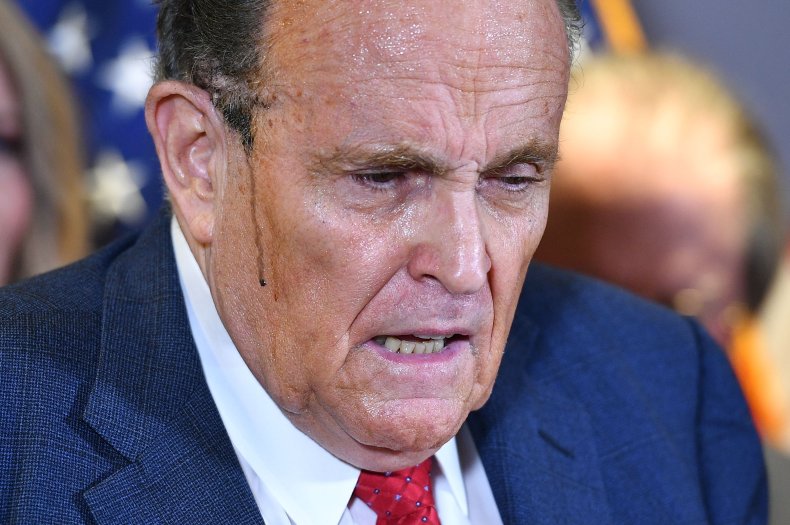 MeK was designated a terrorist organization by the U.S. in 1997 but removed in 2012, a decision for which Giuliani campaigned. The group has since established a presence in Washington, and Iran has implicated it in a number of attacks and alleged plots against the country, claiming it has collaborated with the U.S., Israel and Saudi Arabia among other foreign foes.
MeK also played a key role in leaking information purported to expose Iran's nuclear program as being aimed to produce a nuclear weapon, a claim that Iranian officials to this day deny.
The U.S. and other members of the international community imposed sanctions on the Islamic Republic, measures lifted by a landmark 2015 nuclear deal reached by the U.S., Iran, China, France, Germany, Russia and the United Kingdom. Trump abandoned the deal, officially known as the Joint Comprehensive Plan of Action (JCPOA) two and half years ago, and levied increasingly tight, unilateral economic restrictions on Tehran in an effort to disrupt its trade ties and punish its support for militias abroad.
Tensions have since escalated between the two longtime foes. The temperature has especially been high in the Persian Gulf and Iraq, where the U.S. killed Revolutionary Guard Quds Force commander Qassem Soleimani in January.
Supporting the slaying, Giuliani called Soleimani "a mass murderer" and later spoke at a July gathering of the MeK's National Council of Resistance of Iran, where he called for regime change and described the rebel coalition as a "shadow government" that would govern the country after the fall of the Islamic Republic.
With much at stake, Iranian officials have expressed to Newsweek their neutrality in the U.S. election, but have since welcomed what they categorize as a popular rejection of Trump's "maximum pressure" campaign, and hope that his projected Democratic successor would reverse course.
President-elect Joe Biden served as vice president during the agreement's inception and helped to sell it to a divided Congress. He has pledged to return to the deal, but said he intends to use it as a platform for talks to address other Iranian activities opposed by the U.S.
Even in what's likely to be the last two months of his presidency, however, Trump has allegedly considered military options to be directed at the Natanz nuclear facility, according to four current and former unnamed officials cited in a Monday report by The New York Times. The site was targeted in an apparent insider attack in July that Iran alleges may have had external backing, and is since believed to host uranium stockpiles twelve times those permitted by the JCPOA.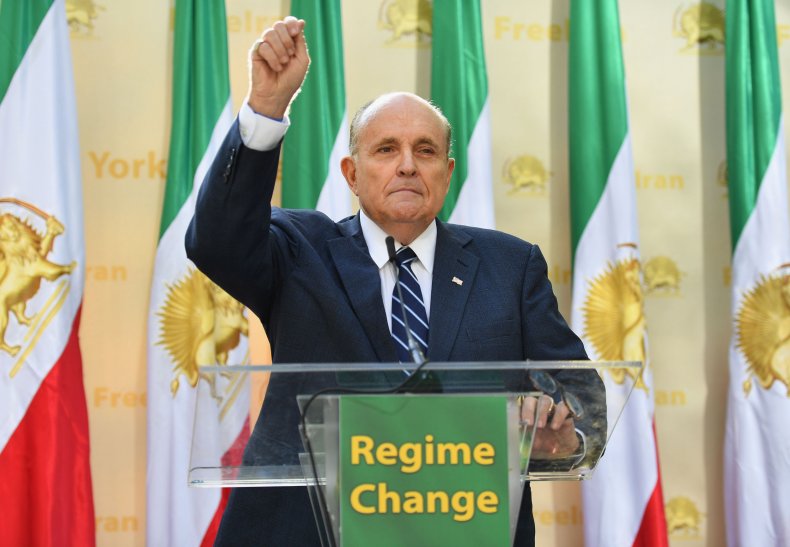 Brigadier General Hossein Dehghan, a senior adviser to Iranian supreme leader Ayatollah Ali Khamenei and declared candidate in next year's presidential elections, responded to the reports of Trump's consultations, warning of the potential for all-out conflict.
"A limited, tactical conflict can turn into a full-fledged war," Dehghan told the Associated Press in an interview published Friday. "Definitely, the United States, the region and the world cannot stand such a comprehensive crisis."
He also asserted that his country's missiles would not be on the table should the prospective Biden administration seek to negotiate.
While Iran has walked back from certain nuclear deal obligations in light of the U.S. withdrawal and the failure of European nations to normalize trade ties as a result of the subsequent sanctions issued by the Trump administration, the country has vowed to return to compliance with the terms of the agreement should the U.S. and European parties live up to its JCPOA obligations.
The point was reiterated Friday by Iranian Foreign Ministry spokesperson Saeed Khatibzadeh.
"Following the United States' withdrawal from the JCPOA and the re-imposition of sanctions, and considering Europe's continued failure to live up to its commitments… the Islamic Republic took nuclear steps according to the articles 26 and 36 of the JCPOA," Khatibzadeh told a press conference. "These steps were taken in full compliance with the JCPOA, and the country has always stressed that they will be reversible once the other parties to the JCPOA implement the deal in full."
Sorgente articolo:
Iran Says Giuliani Is 'Melting in Every Sense of the Word' After Controversial Press Conference – Newsweek