Lebanon's caretaker health minister, Hamad Hassan, has tested positive for coronavirus and been admitted to hospital, a statement from the ministry said.
"The minister has been admitted to Saint George hospital for treatment," the statement said.
Lebanon's hospitals are running out of capacity to treat critically ill patients as Covid-19 infections surge after the Christmas and New Year holiday period.
Daily infections reached an all-time high of 5,440 cases on Friday. Lebanon had recorded a total of 226,948 cases with 1,705 deaths up to Tuesday.
Lebanon is currently under a three-week lockdown that ends on 2 February.
The country is also introducing a 24-hour curfew that begins Thursday until 25 January, the strictest since the start of the pandemic with even supermarkets open only for delivery services.
The pandemic hit Lebanon as it was in the middle of a devastating financial crisis that has crashed the currency, paralysed banks, and frozen savers out of their deposits. Medical supplies have dwindled as dollars have grown scarce.
The African Union has secured a provisional 270m Covid-19 vaccine doses from manufacturers for member states to supplement the COVAX programme, South African president Cyril Ramaphosa said.
African nations are grappling with a second wave of the coronavirus, as the total number of cases rose to at least 3.1 million, and deaths to 74,600, according to a Reuters tally.
The vaccines will be supplied by Pfizer, AstraZeneca, through the Serum Institute of India, and Johnson & Johnson, said Ramaphosa, who chairs the African Union.
He added that all 270m doses would be made available this year, with at least 50m available "for the crucial period of April to June 2021".
On financing, Ramaphosa said arrangements had been made with the African Export-Import Bank (Afreximbank) to support member states who want access to the vaccines. Afreximbank would, upon receipt of firm orders from member states, provide advance procurement commitment guarantees of up to $2bn to the manufacturers.
"There is also close collaboration between the AU team and the World Bank to ensure that member states are able to access about $5bn either to buy more vaccines or pay for delivery of vaccines committed on their behalf by Afreximbank," Ramaphosa said.
He added: "These endeavours aim to supplement the Covax efforts, and to ensure that as many dosages of vaccine as possible become available throughout Africa as soon as possible."
Ramaphosa said while the Covax initiative, co-led by the World Health Organization, was vital to Africa's response, the African Union was concerned that Covax volumes to be released between February and June may not extend beyond the needs of frontline health care workers.
The Covax facility aims to make available 2bn doses of safe and effective Covid-19 vaccines by the end of 2021.
As the United States recorded its highest single-day death toll since the coronavirus pandemic began nearly a year ago, New York mayor Bill de Blasio on said the city would fall short of its inoculation goals unless it could get more vaccine.
The mayor said short supplies were hampering New York City's efforts to increase its immunisation campaign. His appeal comes as the country as a whole struggles to meet an overall goal, with vaccinations now running far behind a target of 20 million people by now.
"We need the federal government, the state government and the manufacturers to step up and get us more supply immediately," de Blasio said at a briefing.
The country's most populous city is adding vaccination sites across its five boroughs, including its two Major League Baseball parks, and has succeeded in loosening restrictions on who is eligible for vaccination, de Blasio said.
New York is on track to inoculate one million of its more than eight million residents by the end of the month, but only if it gets enough vaccine, he said.
"I confirmed with our healthcare team yesterday that even with normal supplies that we expect to have delivered next week, we will run out of vaccine at some point next week, unless we get a major new resupply," he added.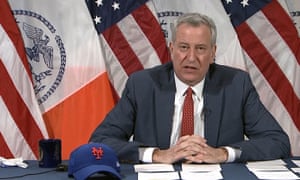 Nationwide, only about one third of the 29.4m doses distributed to states have been administered, according to data from the US Centers for Disease Control and Prevention.
The US Food and Drug Administration has authorised the vaccine from Pfizer and partner BioNTech, and a second vaccine from Moderna, for emergency use. Both vaccines require two doses spaced a few weeks apart.
The chief science officer of Johnson & Johnson said the company is on track to roll out its single-shot coronavirus vaccine in March, and it plans to have clear data on how effective it is by the end of this month or early February.
In an interview with Reuters on Tuesday, Dr Paul Stoffels, chief scientific officer at the company, said J&J expected to meet its stated target of delivering one billion doses of its vaccine by the end of this year as the company ramps up production.
The country's struggle to inoculate its population comes as the number of people to die from the disease hit a daily record 4,336 on Tuesday, according to a Reuters tally.
That brought the number of US Covid-19 casualties to 380,524, with the number of cases at 22.7 million by Tuesday night, more than any other country.
The widely cited model of the University of Washington's Institute for Health Metrics and Evaluation expects January to be the pandemic's deadliest month so far in the US.
The virus is projected to take more than 108,000 lives this month before the death rate ebbs as more vaccine is administered, the IHME said. By 1 April, it expects a death toll of 567,000.
On Tuesday, federal health officials agreed to release millions of Covid-19 vaccine doses the government had held back for second doses, and they urged states to offer them to all Americans over age 65 or with chronic health conditions.
US health and human services secretary Alex Azar said the US pace of inoculations has risen to 700,000 per day and is expected to rise to one million per day within a week to 10 days.
A leveling-off of the number of Covid-19 patients requiring hospitalisation has emerged as an encouraging sign in the past week.
Italy has been plunged into political crisis after former premier Matteo Renzi withdrew his party from the ruling coalition, risking the collapse of the government in the middle of a raging coronavirus pandemic.
Renzi announced the resignation of two cabinet ministers and a junior minister from his Italia Viva party, in a split that deprives prime minister Giuseppe Conte of his parliamentary majority.
Tensions between the two men have been rising for weeks over the handling of the Covid-19 outbreak that has claimed more than 80,000 lives in Italy and sent the economy into a deep recession.
They came to a head over plans to spend more than €200bn ($243bn) in European Union recovery funds, that Renzi warned risked being wasted.
But critics accused him of simply seeking more power for his party, which is polling at just 3% – and warned that now is not the time to quit the coalition.
"For sure, the country would definitely not understand a crisis … people are asking us to go on, in such a complex, difficult situation," Conte warned earlier.
Health minister Roberto Speranza added: "It would really be an unforgivable mistake to get distracted or to slow down near the finish line."
Turkey has approved the emergency use of a coronavirus jab developed by China's Sinovac, paving the way for a national vaccination drive that will start with healthcare workers.
Health minister Fahrettin Koca rolled up his sleeve and received the first shot of CoronaVac after announcing plans to start administering it nationally on Thursday.
"Everyone should get vaccinated because it is the only way to get rid of this pandemic," Koca said.
Turkey said last month that preliminary domestic testing showed 91.25% efficacy for CoronaVac. But more robust trials in Brazil demonstrated an efficacy rate of around 50% – much lower than those of rival shots from Moderna, Pfizer/BioNTech and Oxford/AstraZeneca.
A third trial in Indonesia showed an efficacy of 65.3%.
"This is a safe vaccine. The safety studies have been completed," said Koca.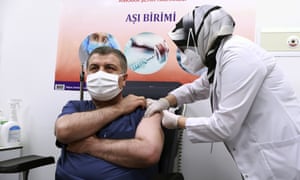 Turkey has signed up for 50m doses of CoronaVac. Twenty million of them are due to arrive by the end of the month.
It is also expected to receive 4.5m doses of the Pfizer/BioNTech jab by late March, although negotiations are still ongoing.
The vaccinations will start with Turkey's 1.1 million health workers before moving on to those aged 65 or over and people with chronic illnesses.
Turkey has seen its official daily death tolls from the virus slip back down to under 200 after imposing weekend lockdowns and other daily restrictions in November.
The nation of 83 million people has recorded 23,325 Covid-19 deaths and more than 2.3 million virus infections.
Mozambique has applied to access Covid-19 vaccines through the global vaccine distribution scheme co-led by the World Health Organization, giving it the option to buy doses for at least 20% of its population, president Filipe Nyusi said.
As a low income country, Mozambique qualifies for subsidised vaccines under the COVAX facility, which aims to make available 2bn doses of safe and effective Covid-19 vaccines by the end of 2021.
"We have applied to the COVAX programme and we expect to get the vaccine to vaccinate 20% of vulnerable people", Nyusi said in an address to the nation.
Health minister Armindo Tiago said in an interview with state broadcaster Radio Mozambique earlier this month that the country expects to receive around 6m doses and plans to start vaccinations from the end of June or in July.
Nyusi on Wednesday also announced new measures to contain the spread of the coronavirus, including restrictions on alcohol sales and mandatory Covid-19 testing at borders for travellers moving in or out of the country.
The nation of 30 million people has recorded nearly 24,000 Covid-19 cases with 205 deaths.
UK prime minister Boris Johnson said the government is looking at ways to stop a variant of the coronavirus found in Brazil from entering Britain.
Japan's health ministry said on Sunday it had detected a new strain of Covid-19 in four travellers from Brazil's Amazonas state which featured 12 mutations, including one also found in highly infections variants discovered in Britain and South Africa.
"We are concerned about the new Brazilian variant … and we're taking steps (to protect the country) … in respect of the Brazilian variant," Johnson told a parliamentary committee. "I think it's fair to say that there are lots of questions we still have about that variant."
Patrick Vallance, the UK's chief scientific adviser, said the Brazilian mutation did appear to have some of the features of the other coronavirus variants.
"What we're seeing is that mutations are cropping up across the world which are quite similar in terms of the changes," he told ITV's Peston show, saying the Brazilian strain appeared to have similarities to the South African one.
He said there was no evidence any of the new variants made the disease more severe."The changes that we're seeing with the variants are largely around increased transmission; it makes it easier to get it from one person to another, it makes it easier therefore to catch," he said.
He said there was no evidence vaccines would be ineffective against the strain which has fuelled a surge in infections in Britain, but they did not know for sure if that would be the case with the South African or Brazilian strain.
"There's a bit more of a risk that this might make a change to the way the immune system recognises it, but we don't know," he said.
Brazil's right-wing president Jair Bolsonaro has tried to sabotage efforts to slow the spread of Covid-19 in his country and pursued policies that undermine the rights of Brazilians, Human Rights Watch (HRW) has said.
The Supreme Court, Congress and other institutions, have stepped up to protect Brazilians and blocked some of Bolsonaro's most damaging policies, the rights group said in the Brazil chapter of its annual world report.
Bolsonaro wanted to remove the authority of states to restrict people's movements, as they sought to contain the world's second-deadliest coronavirus outbreak after the United States, but the Supreme Court ruled against him.
The top court also intervened to stop his government withholding Covid-19 data from the public. It also overturned a presidential veto of legislation requiring the use of masks in prison.
In July, it ordered the administration to draft a plan to protect Brazil's vulnerable indigenous peoples from the pandemic, while Congress passed a bill forcing it to provide emergency health care to indigenous communities.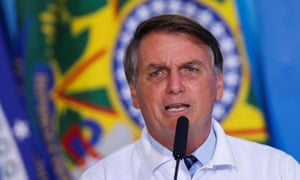 Bolsonaro has consistently downplayed the gravity of Covid-19, calling it "a little flu" and criticising lockdowns and social distancing measures. HRW said he has disseminated misleading information about the virus.
The president's office did not immediately reply to Reuters' request for comment.
Bolsonaro has argued that lockdowns damage Brazil's economy and leave many out of work.
The boss of Unilever, one of the UK's biggest companies, has said his office workers will never return to their desks five days a week, in the latest indication that coronavirus will transform modern working life.
Alan Jope, chief executive of the consumer goods group, said the company will also encourage all of its employees to receive vaccinations against Covid-19, but will stop short of making jabs mandatory. Employees who opt not to be vaccinated, however, will face mandatory testing.
Jope said the company would look at different working patterns after it saw during the pandemic that it could adapt and make big changes far more quickly than previously thought.
Unilever, the third most valuable company on the London Stock Exchange, is the maker of brands including Dove soap, Ben & Jerry's ice cream and Marmite. It also owns Hellman's, Knorr, Lipton and Persil.
A new lockdown to bring a worrying rise in coronavirus cases under control will come into force in Portugal from Friday, prime minister António Costa announced, urging people to stay indoors and protect themselves.
"We are at the most dangerous moment (of the pandemic)," Costa told reporters, adding remote work would be compulsory where possible. "The rule is simple: all of us should stay home."
The rules will be similar to the six-week lockdown imposed between March and April last year during the first wave of the pandemic, except all schools – public and private – will stay open this time.
The number of cases reported from schools was not significant in the first lockdown, Costa said.
Restrictions on movement will also be eased on the day of Portugal's presidential elections on 24 January so voters can go to the polls.
As per last March's rules, all non-essential businesses, including hair salons, will be closed, although restaurants will be allowed to provide takeaway services. Supermarkets, pharmacies, bakeries, petrol stations, and banks will stay open.
Business with employees on furlough will receive state support.
Remote working will be compulsory where possible. To ensure compliance with new measures, fines for breaking the rules will double.
Under Portuguese law, regulations must be reviewed every 15 days but Costa said on Wednesday these rules would likely last a month.
The country of 10 million people has so far reported a total of 8,236 deaths and 507,108 cases, with a steep surge in infections after Christmas placing severe pressure on the health care system.
Portugal has already vaccinated 82,000 people against the coronavirus, giving priority to frontline health workers as well as care home residents.
"The hope the vaccine gives us that we can beat the pandemic is the same hope which feeds the relaxation that makes the pandemic more dangerous," Costa said, adding the lockdown would not interfere with the vaccination process.
France has reported 23,852 new confirmed Covid-19 cases, more than the 19,752 on Tuesday but down from 25,379 a week ago.
Health ministry data also showed that 229 people had died from the virus in hospitals, down from 355 on Tuesday.
The number of people in intensive care rose by double-digit numbers for the fourth consecutive day.
The number of people in hospital with the disease rose by 32 to 24,769. The number of people in hospital has been stable between about 24,000 and 25,500 for five weeks.
The ministry also said to date, more than 247,000 people had been vaccinated against Covid-19, up from nearly 190,000 on Tuesday and 138,000 on Monday.
Hi everyone, this is Jessica Murray taking over the blog for the next few hours. Please do get in touch with any suggestions or comments.
Email: jessica.murray@theguardian.com
Twitter: @journojess_
Spain has recorded a record 38,869 new Covid cases over the past 24 hours, the government announced this evening, marking the highest single-day rise in infections since the pandemic began.
Between Tuesday and Wednesday, the number of cases logged by the health ministry rose from 2,137,220 to 2,176,089. There were also 195 deaths over the same period, while the number of cases per 100,000 people rose from 452 to 493.
The country's health minister, Salvador Illa, described the rise as "very worrying" and warned that the pressure on hospitals and their ICUs was building.
"I ask people to scrupulously respect the measures adopted by each autonomous region," said Illa. "It's the only way we have of controlling the virus."
Spain began vaccinating its population of almost 47 million people at the end of December. The central government has so far distributed 1,103,700 doses of the vaccine to the country's 17 self-governing regions, of which 581,638 have been administered.
Consumer goods maker Unilever Plc expects global consumption patterns to be suppressed in the first half of this year, even as business returns to normal in East Asia and markets in Africa and Latin America show resiliency, its chief executive told Reuters.
"We still hold that the first half of this year will be a continued period of suppressed consumption … with that starting to come back in the second half of this year and then next year," chief executive officer Alan Jope said in an interview at the Reuters Next conference on Wednesday.
The maker of Dove soap, Hellmann's mayonnaise and Tresemme shampoo withdrew its annual sales growth target in April and Jope said he was still wary of making any predictions about its future business due to the fluidity of the Covid-19 pandemic.
However, he said the company would grow ahead of the broader market and he does not expect any hits to margins in the near term.
I am posting on the Guardian's global feed, bringing you updates on coronavirus from around the world. Please get in touch to share news tips.
Twitter: @sloumarsh
Instagram: sarah_marsh_journalist
Email: sarah.marsh@theguardian.com
Jordan launched a Covid-19 vaccination campaign on Wednesday, beginning with jabs for healthcare workers, people with chronic illnesses and those over the age of 60.
The kingdom said on Saturday that it had granted an "emergency licence" for the use of China's Sinopharm vaccine, the second vaccine it approved after the US-German Pfizer-BioNTech.
The first injections were given at hospitals and other healthcare facilities, after the authorities designated 29 vaccination centres across Jordan, including seven in the capital Amman.
Wael Hayajneh, head of the epidemics and communicable diseases department at the health ministry, said Jordan was among the "first 40 countries" to vaccinate against the novel coronavirus.
A surge in Covid-19 infections is hitting nearly all countries in the Americas, the head of the Pan American Health Organization said Wednesday, adding that the pandemic's toll in 2021 could be worse than last year if containment efforts relax.
Switzerland announced tough new restrictions Wednesday in a pre-emptive strike against a feared third wave of the Covid-19 pandemic caused by quicker-spreading variants of the virus.
The country shut shops selling non-essential goods and ordered people to work from home in a bid to prevent an explosion in case numbers, saying the British-detected mutation had already taken root.
The Swiss government had been expected simply to extend the current closure of bars, restaurants and leisure facilities through February, but went much further with measures to be implemented from Monday.
"Case numbers are stagnating at a very high level and there is a risk that the new more infectious variants of the virus will lead to another rapid rise in cases," it said in a statement.
Swiss President Guy Parmelin and health minister Alain Berset explained the measures at a press conference where, for the first time, they were separated by plastic screens and wore masks throughout.
Sorgente articolo:
Coronavirus live news: Spain reports a record 38,869 new cases; Switzerland announces tough new restrictions – The Guardian
| User ID | Campaign ID | Link |
| --- | --- | --- |
| d9a95efa0a2845057476957a427b0499 | l-99999983 | Fiasconaro |
| d9a95efa0a2845057476957a427b0499 | l-99999979 | Fiasconaro |
| d9a95efa0a2845057476957a427b0499 | l-99999994 | Email Advertising |
| d9a95efa0a2845057476957a427b0499 | l-99999984 | Cloud Realtime |