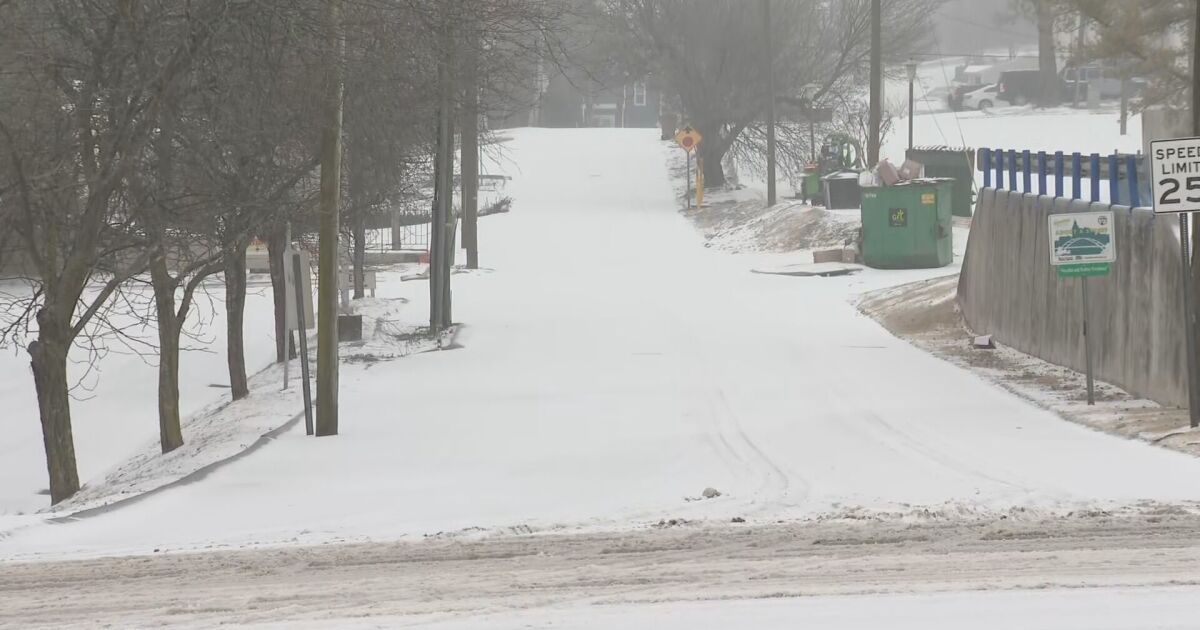 NASHVILLE, Tenn. (WTVF) — The snow, sleet and freezing rain have moved out of Middle Tennessee and Kentucky, but icy road conditions remain. Officials are again urging people to stay home.
Numerous crashes were reported Monday as travel conditions deteriorated throughout the day. Overnight, the snow stopped, but temperatures will only reach the 20s on Tuesday, so roads won't have a chance to thaw.
Road are icy and snowy! If plows didn't get to them (several times) overnight, they are in WORSE condition than yesterday. Downtown Loop looks the best, but treacherous getting to and from it #5LiveTraffic pic.twitter.com/U8OlIiZCor

— Rebecca Schleicher (@NC5_RSchleicher) February 16, 2021
The Tennessee Department of Transportation's Kathryn Schulte posted an update Tuesday morning, saying crews treated roadways throughout the night, but there are still icy roads or patches of ice and snow out there.
6AM – All counties in middle Tennessee are reporting icy roads or patches of ice/snow on TDOT roadways. Crews have been applying treatment to interstates throughout the night, but the extreme temperatures in many locations have kept conditions icy.

— Kathryn Schulte (@SchulteTDOT) February 16, 2021
This area of I-40 isn't as clear at all. @myTDOT crews have been treating the roadways throughout the night. Trying to clear the roads as fast as possible. They're asking people to avoid traveling this morning. pic.twitter.com/1RVKUZEZOL

— Aaron Cantrell (@AaronTheNewsGuy) February 16, 2021
Nashville resident Eric Goodman was driving to the store when he got stuck near Donelson Pike. Thankfully myself & photojournalist @QuanMcwil_TV was there to help push his car out of the snow. Listen to Eric and stay in the house! @NC5 pic.twitter.com/IVK83nXKc3

— Aaron Cantrell (@AaronTheNewsGuy) February 16, 2021
Every county in Middle Tennessee is reporting icy road conditions.
To make matters worse, temperatures aren't expected to drift above freezing until late this week. Another winter storm looks to move in late Wednesday into Thursday, bringing more ice and snow.
Here's a look at road conditions across the area:
Road conditions haven't improved, still covered with ice. City street are working 12-hour shifts plowing and salting main roads. No crashes reported, so far, from midnight to 6:30 a.m. Twelve crashes were reported on Monday. Unless it's an emergency, please stay off the roads. pic.twitter.com/g1lm0bw1fc

— Murfreesboro TN Police Department (@MboroPoliceDept) February 16, 2021
Icy roads or patches of ice/snow still present. Area travel hazards continue.

Crews have been plowing & salting, but extreme temps have kept conditions slick in many locations. Stay in if possible, use extreme caution if you have to get out.

Go slow, don't tailgate.

— Franklin Police Dept (@FranklinTNPD) February 16, 2021
Read more: Storm 5 Alert: Snow and sleet end, but icy conditions stick around
Sorgente articolo:
Snow moves out of Middle Tennessee, but roads are still frozen – NewsChannel5.com