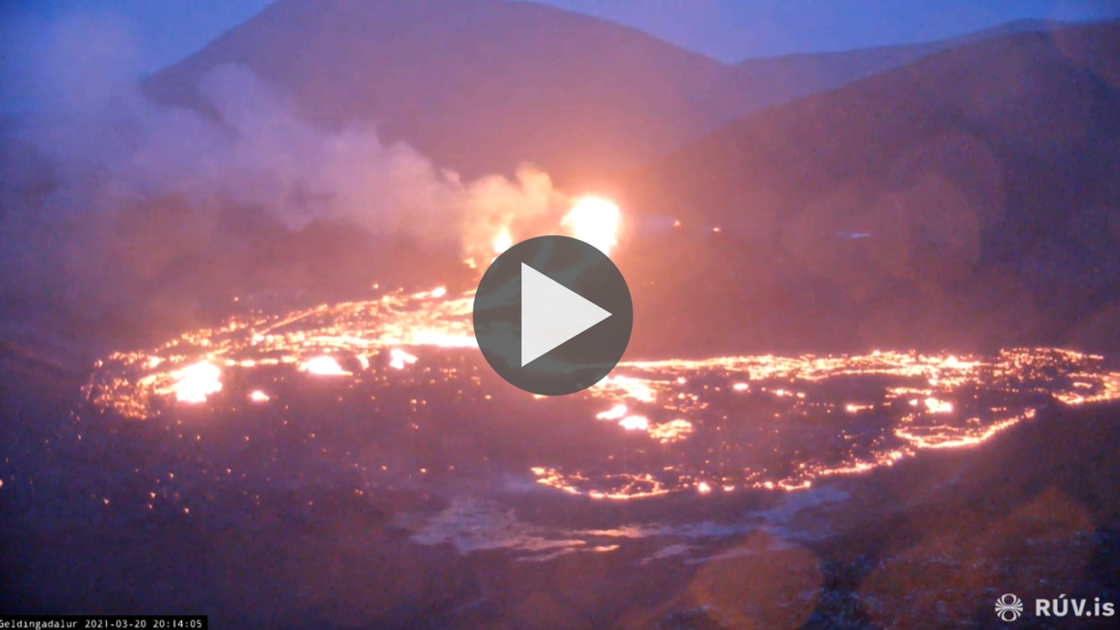 ICELAND – The volcano had been dormant for thousands of years, but now the Reykjanes volcano in the southern peninsula region of Iceland has erupted.
This eruption does not come as a surprise; it had been expected for weeks. In late February a series of earthquakes shook this portion of the island and signaled that magma was rising to the surface, building pressure.
This is why volcanic eruptions are predictable, while earthquakes are not.
Iceland is along two tectonic plates that are pulling apart at the Mid-Atlantic Ridge, pushing North America and Eurasia apart. This creates earthquakes, and at times, volcanic eruptions.
A new video of the eruption at Geldingardalur valley in Reykjanes peninsula. Taken from the Coast Guard helicopter. #Reykjanes #Eruption #Fagradalsfjall pic.twitter.com/B862heMzQL

— Icelandic Meteorological Office – IMO (@Vedurstofan) March 19, 2021
Not all eruptions are the same, however. In 2010 a different volcano in Iceland had a large eruption that led to smoke, ash and other pollutants filling the air for thousands of miles, shutting down air travel.
This new eruption is small and along a fissure. It was expected to be much "weaker" than in 2010 and has indeed been so. It won't throw ash sky high to cause major disruptions.
The volcano is over 15 miles south of the capitol, Reykjavík. Although it is within 10 miles of the island's international airport, it has not caused any issues and is not expected to at this time.
The volcano is not expected to impact towns or cities. In fact, the impacts are being reported as "very local" by the Icelandic Meteorological Office.
The eruption is small and the volcanic activity has somewhat decreased since yesterday evening. The eruptive fissure is appr. 500 – 700 m long. The lava area is less than 1 km2. Lava fountains are small and lava flows are currently a very local hazard. #Reykjanes #eruption pic.twitter.com/2YsSbGtIuZ

— Icelandic Meteorological Office – IMO (@Vedurstofan) March 20, 2021
Officials had been worried some of the polluting gas from the eruption would affect air quality down stream of the volcano, but luckily no such observation has occurred.
Currently, gas pollution is not expected to cause much discomfort for people except close up to the source of the eruption. The gas emittions will be monitored closely. #Reykjanes #eruption

— Icelandic Meteorological Office – IMO (@Vedurstofan) March 20, 2021
Sorgente articolo:
WATCH LIVE: Volcano erupting in Iceland | Weather | komu.com – KOMU 8