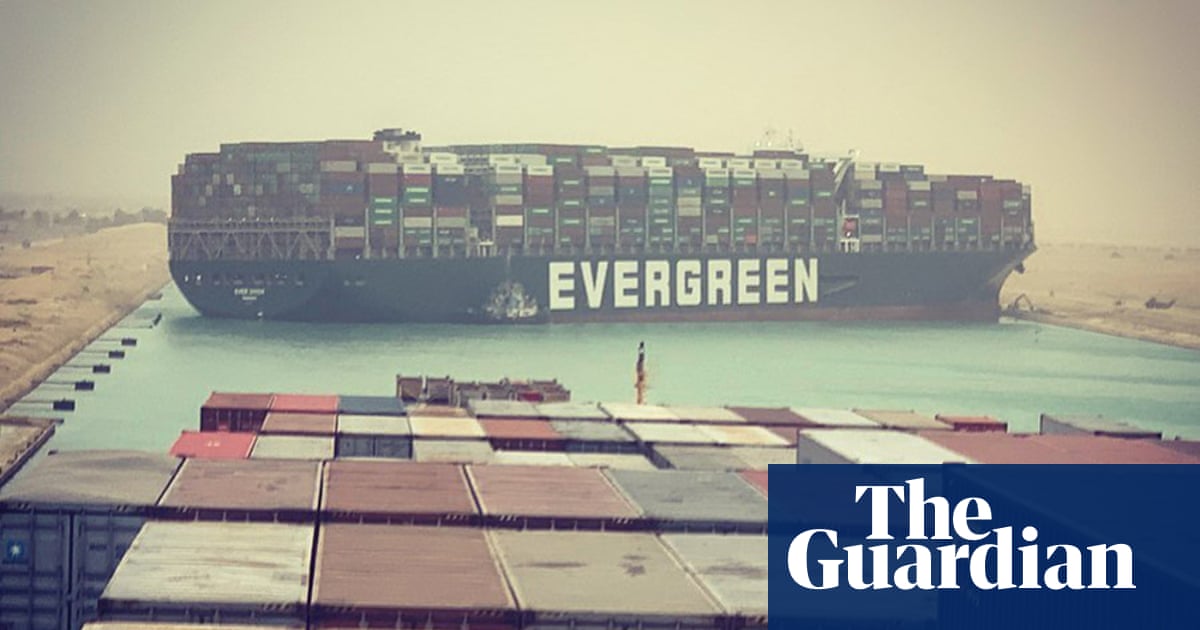 A giant container ship has run aground in the Suez canal, causing a traffic jam of vessels at either end of the vital international trade artery.
The 220,000-tonne, 400m-long Ever Given became stuck in the canal on Tuesday and several attempts to refloat it failed.
The Ever Given, which is carrying hundreds of containers bound for Rotterdam from China, is owned by the Taiwanese shipping company Evergreen and registered in Panama.
Pictures taken from another ship in the canal, the Maersk Denver, show the Ever Given lodged at an angle across the waterway. It dwarfs the tugs sent in by the Egyptian authorities to try to free it, and also a mechanised digger that appeared to be trying to excavate ground in order to free the bow.
Julianne Cona, who posted the picture from the Maersk on Instagram, had watched the drama unfold as her ship waited at anchor.
"Hopefully it won't be too long but from the looks of it that ship is super stuck," she wrote. "They had a bunch of tugs trying to pull and push it earlier but it was going nowhere … there is a little excavator trying to dig out the bow."
She added that after the Ever Given ran aground the ship behind her vessel lost power and "almost hit us so it's been a fun day".
The shipping monitoring site Vesselfinder shows the stricken ship and the traffic jam of other vessels at either end of the canal.
Normally ships form convoys to traverse the Suez and take turns to pass north and south up and down the canal. The Ever Given was part of a northbound convoy when the incident occurred, according to shipping agent GAC.
"The ship was fifth in the northbound convoy. None of the vessels before it were affected, but the 15 behind it were detained at anchorages waiting for the canal to be cleared. The southbound convoy was also blocked," GAC reported.
The Suez canal is one of the most important waterways in the world and links the Mediterranean with the Red Sea and shipping lanes to Asia. It is 120 miles long (190km), and 24 metres (79ft) deep and 205m (673 ft) wide.
The canal can handle dozens of giant container ships a day so any lengthy hold up will cause serious delays.
Sorgente articolo:
Suez Canal blocked by huge container ship – The Guardian