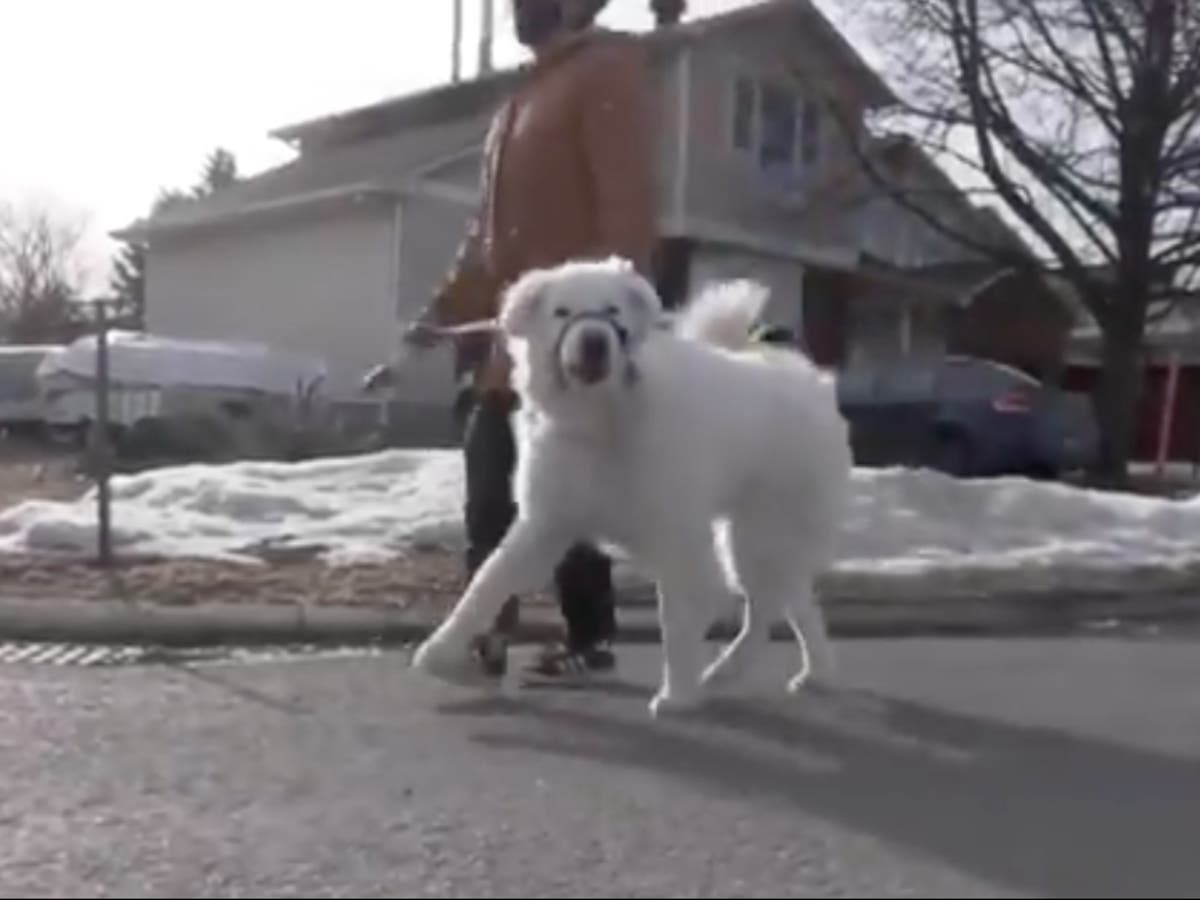 A family dog in Ottawa has been hailed as a hero after she helped save her owner during a sudden medical emergency.
Haley Moore had taken her mixed-breed dog Clover for a walk through the neighbourhood of Stittsville, where her family lives, on Tuesday morning when she suffered a sudden seizure.
Footage of the incident captured from a neighbour's security camera showed Ms Moore walking with Clover on the side of the road when she appeared to stumble and fall onto a driveway.
Clover, a large white Maremma mix, immediately checks on her owner and stands guard over her. The video shows a car passing them both, as Clover looks on.
Shortly after the first car passed, a second vehicle approached from the other direction and Clover springs into action, moving into the middle of the road to block the driver's path and forcing him to stop.
Dryden Oatway, the driver who stopped, told CTV News Clover's actions were "really impressive". He exited his truck and went to check on Ms Moore, with the dog keeping a close eye on him.
Read more:
"She kept her distance from me but made sure her owner was okay and that was amazing," said Mr Oatway.
Clover caught the attention of a second neighbour, Danielle Pilon, who stopped to help, before running to Ms Moore's home to get more help from her parents.
Her father, Randall Moore, said the neighbours were "frantic" when they knocked on his door and Clover was "barking like crazy".
By the time the dog and Ms Moore's parents got back to the scene, an ambulance had arrived and paramedics were treating their daughter.
"To see my daughter, face full of mud and she was incoherent, wasn't sure where she was, it was just terrifying, it really was," Mr Moore said.
Ms Moore recovered from the incident but it is not known what caused the seizure. However, she is confident that "if this ends up happening again", Clover would be there to keep her safe.
She described Clover as "a really amazing dog and I love her to death".
According to Mr Moore, Clover was rewarded for her quick action in saving her owner with steaks. He initially thought the steaks were for his dinner when his wife Diane returned home with them, but she told him: "No, it's for Clover for doing such a great job."
Sorgente articolo:
Dog stops traffic to save owner having seizure – The Independent