Gun violence prevention advocate and former Arizona congresswoman Gabrielle Giffords has also tweeted out her own version of the pic where she elbow-bumps Joe Biden at the White House after the president announced executive actions.
"I'm with you, Joe. Together, we will protect our country from gun violence," she tweeted.
And Connecticut Democratic Senator Chris Murphy hobnobbed with Giffords in the Oval.
The trial of the white former Minneapolis police officer, Derek Chauvin, charged with murdering George Floyd, a 46-year-old Black man, is underway in the Minnesota city and we're running a dedicated live blog to bring you events from inside and outside court.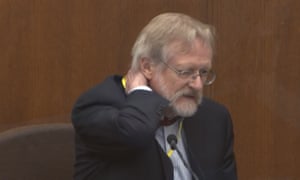 You can follow that here. Testimony has just got underway again after the lunch break. It's day nine of witness testimony and we are still on the prosecution's witnesses.
Relatives of George Floyd, and the family's high-profile attorney, Ben Crump, have stated that "America is on trial" in this case, not just the ex-cop, the police department, the city or policing in America, but the whole nation and the history on which it's built.
We expect the trial to last approximately another couple of weeks before the jury retires to deliver a verdict the city, the Black Lives Matter movement and millions around the world are awaiting, very much on edge.
This morning's testimony from Chicago-based breathing expert Martin Tobin was devastatingly bad for the defense.
He said: A healthy person subjected to what Mr Floyd was subjected to would have died."
Prosecutors are trying to dispel any notion that Floyd was physically okay when he was telling officers he couldn't breathe. Tobin explains that a person can continue to speak right until the point when oxygen levels drop to a point of no return.
"It's a very dangerous thing to think that because you're able to speak, you're doing ok," he says.
Chauvin is charged with second degree murder, third degree murder and second degree manslaughter. He denies all the charges. The case continues.
House Speaker Nancy Pelosi has issued a statement on Joe Biden's gun violence prevention executive orders.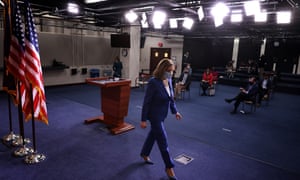 Pelosi said:
"Every day, the gun violence epidemic reaches into countless communities, forcing families across America to endure unfathomable pain and anguish. More than 41,000 Americans died from gun violence last year, the highest year by far on record, with the most vulnerable – women, children, communities of color – cruelly and disproportionately affected.
"The gun violence crisis demands immediate, effective and strong action – which is why, as House Speaker, I strongly support the gun violence prevention actions taken today by President Biden. These steps will save lives: stopping the spread of so-called 'ghost guns,' helping ensure that dangerous people cannot access firearms and leading an evidence-based, whole-of-government initiative to reduce community violence.

"As we take these steps, the House is proud of our passage on March 10 of H.R. 8 and H.R. 1446, bipartisan and commonsense background checks legislation supported by over 90 percent of the American people, including gun owners. Working with the Biden Administration and the survivors and families of victims who have turned the agony into action, we must ensure that these bills are passed by the Senate and signed into law, so that we can advance safety, security and justice in America."
Prosecutors in Derek Chauvin's murder trial have called Dr Martin Tobin, an expert in critical care and pulmonology, to give his opinion on George Floyd's cause of death.
Tobin told the jury, "Mr Floyd died from a low-level of oxygen and this caused damage to his brain … and it also caused a [pulseless electrical activity] arrhythmia that caused his heart to stop."
"The cause of the low-level of oxygen was shallow breathing, small breaths … shallow breaths that weren't able to carry the air through his lungs down to the essential areas [in] his lungs," Tobin said in response to further questions, noting shortly thereafter: "There are a number of forces that led to the size of his breath became so small."
When asked what those forces are, Tobin's answer pointed directly at the officers' physical restraint of Floyd.
"He's turned prone on the street, that he has the handcuffs in place combined with the street, and then that he has a knee on his neck, and that he has a knee on his back," Tobin said.
Follow the latest updates from the trial on the Guardian's live blog:
Sorgente articolo:
Biden condemns US gun violence as an 'international embarrassment' as he announces new actions – live – The Guardian