More on UK holidays: holidaymakers could be able to visit Portugal from the "middle of May", the nation's ambassador to the UK has said.
Asked when Portugal will be opening its borders to tourists from the UK, Manuel Lobo Antunes told Sky News: "As soon as possible, this is not just a unilateral matter, we have to coordinate this issue with our British friends and the UK Government.
"But we are hopeful, as we have been saying for these last months, that from the middle of May, regular mobility between the UK and Portugal and vice versa, can be established, that's our hope."
PA report that asked if Britons who have not been vaccinated can travel into the country, he added: "Yes, that's the idea, that's what we wanted, to as much as possible go back to the regime that existed before the pandemic. It's in that direction we are working and that is possible."
Earlier UK transport minister Grant Shapps raised the prospect that the NHS coronavirus app could be used to prove vaccination or testing status to facilitate international travel later this year.
UK transport minister Grant Shapps has continued his round of press appearances about UK restrictions on foreign travel this morning.
Asked about the status of travel to Spain on Times Radio, PA report Shapps saying: "Spain specifically, I'm afraid I just don't have the answer to that because the Joint Biosecurity Centre will need to come up with their assessment and we can't do that until a bit nearer the time. So we will need to wait and see."
Spain's tourism minister has previously suggested the country would welcome British tourists immediately, but Shapps' caution suggests it is possible that the Sun may have slightly jumped the gun with their awkward pun this morning.
Children from the first three grades in Poland are expected to go back to school next week as coronavirus infections fall, health minister Adam Niedzielski said this morning.
Reuters report that the government is on track to ease some restrictions as the country of 38 million seems to have combated its third wave of the pandemic.
"I think that from next Tuesday, 4 May, children from grades 1-3 will return to school. We have only one question – which we will resolve shortly – whether it will be nationwide, or whether some regions will have hybrid teaching," Niedzielski told radio station RMF24.
Poland implemented nationwide restrictions in mid-March, closing theatres, shopping malls, hotels and cinemas, with even harsher restrictions closing kindergartens and hair salons put in place later that month.
There's been some reaction in the UK media to the Public Health England study that shows vaccines cutting transmission rates in England as well as preventing more serious infection symptoms.
Dr Mike Tildesley, from the University of Warwick and a member of the Scientific Pandemic Influenza Group on Modelling (Spi-M) group, told BBC Breakfast the PHE findings on transmission were "significant".
He added: "We know that these vaccines are very good at preventing severe symptoms but they're not 100% effective, so it's really important if someone does get infected having been vaccinated, they aren't likely to pass the virus on to others, because then that reduces the risk of the virus spreading further and potentially putting vulnerable people who may not have protection at risk."
He said the study offered "extra evidence to suggest we do need as many people to be vaccinated as possible, even if you are not at severe risk of developing severe symptoms, because that way we're getting much higher levels of protection across the population, protecting the vulnerable and, hopefully, further reducing the number of people who will get severely ill and sadly die from the disease."
PA Media also notes that Prof Peter Openshaw, a member of the Covid-19 clinical information network, described the results as "very, very reassuring" and "certainly better than many of us expected just a few months ago".
He told BBC Radio 4's Today programme: "It shows that the immune system is doing something a lot more than we were expecting of it really."
He said it is known from other studies that infection is "typically much milder" in people who have been vaccinated and added that with two doses the outcome is "almost certainly going to be even better".
Pakistan recorded more than 200 Covid-19 deaths in a day for the first time since the start of the pandemic, as the government said it was considering stricter lockdowns.
Umar Farooq reports for Reuters from Islamabad that a total of 201 new deaths were recorded on Tuesday, bringing the country's overall death toll from the virus to 17,530, according to the National Command Operation Center (NCOC), which oversees the government's pandemic response. The previous highest daily death count was 157 recorded on 23 April.
Only about 2m vaccinations have been administered in Pakistan, and the country has struggled to procure supplies to cover enough of its population. Officials have said health care facilities are at risk of being overwhelmed. Pakistan has very limited health resources, with ventilators and oxygen in short supply.
Around 6,286 Covid-19 patients were being treated in 631 hospitals on Tuesday, and more than 70% of ventilators and oxygenated beds were occupied in hospitals in many major cities, according to the NCOC.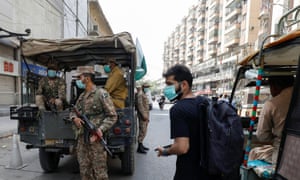 Stricter measures were taken in a handful of cities with the highest positivity rates this week, and health minister Faisal Sultan has warned that such steps could be extended to other areas if the public did not heed advice on social distancing, wearing masks, and other precautionary measures, especially during the holy Islamic month of Ramadan with the upcoming Eid holiday next month.
"Please keep your Ramadan and Eid simple this year, so we can fight this disease and get through this difficult situation," Sultan said.
I mentioned earlier that leading scientists are urging the UK to share Covid vaccines with poorer nations. Here are the words of Dr Jeremy Farrar, director of the Wellcome Trust, on the matter:
This pandemic is a long way from over. The scenes in India, where Covid-19 continues to overwhelm health systems and sink the economy, are harrowing. In many countries, hospitals are flooded with patients and face shortages of vital medical supplies.
At a global level, I fear the worst is yet to come. Across the world, there have been almost 100,000 reported deaths in the 10 days since the global total passed the 3m mark. Because of a lack of data collection, the true figure is likely much higher. Each death is a tragedy, the loss of a loved one, an untold story.
Why, when we have vaccines and treatments for Covid, are we still seeing horrific reports of this virus raging through communities? The responsibility for this lies with global political leaders. While science has made significant progress, producing vaccines, treatments and tests in record time, the G20 have failed to come together and back the sustained global response that is desperately needed.
This puts our hard-won scientific progress at risk. Science is only useful if it's delivered to society. Until vaccines and tests for Covid are available to everyone, we won't be able to stop this pandemic and its devastating consequences. Ensuring the world's population has access is the best way to drive down transmission, reduce deaths and prevent dangerous new variants from emerging.
Right now, global political leaders are the only people who can make these essential resources available. Rich countries – including the UK and US – have bought up the majority of existing vaccine supplies. They urgently need to start sharing these doses with the rest of the world, alongside national rollouts in their own countries, and through the Covax programme. And they must set out a timetable for how these donations will be increased as they vaccinate more of their populations domestically.
Read more here: Dr Jeremy Farrar – Political leaders must ensure Covid vaccines aren't the preserve of the rich
A time-consuming but crucial part of the vaccination campaign in Italy are house-to-house visits to deliver doses to the elderly. The country has the world's second-oldest population and tends to care for its aged at home rather than in institutional facilities.
Alessandro Tarantino and Gordon Walker have been out in the Lazio region around Rome for Associated Press with Dr Elisa Riccitelli and nurse Luigi Lauri on their rounds. The doctor and nurse manage just 12 shots a day – six in the morning, six in the afternoon, but it is seen as a vital job in protecting Italy's most vulnerable from the pandemic.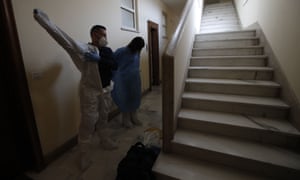 In the Lazio region, 30,000 people are over the age of 75 and with conditions that made it impossible for them to get to vaccination centres.
To make sure they hit all their appointments on time – one vial of Pfizer for the morning six, one vial for the afternoon – the local public health centre struck a deal with Uber so its visiting vaccination teams could have a dedicated car and driver. The 500 free rides from Uber cut down on time spent finding parking spots in Rome's notoriously congested streets.

And when they ring a doorbell, they are welcomed inside like heroes.
"It's really a very nice feeling," Riccitelli said. "We often vaccinate bedridden patients who cannot move, the extremely elderly, so the feeling is that we're doing something really useful."
"I feel amazing, like yesterday and the day before that, amazing," said 96-year-old Patrizia Cumbo, who has dementia, after she got her shot. She lives with her caregiver and received her jab from the living room recliner where she spends most of her days.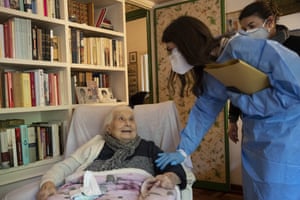 A bedridden Giorgio Tagliacarne, 85, said he hoped his jab would spell the end of a year of isolation, which was particularly acute given he and his wife used to sail for pleasure around the world.
"This way now maybe my grandchildren can come visit me, which until now is something I have avoided," he said, as his wife sat nearby.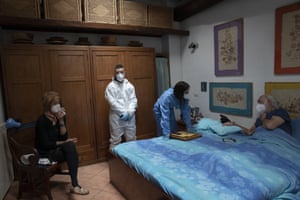 Riccitelli and Lauri take full precautions when they enter each home, donning dedicated protective gear and masks. Riccitelli notes relevant medical data and handles consent forms, while Lauri prepares and administers the vaccine, which they carry in an insulated bag to keep it cold. Then they wait 15 minutes to ensure there are no adverse reactions, and move onto the next appointment.
"Fortunately we have never seen any side-effects," Riccitelli says. "After 15 minutes we say goodbye with a big smile."
The relentless drumbeat continues in the UK about whether people will be able to have foreign holidays this summer. Transport minister Grant Shapps has been doing the media round this morning. He has told Sky News "We need to do this carefully."
He also suggested that it would be May when the government would be able to inform people which countries they will be allowed to visit without quarantine on return.
In a move that will anger people opposed to the imposition of vaccine passports, Shapps revealed that Britain is working on using the existing National Health Service coronavirus app to show that people have received their Covid-19 vaccine for international travel.
"It will be the NHS app that is used for people when they book appointments with the NHS … to be able to show that you've had a vaccine or that you've had testing, and I'm working internationally with partners across the world, to make sure that that system can be internationally recognised," he said.
Reuters report he will be chairing a meeting of G7 transport ministers from the G7 next week to discuss the plan further.
Britain has earmarked 17 May as being the earliest date when international travel would be allowed for non-essential reasons, with a "traffic light system" based on individual countries' Covid risk levels.
"The data does continue to look good from a UK perspective notwithstanding those concerns about where people might be travelling to and making sure that we're protected from the disease being re-imported," Shapps said.
Here's Alistair Smout for Reuters with a recap of the overnight news of that Public Health England study which says that Covid-19 vaccines deployed in England can cut transmission of the coronavirus by up to a half, in addition to the protection the shots offer against symptomatic infection.
Smout reports that the new research showed that people who became infected with the coronavirus three weeks after receiving one dose of Pfizer or AstraZeneca vaccine were between 38% to 49% less likely to pass it on to household contacts compared to those who were unvaccinated.
The shots also stop a vaccinated person developing infection to start with, reducing the risk by around 60% to 65% from four weeks after one dose of either vaccine.
UK health minister Matt Hancock has said: "This study is the most comprehensive real-world data showing they also cut transmission of this deadly virus. It further reinforces that vaccines are the best way out of this pandemic as they protect you and they may prevent you from unknowingly infecting someone in your household."
The study included over 57,000 contacts from 24,000 households in which there was a lab-confirmed case that had received a vaccination, compared with nearly 1 million contacts of unvaccinated cases.
Leading scientists are urging the UK to share the Covid vaccines it has bought with India and other nations, to tackle the soaring death toll and reduce the spread of the virus and new variants around the world.
Sir Jeremy Farrar, the director of the Wellcome Trust, said rich countries including the UK that have bought up most of the vaccine supply "urgently need to start sharing these doses with the rest of the world, alongside national rollouts in their own countries, and through the Covax programme. And they must set out a timetable for how these donations will be increased as they vaccinate more of their populations domestically."
Writing in the Guardian, Farrar called on the UK to lead the world, through its presidency of the G7. "We have already vaccinated over half of our population – including those who are most at risk from Covid-19. In fact, the UK has given almost as many doses to its own citizens than Covax has been able to ship to 120 countries in dire need of jabs," he said.
Covax, the UN-based initiative to get vaccines to the most vulnerable 20% of the population of every country, has managed to deliver only a fifth of the doses of the Oxford/AstraZeneca vaccine expected by May, because of global shortages and problems with supply.
One in four people in high-income countries are now protected but only one in 500 in low-income countries, where unvaccinated health workers are still putting their lives on the line. The US has announced it will give India 60m doses of the Oxford/AstraZeneca vaccine, which is not yet licensed for use in the US.
Farrar said sharing vaccines was in every country's self-interest. "The shores Covid now rages upon may seem distant to some, but the reality is that so long as the virus continues to spread in other countries, it continues to be a threat to everyone. If we allow Covid-19 to keep spreading, it will go on evolving, increasing the risk of new variants that could cross borders and evade vaccines and treatments."
Read more of Sarah Boseley's report here: Leading scientists urge UK to share Covid vaccines with poorer nations
We mentioned below about the crematorium crisis in New Delhi that is the latest manifestation of the devastating wave of Covid sweeping India.
We've just published a video showing workers constructing the makeshift pyres that are mentioned in the main story. However, some readers might find this video distressing:
Spain has opened up the prospect of tourists returning to the country from June under a Covid digital health certificate scheme.
Fernando Valdés, Spain's secretary of state for tourism, told the World Travel & Tourism Council summit in Mexico on Tuesday that the programme – under which tourists could show they have been vaccinated, tested negative or recently recovered from the virus – would prove "fundamental to offering travellers certainty".
Read the full story here:
Trade unions in Britain are calling for an immediate public inquiry into the country's nearly 130,000 deaths from Covid – one of the worst totals in the world.
The Trades Union Congress said the inquiry should examine whether workers were kept safe enough after about 15,000 people of working age died from Covid in England and Wales.
It comes as new accounts emerge of the power struggle within Downing Street that saw Boris Johnson at odds with his key advisers over whether to implement a second lockdown in November. The prime minister was against the shutdown.
Data from France has shown that the country's Covid crisis is beginning to ease as French president Emmanuel Macron plans to relax restrictions in the next few days.
French health authorities said on Tuesday that the number of Covid-19 patients in intensive care units fell by 58 to 5,943, after the tally set a one-year high of 6,001 on Monday, Reuters reports.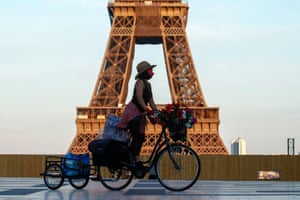 The total number of people in hospital with Covid-19 also fell, by 315 to 30,281, a 17-day low.
New infections went up by 30,317 over 24 hours but the 3.65% increase versus last Tuesday is the lowest week-on-week rise since 2 January.
Sorgente articolo:
Coronavirus live news: rich nations must help India – Fauci; 360,960 cases in one day – The Guardian