Joe Biden will on Tuesday meet the family of George Floyd on the first anniversary of his murder by police in Minneapolis – but miss his own deadline for police reform to address racial injustice.
The private meeting at the White House comes amid events in Minneapolis and beyond to mark one year since Floyd was killed when police officer Derek Chauvin knelt on his neck for more than nine minutes.
Floyd's dying words, "I can't breathe", became a rallying cry for an international racial justice movement and demands for radical changes to policing. But to the frustration of activists, efforts have hit a wall in Washington.
Biden dropped a campaign promise to create a national police oversight commission in his first hundred days in office, reportedly after being advised by civil rights organisations and police unions that it might cause unnecessary delays.
Instead the president told a joint session of Congress last month he wanted the George Floyd Justice in Policing Act passed by 25 May. The legislation would invest in police training, ban the use of chokeholds and establish a national database of police misconduct.
The bill has been passed by the House of Representatives but is stalled in the Senate over issues including qualified immunity, which shields law enforcement officers from being sued by victims and their families for civil rights violations. Republicans have objected to it being scrapped.
The defense secretary, Lloyd Austin, has released a statement concerning the end of the national guard mission to protect the US Capitol, after it was attacked by Trump supporters on 6 January, a deadly riot arising out of the former president's lie that his conclusive electoral defeat by Joe Biden was the result of electoral fraud.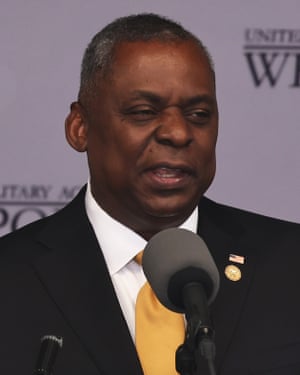 Thanking the soldiers and airmen, Austin – a retired general himself – said: "These airmen and soldiers protected not only the grounds, but the lawmakers working on those grounds, ensuring the people's business could continue unabated. They lived out in very tangible ways the oath they took to support and defend the constitution."
Such ways the national guardsmen and women supported and protected the constitution might seem more tangible, one might say, than any pursued by Republicans in the House and Senate opposed to the establishment of a 9/11-style commission to investigate 6 January.
Austin also noted the guard's work in coping with "natural disasters, civil unrest and an ongoing pandemic" and said: "As these troops depart for home and a much-deserved reunion with loved ones, I hope they do so knowing how much the nation appreciates their service and sacrifice – and that of their families and employers."
Further reading:
As biblical rains pounded Lake Charles in Louisiana last week, beleaguered residents could be forgiven for thinking they have lived in the most unfortunate city in the United States over the past 14 months.
Since last summer, the city has been hit by two major hurricanes, a paralyzing deep freeze, and now flooding rainfall that has inundated hundreds of homes. The latest disaster, which saw 15in of rain in just 12 hours, left people navigating the streets by kayak, salvaging what they could from homes still being patched up from hurricane damage and wondering if the past year is an omen of a deepening climate crisis.
"We are a very resilient people, we are a very strong population," said Nic Hunter, Lake Charles' mayor, whose staff had scrambled to rescue electronics from a flooding city hall. His own children were marooned at school. "But, you know, eventually you do kind of get to a point where you ask Mother Nature: what more can you do to us?"
Joe Biden will announce later on Monday that the US will double emergency spending to help communities prepare for hurricanes and other extreme weather events, while launching a new effort at Nasa to understand and track the impacts of climate change.
As the Associated Press reports, "the $1bn in spending is a small fraction of what the US spends on weather-related disasters. Last year alone, the nation endured 22 separate weather and climate-related disasters with losses greater than $1bn each. The disasters, including wildfires, hurricanes and snowstorms, had a cumulative price tag of nearly $100bn."
Furthermore, "2021 has already had significant winter storms that caused a deadly blackout in Texas and other states and underscore the damage caused by climate change. Forecasters predict the Atlantic hurricane season will be busier than normal, but is unlikely to be as severe as 2020's record-shattering year.
"The National Oceanic and Atmospheric Administration said last week that the hurricane season, which runs from June through November, will likely see 13 to 20 named storms, including at least six that will become hurricanes and three to five categorized as major hurricanes with winds of more than 110mph.
"Biden will make the funding announcement during a visit to the Federal Emergency Management Agency's headquarters on Monday afternoon, where he will receive a briefing on this year's outlook for the Atlantic hurricane season."
Some further reading:
More than 500 Biden campaign alumni and Democratic staffers have signed an open letter calling for the president to do more to protect Palestinians and hold Israel accountable for its actions in and over Gaza, where a ceasefire currently holds.
The staffers and former staffers write that they "commend [Biden's] efforts to broker a ceasefire. Yet, we also cannot unsee the horrific violence that unfolded in recent weeks in Israel/Palestine, and we implore you to continue using the power of your office to hold Israel accountable for its actions and lay the groundwork for justice and lasting peace.
The very same values that motivated us to work countless hours to elect you demand that we speak out … we remain horrified by the images of Palestinian civilians in Gaza killed or made homeless by Israeli airstrikes. We are outraged by Israel's efforts to forcibly and illegally expel Palestinians in Sheikh Jarrah. We are shocked by Israel's destruction of a building housing international news organizations. We remain horrified by reports of Hamas rockets killing Israeli civilians.

While Israelis had to spend nights hiding in bomb shelters, Palestinians in the Gaza Strip had nowhere to hide. It is critical to acknowledge this power imbalance — that Israel's highly-advanced military occupies the West Bank and East Jerusalem and blockades the Gaza Strip, creating an uninhabitable open-air prison.
Biden has sent his secretary of state, Tony Blinken, to the Middle East this week, saying in a statement: "Following up on our quiet, intensive diplomacy to bring about a ceasefire between Israel and Hamas … Blinken will meet with Israeli leaders about our ironclad commitment to Israel's security. He will continue our administration's efforts to rebuild ties to, and support for, the Palestinian people and leaders, after years of neglect."
Jewish and Arab Americans were among signatories to the open letter to Biden. Among its demands, it says the Biden administration must "investigate whether Israel's most recent assault on Gaza violates the Leahy Law, prohibiting US military aid from funding foreign military units implicated in the commission of gross violations of human rights".
Here's some further reading:
Sorgente articolo:
Biden staffers urge president to 'hold Israel accountable' and protect Palestinians – live – The Guardian
| User ID | Campaign ID | Link |
| --- | --- | --- |
| d9a95efa0a2845057476957a427b0499 | l-99999994 | Email Campaign |
| d9a95efa0a2845057476957a427b0499 | l-99999979 | Fiasconaro |
| d9a95efa0a2845057476957a427b0499 | l-99999983 | Fiasconaro |
| d9a95efa0a2845057476957a427b0499 | l-99999996 | Service for LMS |