Passengers aboard a ship in the middle of the ocean caught a glimpse of a giant shark swimming beneath the boat in eerie scenes.
Alex Albrecht, a singer, was at sea for more than a month when he managed to capture heart-stopping scenes as a giant swam near the surface, next to the cruise ship.
Albrecht shared a clip to TikTok, saying: "Sailed six weeks in the atlantic saw this big f****** shark.
The singer has an incredible view, as he's above the crowds in what appears to be the crow's nest.
In the background of the video he can be heard saying "holy f***," and there are shrieks and cries from the passengers below as they rush to the edge to try and catch a glimpse of the shark.
The clip, shared on Tuesday, has already amassed more than 32 million views, as numerous people claimed it was a basking shark.
The species is the second-largest fish in the ocean, reaching lengths of a whopping 39 feet and a weight of up to six tons.
Despite their impressive size, the basking shark isn't considered dangerous to humans as it feeds on plankton, which it filters out the water via its giant open mouth.
The sighting caused quite a stir online as well as on board, as Stephen Curry wrote: "Thinking the depth of that water scares me."
Addie agreed, writing: "I wonder how deep in the water it really is."
Cap Eman joked: "What in the jurassic world."
Dreams raved: "The video couldn't have been recorded from any better angle."
Tosh commented: "That's a dream, I would love to have witnessed this."
MsCurvySize thought: "Yea shape at the front and the size it's deffo a basking shark."
Matt Krath thought: "It's a meglaodon!"
Although Tristzz added: "It's a basking shark they are harmless."
Another giant of the deep was spotted recently, after footage captured a rarely seen Pacific sleeper shark around 2,000 feet below the ocean surface.
Researchers from the Japan Agency for Marine-Earth Science and Technology captured the shark on film, which is usually found at depths of 6,500 feet.
According to their study—published in the Journal of the Marine Biological Association of the United Kingdom on May 18 this year—the cameras observed a single individual Pacific sleeper shark on July 21, 2016. The shark was a female, measuring around 10 feet in length.
The sleeper shark, otherwise known as the Somniosus pacificus, is one of the largest deep-sea sharks in the world, reaching up to 14 feet in length.
Newsweek reached out to Alex Albrecht for comment.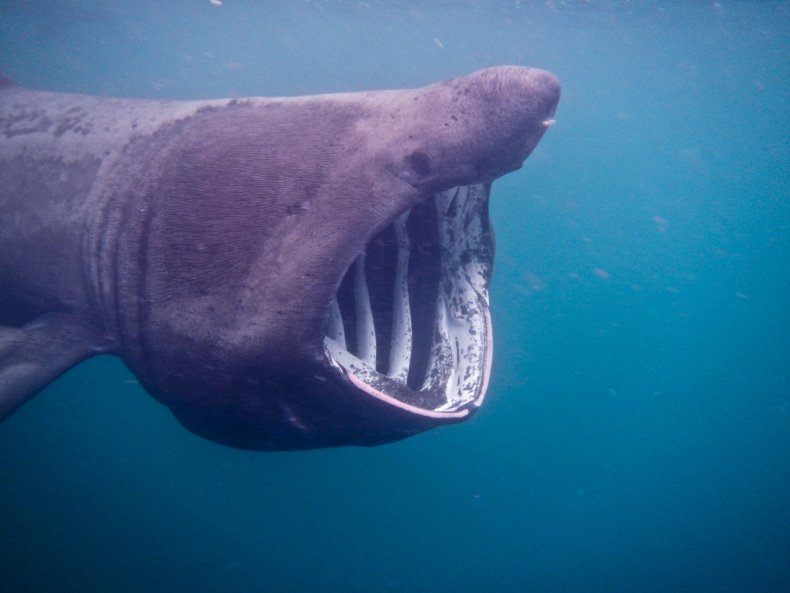 Sorgente articolo:
Cruise Ship Passengers Spot Gigantic Shark Swimming in Atlantic Ocean – Newsweek