Chinese authorities have gunned down two tigers after the pair killed their zookeeper and escaped from their enclosure into the community early Tuesday.
The tigers attacked the zookeeper during a morning feeding at a tourist attraction near Nanyang City in central Henan province, according to state-run Xinhua New Agency. The keeper was rushed to a local hospital but succumbed to his injuries.
Authorities immediately evacuated nearby residents as the local government attempted to locate the two tigers who escaped into the valley. After unsuccessful attempts to trap the cats, both animals were shot dead in separate encounters at 2:20 p.m. and 3:12 p.m.
Officials said the tigers were killed "for the sake of public safety."
A preliminary investigation suggests that both animals belonged to a circus in Suzhou City in east China's Anhui Province but had been rented out for the tourist spot, Xinhua reported.
Authorities at Danjiang Peacock Valley are investigating and have ordered the business to suspend operations.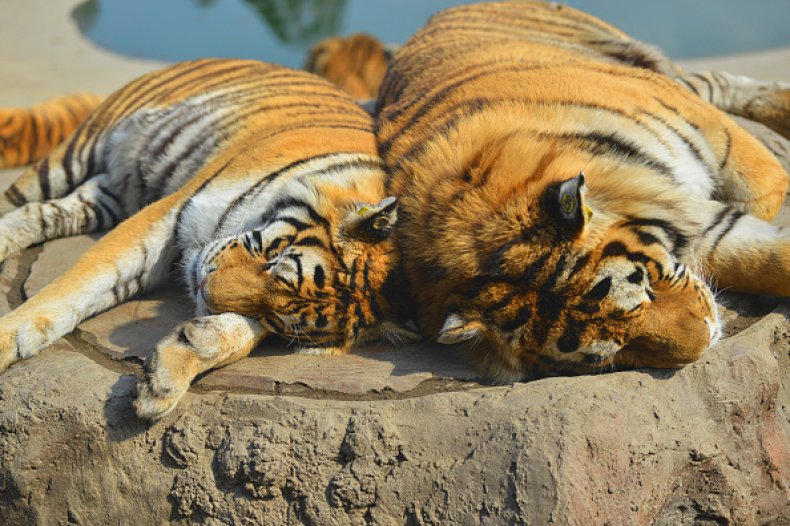 Tuesday's episode is the latest in a series of big-cat-related incidents in China in recent weeks.
On Sunday, another zookeeper was mauled in a separate attack after he failed to secure a tiger before entering its cage to feed it. According to state-run Global Times newspaper, the man had been a zookeeper at the Zhanggongshan Zoo for nearly two decades.
Three leopards escaped from Hangzhou Safari Park last month. It was later revealed that the safari park in eastern China had concealed the escape from local residents for nearly three weeks to prevent negative publicity that could have affected its visitor numbers ahead of a national holiday.
"[The park's general manager] believed that if it was truthfully announced or reported to authorities, it would seriously affect May Day visitor numbers, so he decided to conceal it and conduct a private search," said Fei Yuezhong, a top official in Hangzhou's police department.
Police said the three animals escaped after personnel cleaning the enclosure on April 19 violated unspecific safety regulations.
While the park was able to recapture one of the cats two days later, it wasn't until the circulation of a video clip showing an escaped cat being brutally attacked by a pack of dogs that public outrage broke and a larger search started. A second leopard was captured earlier this month, but people are still anxiously waiting for the third, which remains at large, to be found.
Sorgente articolo:
Two Tigers Kill Zookeeper, Escape From Enclosure into Community – Newsweek