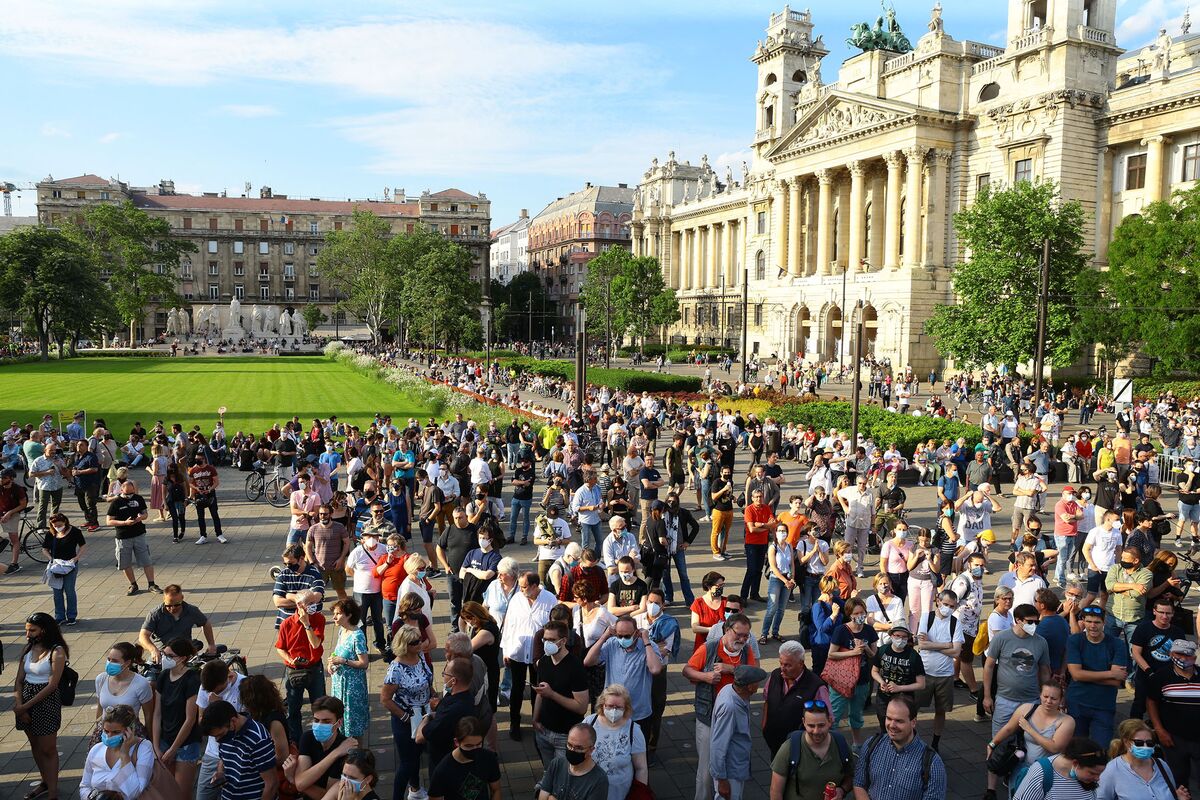 Hungary's opposition claimed a victory over Prime Minister Viktor Orban ahead of next year's parliamentary elections after he appeared to backtrack on an unpopular plan to build a Chinese university campus in Budapest.
The government is offering to hold a referendum in 2023 on the
Fudan University project, which the government had until recently signaled was a done deal. Thousands rallied in the capital on Saturday to voice their opposition, in the first major protest since the end of pandemic restrictions.
Shelving the project may help Orban regain the initiative ahead of the closest-fought general ballot in more than a decade. Opposition parties, which have united for the first time in their bid to oust the premier, have seized on the plan as evidence of the premier's drift from western values.
"This proves that the strength of a community can force even Europe's most coercive, cynical and egotistical government to backtrack," Budapest Mayor Gergely Karacsony, the front-runner to be the joint candidate of the opposition to challenge Orban, said in a Facebook post on Monday, calling it a "first victory."
The government's unexpected decision to put the project to a vote may effectively bury it, since it's widely opposed in Budapest. It would join just a handful of instances when the opposition managed to get unpopular measures canceled, such as in 2017 when the government withdrew from a plan to host the Olympics.
The cabinet is ready to hold a referendum in the capital in about 18 months for voters to decide on the campus for
Fudan University, Cabinet Minister Gergely Gulyas told Mandiner weekly in an interview published Sunday.
"We don't want to do something 'good' against the will of the people, including the residents of Budapest," Gulyas said, according to Mandiner.
He didn't say what would happen with a bill winding its way through parliament, which commits the government to finance the private university with taxpayer funds and to donate land in the capital's south for the campus.
Fudan University revised its charter in 2019 to erase the phrase "freedom of thought" and added a reference to the absolute leadership of the Communist Party.
Orban's support for it contrasted with his government's decision to oust of
Central European University from Budapest the same year. The George Soros-founded institution had trained generations of leaders committed to the ideals of liberal democracy, something Orban has come to oppose since his return as premier in 2010, which was marked by frequent clashes with peers in the European Union over his power consolidation.
Karacsony, the opposition front-runner to challenge Orban in next year's vote, had the streets around the planned campus renamed this week with references such as the Dalai Lama and Free Hong Kong to draw attention to the plan,
irking both the Orban government and China.
(Recasts story and adds Budapest mayor's comment in fourth paragraph.)
Sorgente articolo:
Orban Halts Plan for Chinese Campus to Contain Campaign Fallout – Bloomberg