NEW DELHI: Supreme Court Judge D Y Chandrachud on Saturday said the courts can play the role of "Truth Commissions" at a time when falsehood and fake news circulation has increased manifold with proliferation of social media, and when citizens cannot depend solely on the government for 'truth' even in a democracy.
Delivering the Justice M C Chagla Memorial Lecture, Justice Chandrachud said given the importance of truth in nation-building, many countries after independence from totalitarian regimes opt to establish "Truth Commissions", which "function to document, record and acknowledge the 'truth' of earlier regimes and violations for future generations, so as to not only provide catharsis to the survivors but also prevent any possibility of denial in the future".
"In a different context, this role can also be played by courts which have the ability to document information from all the parties involved, after due process has been followed. In the suo motu cognizance of the Covid-19 pandemic taken by our Supreme Court, we have acknowledged this very role in the context of the pandemic," he said.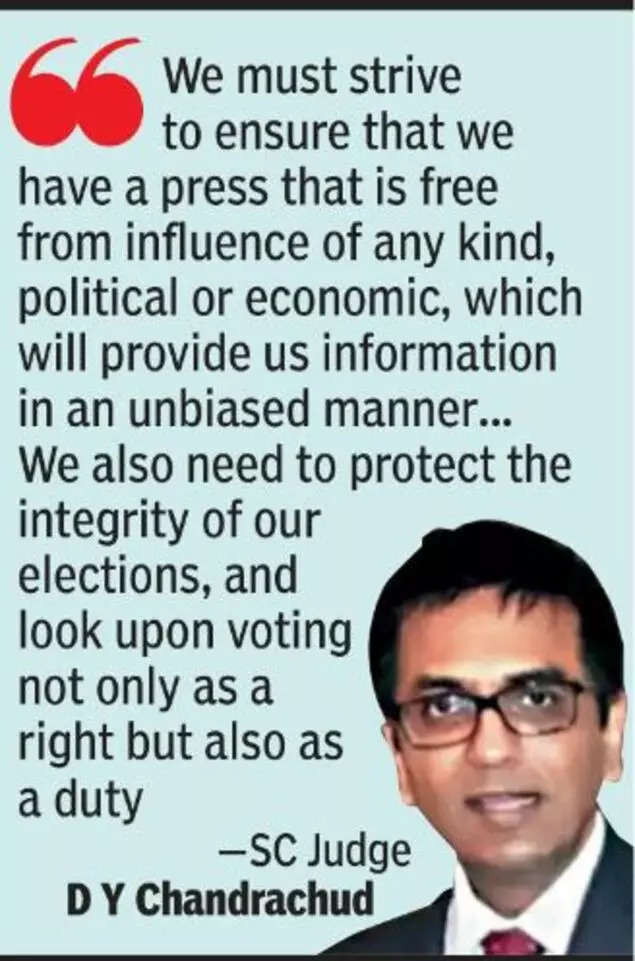 One of the remedies is to strengthen public institutions, he said, adding that as citizens, "we must strive to ensure that we have a press that is free from influence of any kind, political or economic, which will provide us information in an unbiased manner… We also need to protect the integrity of our elections, and look upon voting not only as a right but also as a duty. To do this, we need to ensure that all citizens are given a basic education and truly understand the value of their vote".
Likening the relationship of truth with democracy as that of a sword and a shield, the SC judge said, "The scope for extensive deliberation, particularly in the age of social media, exposes multiple 'truths' so much so that it seems like we live in an 'age of lies', and that shakes the very foundation of a democracy."
"Democracy needs the power of truth to survive. But, 'truth' has its shades depending upon the societal values," he said and gave the example of attitude of societies and democracies towards legalising gay sex.
"While India is currently transitioning towards normalising same-sex relationships, more than 10 countries around the world still prescribe capital punishment for homosexuality. In considering another example, we can note that 40 years after India legalised abortion in 1971, most of the Latin American countries are yet to legalise it. Hence, while for one part of the world, the 'truth' would be that a fetus is regarded to possess a right to life, yet for another, this would be a 'false' assertion," the judge said, who was part of the five-judge bench that legalized private consensual sexual relationship between adults belonging to LGBTQ communities.
Justice Chandrachud said the state alone cannot be the determinant of truth even in democracies. He said it cannot be said that "the state cannot indulge in falsehood for political reasons, even in democracies". "The role of the US in the Vietnam War did not see the daylight until the Pentagon papers were published. In the context of the Covid-19 pandemic, we see that there is an increasing trend of countries across the world who are trying to manipulate data on the infection rate and deaths. Hence, once cannot only rely on the state to determine the 'truth'," he said.
He said truth faces a tough time with proliferation of social media which exacerbates circulation of fake news. "It is undeniable that the phenomenon of 'fake news' is on the rise. A pertinent example of this is that the WHO recently termed the current Covid-19 pandemic as also being an 'infodemic', due to the overabundance of misinformation online. However, scholars have also noted that 'fake news' or false information is not a new phenomenon, having been in existence for as long as print media has existed. But the rapid advancement in technology and the spread of internet access has definitely exacerbated this problem."
Sorgente articolo:
Citizens can't depend on governments alone for truth: Chandrachud – Times of India