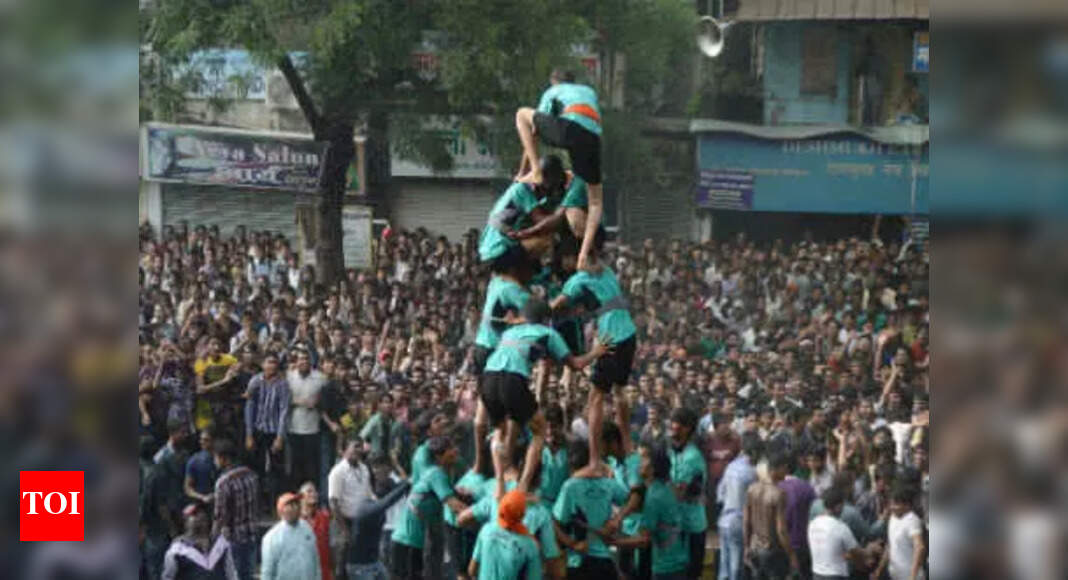 MUMBAI/ THANE: Individual police stations are issuing notices and summoning govinda pathaks, warning them of preventive arrests and punitive action if they defy the state's ban on dahi handi. Some dahi handi mandals have signalled that they will proceed with the human pyramid at Tuesday's festival of Gokulashtami despite Covid restrictions.
Officers at Byculla police station confirmed that they had despatched a notice to Tadwadi govinda pathak, warning them to follow the state guidelines. Jogeshwari police similarly cautioned Jai Jawan govinda mandal against transgressing the law.
"Smaller mandals are lying low because they do not wish to risk police wrath. Their members are working professionals who cannot afford to be embroiled in police cases, just as they are resuming their livelihoods after the lockdown," said a mandal spokesman. Larger teams too did not reveal their plans for Tuesday but said they would "do something to celebrate".
The charge of the fight brigade is led by the MNS (Maharashtra Navnirman Sena) which openly admits it will defy the state ban on Gokulashtami by putting together dahi handi events. The party has been networking with aggrieved mandals which are upset at the cancellation. On Sunday MNS leader Bala Nandgaonkar visited a ground in Thane to assess preparations.
MNS's Thane Palghar district president Avinash Jadhav said they will "go ahead" with their dahi handi plans as scheduled. He said over 40 mandals had already registered for the event. "If the BJP can hold massive rallies, Shiv Sena can stage protests, why can't our youth celebrate Janmashtami?" said Jadhav.
Mandals questioned the state's permission for Ganeshotsav which lasts 11 days, while denying them their one day festival. When the state health task force pointed out that dahi handi was a contact sport involving scores of participants, the mandals sought permission for fully vaccinated members to indulge.
Sorgente articolo:
Maharashtra: Police warn defiant dahi handi mandals against flouting ban – Times of India