LAKHIMPUR KHERI: Union minister of state for home Ajay Mishra's son Ashish was sent to 14-day judicial custody after an intense 12 hours of interrogation by the SIT on the Lakhimpur Kheri violence, in which he has been accused of killing four farmers.
The SIT found Ashish "evasive" about his whereabouts at the time of the incident following which he was arrested late on Saturday night. A medical team examined him in the crime branch office. He was then taken to a judicial magistrate who sent him to custody, senior prosecution officer SP Yadav said.
Ashish was not able to explain the presence of empty cartridges in his vehicle. A forensic team had visited the site of the alleged killings in Banbirpur on Wednesday and recovered two empty .315 cartridges from Ashish's vehicle. Ashish has been accused of shooting at farmers. The cartridges have been sent for a forensic examination.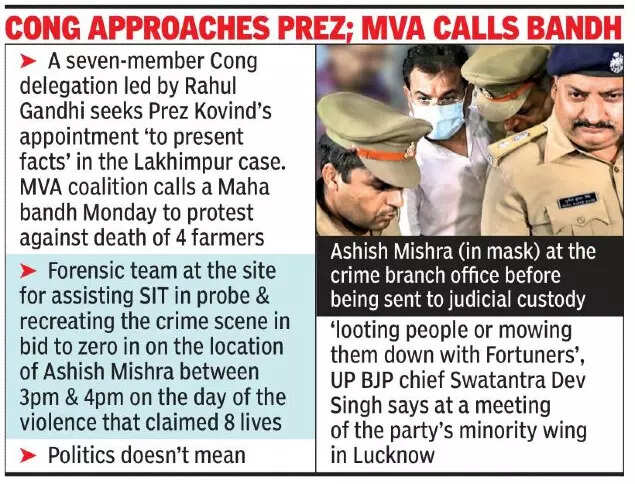 CCTV footage from the area is being scanned by experts. A senior police officer added that witnesses have told cops they saw Ashish at a petrol pump near the scene of violence when he came to tank up his vehicle, just a few minutes before some farmers were mowed down.
The minister's son is currently housed in a 'quarantine cell' at Lakhimpur district jail as per Covid protocol. He had skipped summons by the SIT on Friday, after which a second notice had been issued asking him to appear.
According to the SIT, Ashish was unable to prove why his SUV (Thar) and a Fortuner, registered in the name of his friend, Ankit Das, were headed towards the protest site, despite police blocking the route for traffic and asking commuters to follow another.
The administration had changed the route of deputy CM Keshav Maurya's convoy and alerted BJP functionaries in the area about it after farmers planned a protest at the Maharaja Agrasen Sports Ground helipad where Mishra and Maurya were to address an event.
Ashish had claimed that the SUV which mowed down farmers was driven by his driver Hari Om Mishra and that he was not in it. "During questioning, Ashish said he was at a wrestling event in Banbirpur village, 4 km from where the incident took place, and left the spot later to visit a rice mill. But he was not able to give satisfactory answers when he was asked about his location between 2.36pm and 4pm," a member of the SIT team told TOI. The Lakhimpur incident took place at about 3.03pm.
"There is clear evidence that Ashish was not present at the wrestling event at the time of the incident. We need to question him more and take him to the main site (of crime) for investigation. We will seek further remand on Monday," said the SIT official.
Meanwhile, a forensic team accompanied by officials from the SIT visited the crime spot again on Sunday. Residents in nearby areas, too, were questioned. ADG (Lucknow zone) S N Sabat told TOI, "Since this is an important case, experts were sent from Lucknow. They will recreate the crime scene."
Sources privy to the probe said forensic examination of the entire area where the killings happened would be done and videos of the episode processed "to zero in on the location of the key accused".
Ashish's counsel Avdhesh Kumar Singh said they would apply for bail on Monday. "We will oppose the police's appeal for remand custody. We have sufficient evidence to prove that Ashish was at the wrestling competition. There were thousands of people there."
(Inputs by Pathikrit Chakraborty)
Sorgente articolo:
Lakhimpur violence: After 12 hours of questioning, minister's son in judicial custody – Times of India