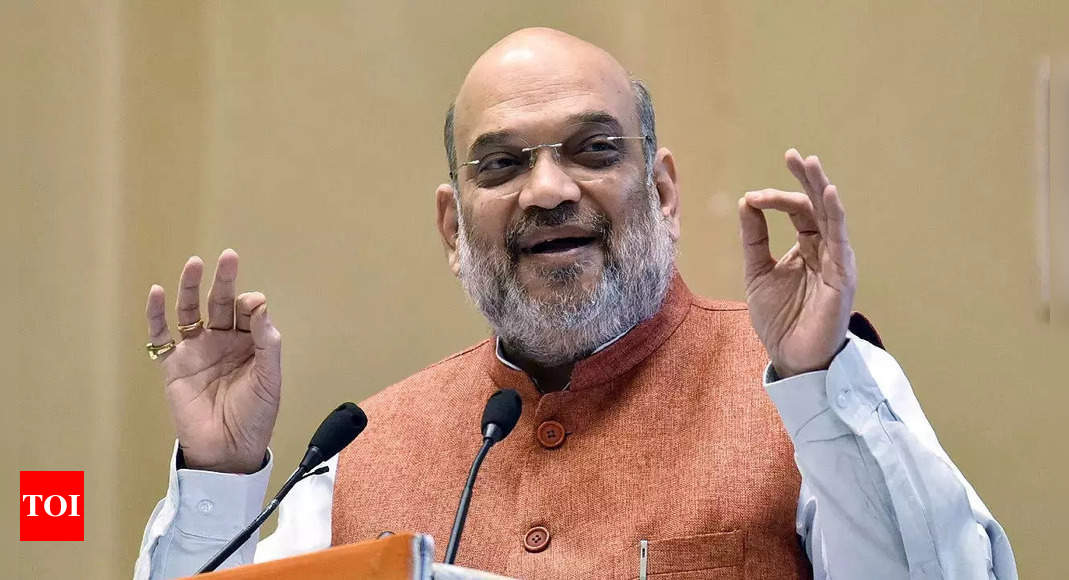 NEW DELHI: Union home minister Amit Shah heaped praise on PM Narendra Modi and called him a democratic leader. "The Prime Minister takes decisions on merit and not the status and stature of a person," he said in an interview to Sansad TV.
Shah believes PM Modi is a great listener who speaks least in meetings and gives importance to all worthy suggestions given by anyone irrespective of their designation or position in the hierarchy. Whatever may be the issue, he patiently listens to everyone and speaks least, and then takes a proper decision. He takes decisions patiently after considering suggestions given by all including a …. small-time official or worker," the home minister said.
The Union minister said Modi does not hesitate in taking political risks for decisions that are in national interest, and at times has taken bitter decisions for the welfare of the nation. Praising Modi's style of functioning and strong will power, Amit Shah said that he was fortunate to have worked under PM Modi in organisation as well as in the government – first in Gujarat and later at the Centre.
Shah said Modi's entire political career, which can be divided into three parts, has been full of challenges. "Modi was appointed organisation secretary of Gujarat BJP when the party was nowhere in the state but soon after he took over, there was a huge change and after 1995, BJP has remained in power. Even when he took over as the Gujarat chief minister after the state was devastated by the 2001 earthquake, Gujarat was reconstructed under him. The development of Gujarat emerged as an example for the entire country that too when there was multiparty government at the Centre. Thirdly, Modi took over as the PM when the county was struggling at various fronts like paralysed economy and indecision of several years," said Shah.
Shah said that Modi has always maintained that he is in power to change the country for the better and not merely to run the government. Therefore, he does not hesitate in taking harsh and risky decisions which may be against the party's supporters but are in the interest of the nation and the people, the minister said.
Taking on the opposition, Shah said that some opposition parties assume it is the birth right of their leadership to be in power. But Modi changed this by focusing on people-centric and nation first politics, he said.
Taking a swipe at the Gandhi family, Shah said that the family-centric thinking has become an ideology for some political families in the country. He cited the changes in the SPG Act through which Z+ security to Priyanka Gandhi Vadra was withdrawn and said that questions were raised as to why it was withdrawn.
Sorgente articolo:
PM Modi democratic leader, takes decision on merit: Amit Shah – Times of India