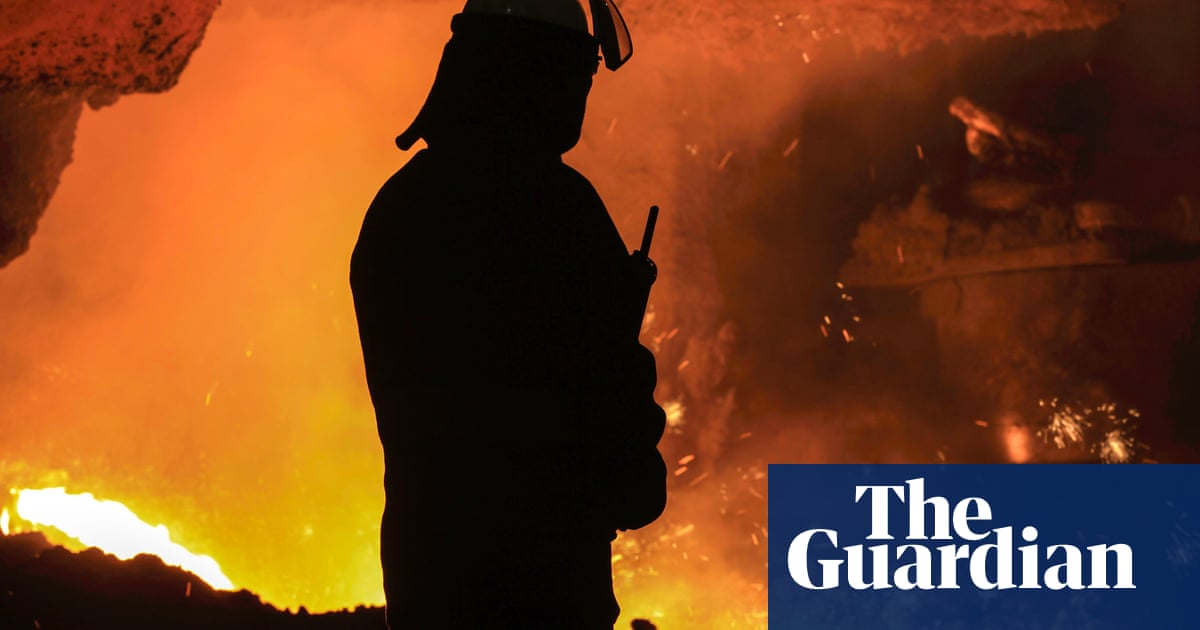 The steel industry has called for urgent state support to avoid a "full blown steel crisis", warning that plans to issue loans to soften the impact of soaring gas prices "won't address the problem".
As industry leaders voiced dismay at the perceived lack of support from government, trade unions wrote to the prime minister warning he was at risk of making a "historic mistake with devastating consequences" for an industry employing 32,000 people.
Uncertainty about how to support power-hungry industries such as steel has already sparked a political row between the Treasury and the business secretary, Kwasi Kwarteng, over whether to offer financial support.
While the Treasury is understood to be reluctant to fund a bailout, ministers are weighing up proposals from Kwarteng to provide short-term loans or guarantees while gas prices are high, to help sectors such as steel, glass, chemicals and paper.
Representatives from the industry met officials from BEIS on Tuesday but left disappointed at a lack of detail on the proposals and concerned that the loan plan won't help.
"If it is only these loans that are on the table, then for the steel industry that won't address the problem," UK Steel's director, Gareth Stace, told the Guardian.
"We need to get back round that table to discuss and agree better solutions."
Three steelworkers' unions – Community, the GMB and Unite wrote to the prime minister on Tuesday, urging action to protect thousands of jobs.
"The seriousness of the situation requires swift and decisive action from government. But it seems government ministers have been too busy squabbling, and that's why we wrote to the prime minister urging him to get a grip and act to resolve this crisis before it is too late."
In their letter to the prime minister, the steelworkers' unions said other European countries had provided assistance to their own steelmakers.
"Brexit was supposed to make it easier for the government to back British industry and British jobs, but all we are seeing is the same old procrastination and excuses for doing nothing," they wrote.
UK Steel had earlier backed Kwarteng in calling for assistance from the chancellor, Rishi Sunak. The Treasury initially appeared to reject, issuing an unusual reprimand to the business secretary for suggesting help might be available.
Since the split, officials from the departments are understood to have thrashed out the short-term lending plan.
But UK Steel said this would leave the industry still battling against a "hostile environment" and at risk of shutdowns.
In an earlier statement, Stace said: "Our message directly to the prime minister is please don't just apply a sticking plaster to what is a significant long-term problem. Action can and must be taken now to secure the foundations of British industry."
Kwarteng met representatives from industries including steel, paper, glass and chemicals on Friday and again on Monday, to hear their arguments for longer-term help, such as measures to ease electricity costs, which are high relative to European peers.
Stace said any measures to help steel had to put UK producers on a "level playing field" with overseas rivals.
"If any package delivers less than this and we still continue to pay more for energy than French and German steel producers and we remain at a competitive disadvantage," he said.
"Steel producers here in the UK will continue to have to pause steel production, will be less efficient and will lose margins and market share.
"This is a hostile environment for industrial investment in the UK and for the government's levelling-up agenda."
The business department said the steel industry's international competitors were often benefiting from pricing regimes that transferred the cost of industrial energy usage onto households.
"Ministers and officials continue to engage constructively with industry to further understand and to help mitigate the impacts of high global gas prices," said a spokesperson.
"Our priority is to ensure costs are managed and supplies of energy are maintained.
"Some countries on the continent have lower industrial electricity prices in part because some costs are recovered from consumer bills."
Sorgente articolo:
Steel industry calls for state support to avoid 'full blown crisis' – The Guardian