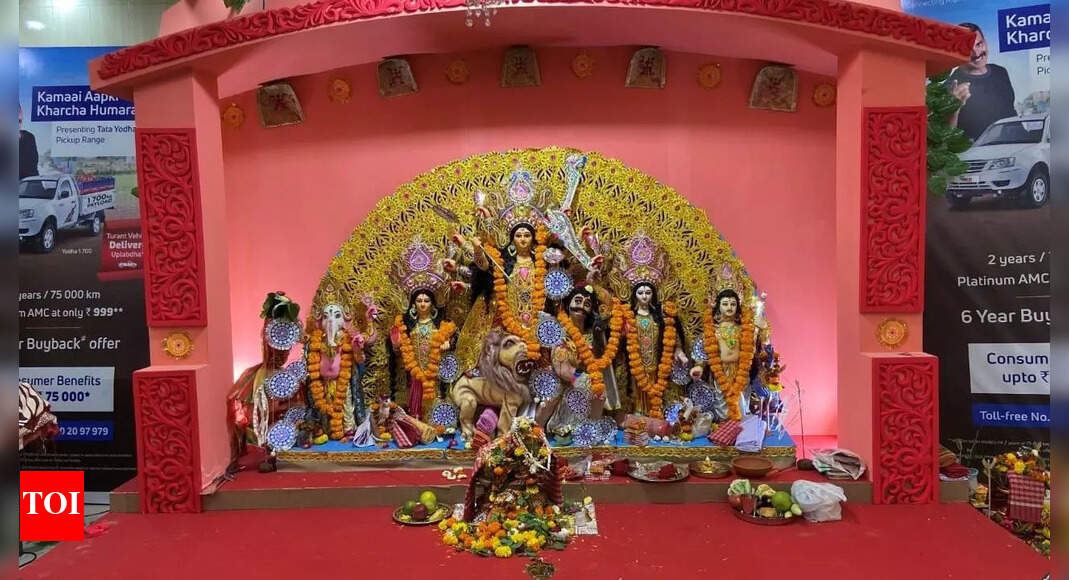 MUMBAI: The ongoing festival of Durga Puja will peak over Ashtami and Navami (Wednesday-Thursday) as important rituals like Sandhi Puja and Kumari Puja get under way. An all-women's festival in Andheri, the Mukherjee family of film artistes in Santacruz, the Powai Durgotsav and a puja in Kandivli are celebrating amid Covid restrictions.
The North Bombay Sarbojanin Durga Puja started by filmmaker Sashadhar Mukherjee in 1948 in Santacruz is being live streamed through social media for the second year in a row. Actor organiser Debu Mukherjee said, "We have scaled down the idol to 4ft, and 6ft with the crown. Unfortunately we are unable to permit outsiders. Only members are allowed. Bhog, prasad and flowers are prohibited. Two hours of morning anjali are being conducted without flowers. We have to maintain social distance and wear masks."
The all-women Ananda Utsav Durga Puja in Oshiwara is celebrating a "physical, digital and inclusive" Pujo. "We commemorated the International Day of the Girl Child October 11. We are offering free space to women entrepreneurs and donating sanitary items, stitching kits and dry food items to girls at a shelter," said president Gargi Chattopadhyay.
Ananda Utsav's Puja has a Kolkata like shabeki (thakur dalan) homely ambience with an eco-friendly Durga idol. "We have Pujo Dalis to enable people offer prayers and prasad online. Packed prasad is being distributed on certain days," said member Shalini Gupta. Members can display their talent at cooking and make-up through contests and events.
The Powai Bengali Welfare Association (PBWA) has taken care to engage vaccinated priests, helpers and volunteers. Thermal scanners, a touch free sanitiser machine and oximeters are deployed. Sourav Mitra of PBWA said, "Our natmoncho is decorated to resemble the simple rural (gram bangla) way of Durga Puja followed by our forefathers. It is crafted like the famous terracotta temple architecture of old Bengal, standing amid lush forests and swaying paddy fields. The idol of Ma Durga is adorned with white 'Sholar Saaj'."
In Kandivli, Krishti is celebrating Durga Pujo in a village set-up. "The mandap has been built like a hut around the banyan tree giving a hut like look. Accordingly the idol bears a village look. The pandal is located at Shogun Hall because organising the event at our regular open air venue would make it difficult to maintain Covid protocol," said organiser Arindam Dasgupta. Krishti will not host celebrity performers but instead organise in-house programmes to champion young talent.
Sorgente articolo:
Mumbai: Durga Puja pandals mindful of Covid norms amid festivity – Times of India