Guardian climate reporters today laid out the stakes at the upcoming climate summit in Glasgow, Scotland.
By the end of this year the world will have burned through 86% of the carbon "budget" that would allow us just a coin flip's chance of staying below 1.5C. The Glasgow COP talks will somehow have to bridge this yawning gap, with scientists warning the world will have to cut emissions in half this decade before zeroing them out by 2050.

"2.7C would be very bad," said Michael Wehner, who specializes in climate attribution at Lawrence Berkeley National Laboratory, who explained that extreme rainfall would be up to a quarter heavier than now, and heatwaves potentially 6C hotter in many countries. Amanda Maycock, an expert in climate dynamics at the University of Leeds, added that much of the planet will become "uninhabitable" at this level of heating. "We would not want to live in that world," she said.

A scenario approaching some sort of apocalypse would comfortably arrive should the world heat up by 4C or more, and although this is considered unlikely due to the belated action by governments, it should provide little comfort.

Every decision – every oil drilling lease, every acre of the Amazon rainforest torched for livestock pasture, every new gas-guzzling SUV that rolls onto the road – will decide how far we tumble down the hill. In Glasgow, governments will be challenged to show they will fight every fraction of temperature rise, or else, in the words of Greta Thunberg, this pivotal gathering is at risk of being dismissed as "blah, blah, blah".

"We've run down the clock but it's never too late," said Rogelj. "1.7C is better than 1.9C which is better than 3C. Cutting emissions tomorrow is better than the day after, because we can always avoid worse happening. The action is far too slow at the moment, but we can still act."
That very short briefing is already over. Biden did not take any questions, but he did focus on a few key areas.
Cases, hospitalizations and deaths are down nationally, and in the majority of US states.
Biden, again, urged the 66m unvaccinated Americans to get a vaccine. Although vaccination rates have increased in recent days, he said the US must continue to vaccinate the unvaccinated.
He said vaccine mandates "work, they work", and mounting evidence shows they can increase vaccination rates by up to 20% for some employers. He urged more employers to put them in place.
Biden said booster shots will continue to protect those who are already vaccinated, and that scientific advisors will soon consider vaccines for children. He urged parents to get kids vaccinated when it is their time.
He also said it's critical to keep in-person schools open with additional safety precautions such as mask mandates.
"Now is not the time to let up, we have a lot more to do," said Biden. "We're in a very critical period".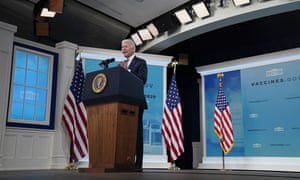 Parents have anxiously awaited the approval of vaccines for children ages five to 12 years old. Now, Biden has said he expects scientific advisors to consider the safety and efficacy of vaccines for children soon.
This is largely in line with expectations, as advisors tentatively planned to meet in late October. A decision could come after Halloween.
"I'm calling on more parents to get their children vaccinated when eligible."
"Please get vaccinated, that's how we put this pandemic behind us and accelerate economic recovery," said Biden.
As Biden begins his Covid-19 briefing and almost immediately promotes vaccine mandates.
"Now is not the time to let up, we have a lot more to do. We're in a very critical period," said Biden. He said daily case rates, hospitalizations and deaths are all down across the country.
"We have to do more to vaccinate the 66 million unvaccinated people in America," said Biden. "The vaccine requirements we started rolling out in the summer are working, they're working".
"Vaccination requirements should not be another issue that divides us".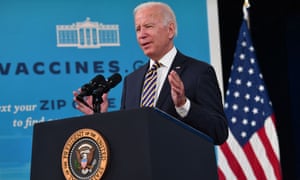 Biden is now beginning his Covid-19 briefing. Here we go.
Democratic leadership presented members with a $2.5tn compromise on a massive social spending bill that would provide funding for everything from childcare to housing to expanded health benefits, the Huffington Post reported.
The number is still higher than what two Senate hold outs – Democratic Senators Kyrsten Sinema and Joe Manchin – have said they would vote for.
As with any bill of such historic proportions, not every member will get everything he or she wants," said Democratic Senate leader Chuck Schumer in a letter to the caucus on Thursday, while senators were in their home states. "I deeply appreciate the sacrifices made by each and every one of you."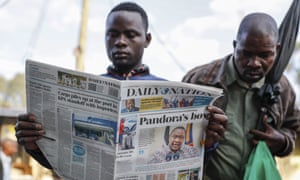 Joe Biden is expected to provide a Covid-19 response update soon. Later this afternoon, the US president will also meet with Kenya's president, Uhuru Kenyatta, in part to discuss, "the need to bring transparency and accountability to domestic and international financial systems."
Biden came into office calling for a global minimum tax to make sure corporations pay their fair share of taxes. However, since then, the Pandora Papers revealed how the global, shadow financial system has allowed billionaires to avoid tax, including and especially in South Dakota.
Biden is meeting with Kenyatta, who entered office as an opponent of corruption. The Pandora Papers leak revealed that Kenyatta has amassed $30m in offshore wealth, including in London.
Here's more from the AP:
Kenyatta is one of more than 330 current and former politicians identified as beneficiaries of secret accounts revealed in recent reports known as the Pandora Papers. He and his relatives have some $30 million in offshore holdings, according to reporting by The International Consortium of Investigative Journalists. The consortium obtained millions of leaked documents that detail the hidden wealth of prominent world leaders, politicians, corporate executives and celebrities. Kenyatta has denied wrongdoing.

Biden was expected to address the "elephant in the room" during his afternoon meeting in the Oval Office with Kenyatta and senior Kenyan officials, according to a senior administration official who was not authorized to publicly discuss the matter and spoke on the condition of anonymity.

White House press secretary Jen Psaki said Biden has been vocal about what he sees as "inequalities" in the international financial system.

"That doesn't mean we don't meet with people you have disagreements on," Psaki said. "We have a range of interests in working with Kenya and working with them on issues in Africa, in the region, and that will be the primary focus."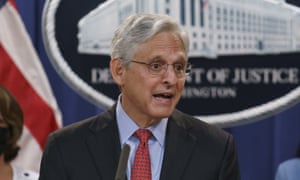 The attorney general, Merrick Garland, will make his first appearance before the House Judiciary Committee next week. The testimony is likely to touch on everything from a severe near-total abortion ban in Texas to voting rights and gun violence.
Garland is scheduled to testify 21 October. His appearance was first reported by Politico.
The FDA panel considering whether to recommend a third half-dose of the Moderna vaccine, called a "booster" to hopefully boost immunity, is hearing from Israeli scientists. They presented evidence showing boosters may help curb severe disease in people older than 60. Israeli data has provided among the strongest arguments in favor of boosters.
However, reporters at STAT note one of the lingering questions that will not be answered by today's hearing – will immunity wane again after a booster dose? Or will a single booster grant long-term protection?
This is "the $1m question that I don't have the answer to," said Sharon Alroy-Preis, Israel's director of public health services, to the FDA advisors.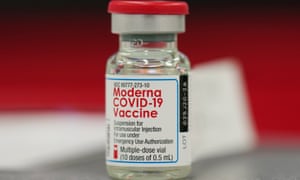 In a new letter to Democrats, Senator Chuck Schumer said they must try again to advance a sweeping voting protections in the Freedom to Vote Act. The law is a reaction to Republican states, which had advanced voting restrictions on the back of falsehoods about voter fraud in the 2020 election.
Here's more from the AP:
If the Republican senators have ideas "on how to improve the legislation, we are prepared to hear them, debate them, and if they are in line with the goals of the legislation, include them in the bill," Schumer said.

He challenged Republicans not to oppose the measure, blocking it with a filibuster, and "at the very least, vote to open debate."

A test vote is expected next Wednesday.

Prospects appear dim for the Freedom to Vote Act, a revised effort by Democrats to advance one of their signature legislative efforts this year — protecting and enhancing the nation's patchwork of state-run election systems. The push for an overhaul comes as Texas and other states are putting in place new voting laws that critics argue are a return to Jim Crow-style restrictions making it difficult to cast ballots, especially in Black and minority communities.

A key Democrat, Sen. Joe Manchin of West Virginia, has led the effort to revise an earlier version of the bill that ran into stiff GOP opposition. He, too, had concerns with its scope. But it is doubtful Manchin's effort on the now-scaled back bill will win over many Republican supporters.

In the evenly-split 50-50 Senate, Democrats hold only the most slim of majorities. Support from Republicans is needed to reach the 60-vote threshold to advance the bill past the opposition.

Senate Republican leader Mitch McConnell of Kentucky has decried the entire effort as a federal takeover of state-run election systems.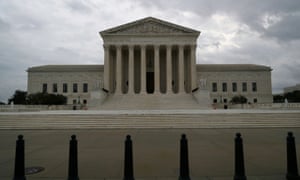 A presidential commission to examine whether to add more seats or impose term limits on the nine-justice supreme court is expected to release an early draft report today. Biden setup the commission in April.
Calls to add members to the court came after Donald Trump was able to confirm three new conservative justices to the court, effectively creating a 6-3 conservative super majority. One seat filled by Trump was a seat left empty during the Obama administration, which the former president was unable to fill because Senate Republicans would not consider Obama's nomination.
Here's more on the importance of the court from Reuters, which begins considering major cases this fall:
The Supreme Court during its current term is considering major cases in which its conservative majority could restrict abortion rights and widen gun rights, alarming liberals.

Republicans have opposed the idea of expanding the number of justices, which they call "court packing." Democrats have said the current makeup of the court no longer represents the will of the U.S. electorate.

The last time court expansion was seriously pursued was in the 1930s by Democratic President Franklin Roosevelt after a conservative court impeded his policies aimed at lifting America out of the Great Depression.

White House spokeswoman Jen Psaki told reporters at her daily briefing that the commission will release draft materials on Thursday ahead of a public meeting on Friday, with an eye toward submitting its final report next month.

"They will then form their final report and submit it to the President in mid-November," Psaki added. "These have not been submitted to the White House for edits or feedback… we're not going to comment on it – or the President wouldn't comment on it – until a report is final and he has the chance to review it."
President Joe Biden will meet with Pope Francis on 29 October before attending a two-day summit of G20 leaders in Rome where he hopes to reach agreement on a Global Minimum Tax of 15%, a White House official told Reuters.

On the second foreign trip of his presidency, Biden will then attend the UN climate conference known as COP26 in Glasgow, Scotland, from 1-2 November and announce "key actions" on the conference's top themes, including goals for fighting climate change and forest and land use, the official said.

Biden's visit to Italy and Britain for meetings with major world leaders is meant to signal that the US is re-engaging with international groups after four years of Republican former President Donald Trump's "America First" policies.

But the trip comes amid international frustration over the chaotic American withdrawal from Afghanistan, a rift with top ally France over a submarine deal with Australia, and question marks over the US ability to meet Biden's climate goals as lawmakers within his own Democratic Party haggle over his multi-trillion-dollar legislative agenda.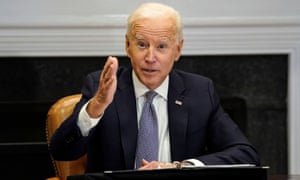 Covid-19 vaccine doses, boosters or otherwise, are free to the American public because the taxpayers, through the federal government, purchased doses from manufacturers in emergency contracts early in the pandemic.
Similarly, Merck wants to sell its new anti-viral drug which combats Covid-19 to the US government, but at an extraordinary mark-up. The development of the drug was subsidized by taxpayers, and costs $17.74 to produce. Merck wants to charge the US government $712 for the medicine.
This is a common pattern, as The Guardina's David Sirota writes today.
A study from the National Academy of Sciences tells that story: the federal government spent $100b to subsidize the research on every single one of the 200-plus drugs approved for sale in the United States between 2010 and 2016.
What's more, Sirota writes, "a new Public Citizen analysis shows that the 20 top-selling medicines generated almost twice as much pharmaceutical industry revenue in the United States as in every other country combined."
The drugmaker applied this week to the FDA for emergency use authorization, which would likely precede the longer process of seeking full approval for the drug.
Former Trump advisor Steve Bannon is scheduled to appear before the House committee investigating the 6 January riot at the Capitol today. However, his attorney has already said he will not comply, citing executive privilege.
Now, the question is whether the House committee will refer Bannon to the Department of Justice for potential criminal contempt charges related to his refusal to appear.
Also notable, is Bannon has made high-profile public appearances, even as he refuses to appear before the committee. He hosted a rally where Trump called in to praise Republican Virginia gubernatorial candidate Glenn Youngkin and repeat falsehoods about the 2020 election. Youngkin was not present.
"We're gonna build the wall. We're going to confront China," Bannon said to cheers, the Washington Post reported. "We're putting together a coalition that's gonna govern for 100 years."
The event began with the Pledge of Allegiance to a flag present at the Capitol Riot on 6 January, which one speaker called, "the peaceful rally with Donald J Trump".
Notably, even though Moderna asked the panel to consider whether to give a "booster", (or third dose) to people aged 18 and older, the panel posted a question considering whether to give it to people aged 65 and older.
That echoes the recommendation the panel gave for Pfizer booster shots. While the panel was initially asked to consider boosters for the general public, and the administration pushed for the same, experts ultimately recommended boosters for a much smaller population of older Americans and people at risk of severe Covid-19.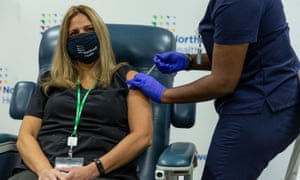 Independent advisors to the Food and Drug Administration (FDA) will also consider whether to recommend a "booster", or third dose, of the Moderna vaccine for people aged 18 and older. On Friday, they will consider whether to recommend a second dose of the Johnson & Johnson vaccine.
Experts with the Vaccines and Related Biological Advisory Committee (VRBPAC) will consider whether the booster doses are safe and effective at least six months after people completed their first series of two shots. Moderna asked experts to consider giving people a half-dose of their vaccine, in hopes it will trigger fewer side effects than the first series of doses people received.
Covid-19 vaccines are safe and highly effective at preventing hospitalization and death. The hope is that a third dose, or booster, would even further protect people from Covid-19, as some experts have argued early evidence shows protection from mild to moderate illness wanes.
Notably, there is scientific debate about whether waning immunity to mild and moderate disease will necessarily equate to less protection from hospitalization and death.
Further, the World Health Organization (WHO) has asked wealthy countries to hold off on boosters for one years, until more people globally can get initial doses. Globally, demand far outstrips supply. Africa is the least vaccinated continent, with just 7.3% of the population having received at least one dose.
Today we're watching the House committee investigating the 6 January Capitol attack, where lawmakers have subpoenaed former advisors to the Trump administration.
Legislators are eyeing whether former Trump administration adviser Steve Bannon will continue his game of chicken with lawmakers, a game that could eventually lead to criminal contempt charges if he continues to refuse to testify before the committee and supply them with documents.
Sorgente articolo:
Steve Bannon faces last chance to testify on Capitol attack or risk contempt charges – live – The Guardian