The rightwing Texas congressman Louie Gohmert, a prominent climate change denier and Covid anti-masker, has joined an already rambunctious pursuit for the state's attorney general office involving George P Bush, nephew of the former president George W Bush, and the embattled incumbent Ken Paxton.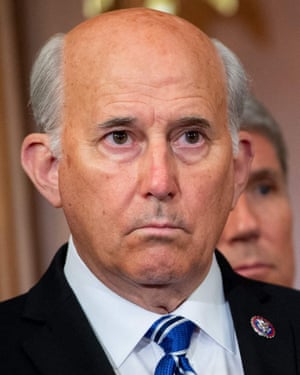 The entry of the fierce Donald Trump loyalist into the race is seen by some in Republican circles as part of the former president's push to install allies in powerful state positions ahead of the 2024 election.
Efforts by Trump to overturn Joe Biden's 2020 victory in the courts and several state legislatures fell flat, and analysts say he is determined to secure a friendlier playing field if he runs again.
He could not ask for a more supportive candidate than the allegedly QAnon-aligned Gohmert, a proponent of extreme conspiracy theories including one that terrorists were sending pregnant women to the US to raise America-hating offspring.
In December 2020, Gohmert filed a federal lawsuit against Trump's vice-president, Mike Pence, swiftly rejected by courts up to and including the US supreme court, seeking to allow him to replace certified state electors with those chosen by Republicans.
One problem for Gohmert is that Trump has already endorsed Paxton, who is battling a long-running securities fraud indictment and is under separate investigations by the FBI and the Texas state bar.
George P Bush, the current Texas land commissioner and son of the former Florida governor Jeb Bush, had hoped Trump would back him, despite his apparent loathing of the Bush family. His efforts to ingratiate himself ended in humiliation.
A jury in Georgia has begun deliberations in the trial of the three white men accused of murdering Ahmaud Arbery, after 10 days of evidence and lengthy closing arguments in the closely watched case, which like that of Kyle Rittenhouse in Wisconsin has become part of the ongoing movement for, and debate over, racial justice in the US.
On Tuesday morning, prosecutors ended closing arguments before Judge Timothy Walmsley, who briefed the jury on the multiple counts of murder, false imprisonment and other charges faced by the three defendants.
Travis McMichael, his father Greg McMichael and their neighbour William "Roddie" Bryan pursued Arbery, a Black 25 year-old, for five minutes in February 2020 in the neighborhood of Satilla Shores, south Georgia.
Travis McMichael, armed with a pump action shotgun, fire three times at Arbery, who was unarmed. Prosecutors say the three men had no legal justification to chase Arbery and box him in with their trucks. The shooting was captured on video by Bryan who, prosecutors say, repeatedly attempted to ram Arbery during the pursuit.
The three men have pleaded not guilty to all charges, claiming they attempted to enact a citizen's arrest. The McMichaels have claimed they believed Arbery was involved in a spate of break-ins and burglaries in the neighborhood, and that Travis McMichael opened fire in self-defense.
On Tuesday, lead prosecutor Linda Dunikoski repeatedly ripped into the claim of self-defense.
"You can't claim self-defense if you are the unjustified aggressor," Dunikoski said. "Who started this? It wasn't Ahmaud Arbery."
Donald Trump's pollster thinks he will run for the White House again in 2024, with a clear path to victory through five states he lost to Joe Biden in 2020: Arizona, Georgia, Pennsylvania, Michigan and Wisconsin.
But Michael Cohen, Trump's former attorney and fixer who is fresh out of house arrest, thinks he will not.
"His fragile ego cannot stand to be considered a two-time loser," Cohen said on Monday.
Trump lost the five states in question by narrow margins – defeats he refuses to accept, continuing to promote the lie that Biden won thanks to electoral fraud, which led to deadly violence at the US Capitol on 6 January.
Politico obtained a memo from Trump's pollster, Tony Fabrizio, which said a poll carried out for the former president's fundraising committee put him up over Biden in all five states, by margins ranging from three points in Georgia to 12 in Michigan.
In recent books about the Trump administration, Fabrizio is depicted as willing to give Trump polling news he did not want.
But he told Politico: "Poll after poll clearly demonstrates that … Trump is still the 800lb gorilla in the [Republican party] and would be its 2024 nominee should he run."
"This new data clearly shows that today the voters in these five key states would be happy to return Trump to the White House and send Biden packing."
Amid speculation, the White House said on Monday Biden, 79, intends to run for re-election.
The same day, Cohen told CNN: "Donald will not run. Why? Because first of all, he has an incredibly fragile ego. He lost by 9m votes the first time [actually a little more than 7m]. He will lose by more than 9m the second and his fragile ego cannot stand to be considered a two-time loser."
Sorgente articolo:
House committee subpoenas far-right groups and leaders over Capitol attack – live – The Guardian