Stock markets in Asia have bounced back again as investors' concerns about the new Omicron Covid variant eased. In Australia the ASX200 was up more than 1% while in Japan the Nikkei was up 0.75%.
It followed a stronger showing on Monday on Wall Street where the Dow Jones industrial average closed up 0.6% and the broader S&P500 was up 1.2% after some hefty losses on Friday when news of the new strain shook confidence.
Despite the positive open on Tuesday, advisers say some investors are still cautious about the impact Omicron could have in disrupting trade, travel and economic activity.
"There are so many unknowns about Omicron and the market has been jumping at shadows," said James Rosenberg, a Sydney-based financial advisor at EL&C Baillieu said.
"After such a strong run and with elevated valuations the market will always be susceptible to the odd shakeout on news that could bring risk."
Hong Kong has banned non-residents from entering the city from four African countries and plans to expand that to travellers who have been to Australia, Canada, Israel and six European countries in the past 21 days due to fears over Omicron.
The food and health secretary, Prof Sophia Chan, made the announcement at a press briefing.
She said:
Hong Kong's very stringent system of boarding, quarantine and also testing requirements has successfully stopped the transmission of the three Omicron cases, that we have identified in our designated quarantine hotel, from going into the community.
To prevent the Omicron variant from entering the community, the health chief said, Hong Kong should implement the most stringent measures.
In addition to the eight southern African locations announced earlier, the government would also include all other overseas places that had detected Omicron cases in the list of group-A specified, or high-risk, places.
The Hong Kong government said in a statement late on Monday that non-residents from Angola, Ethiopia, Nigeria and Zambia would not be allowed to enter the global financial hub as of 30 November.
Residents could return if they were vaccinated but would have to quarantine for seven days in a government facility and another two weeks in a hotel at their own cost.
The statement said:
Non-Hong Kong residents from these four places will not be allowed to enter Hong Kong.

The most stringent quarantine requirements will also be implemented on relevant inbound travellers from these places.
Additionally, non-residents who have been to Australia, Austria, Belgium, Canada, the Czech Republic, Denmark, Germany, Israel and Italy in the past 21 days would not be allowed to enter the city from 2 December.
Vaccinated residents returning from these countries would have to do three weeks of hotel quarantine.
Hong Kong last week banned non-Hong Kong residents arriving from South Africa, Botswana, Eswatini, Lesotho, Malawi, Mozambique, Namibia and Zimbabwe.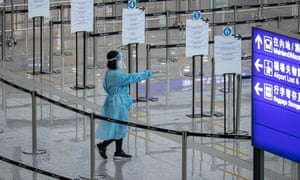 Covid numbers for Malaysia have just come in.
Another 4,066 daily Covid-19 cases and 61 deaths have been reported for 29 November, according to ministry of health data.
A total of 79.1% of the population have received at least one Covid vaccine dose, while 77.7% are fully vaccinated.
Australia has created its first mRNA vaccine in Victoria, with scientists hopeful it could protect against Covid variants.
The new vaccine was developed in Melbourne in five months by Monash University researchers, pharmaceutical manufacturer IDT Australia and the Doherty Institute.
It is now subject to clinical trials and regulatory approvals, the Australian Associated Press reports.
About 450 doses have been produced so far, enabling 150 people to take part in phase-one trials from January, with results expected later in 2022.
Thailand has reported another 4,306 new daily cases of Covid-19 and 37 deaths, bringing the nation's cumulative total to just over 2 million, according to recently released government health data.
Canada has confirmed an additional two cases of the Omicron variant, bringing the nationwide tally to five cases.
A further two cases of the variant were detected in Ottawa, Ottawa Public Health said late on Monday.
Earlier in the day, Quebec discovered its first case of the variant, health officials said.
Quebec health minister Christian Dube also told reporters that 115 travellers coming from countries affected by the new variant, primarily South Africa, were called and asked to isolate and test for Covid-19.
Quebec's first case was a recent traveler to Nigeria, public health director Horacio Arruda said, and was similar to the two cases Ontario province reported on Sunday.
Singapore's health ministry just announced that two travellers from Johannesburg who tested positive for the Omicron variant in Sydney had transited through Changi airport.
The two left Johannesburg on 27 November on a Singapore Airlines flight and arrived at Changi on the same day for their transit flight, the ministry said in a statement, Reuters reports.
Both had tested negative for Covid-19 before departure, it added.
The ministry said most of the travellers had remained in the transit area at Changi airport. Of the seven who disembarked, six had been placed on a 10-day stay-at-home notice, while the seventh – a close contact of an infected individual on the flight – had been quarantined.
The ministry said:
Contact tracing is ongoing for airport staff who may have come into transient contact with the cases.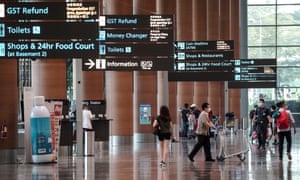 China has pledged another 1bn Covid-19 vaccine doses for Africa while working to encourage Chinese companies to invest no less than $10bn in the continent over the next three years, president Xi Jinping said on Monday.
China has already supplied nearly 200m doses to Africa, where vaccination rates have fallen behind.
Xi said 600m doses would be donations and 400m doses would be provided through other means such as joint production by Chinese companies and relevant African countries, Reuters reports. China would also build 10 health projects in Africa and send 1,500 health experts, he said.
Here's quick snapshot of the latest global Covid-19 data.
Hi everyone, it's Samantha Lock here, ready to take you through all the new Covid developments this Tuesday.
It's been a busy past few days on the Covid front with nations racing to close borders and reimpose restrictions after a new Covid variant was detected last week.
The Omicron variant has now been detected in at least a dozen countries including Britain, Germany, France, Denmark, the Netherlands, Belgium, Austria, Italy, Israel, Canada, Hong Kong, Australia, South Africa, Sweden, Spain and Portugal.
The head of the World Health Organization, Dr Tedros Adhanom Ghebreyesus, said the threat posed by the "highly mutated" Omicron variant showed what a "perilous and precarious" situation the world was in, as he warned that the pandemic would not end until every country has access to vaccines.
Let's dive right back in with a quick recap of all the key developments you may have missed from the past few hours.
The World Health Organization said the Omicron variant was likely to spread internationally, posing a "very high" global risk where Covid surges could have "severe consequences" in some areas.
The UK is to ramp up booster vaccinations and will halve the minimum gap between jabs to three months, aiming to administer 500,000 jabs a day.
The UK also announced that all adults would be eligible for a booster jab as part of the country's response to Omicron as the country recorded 42,583 new cases and a further 35 deaths.
France recorded a big jump in Covid cases after the health minister said the country had entered the fifth wave of the pandemic last week.
Omicron has been detected in at least a dozen countries including Britain, Germany, France, Denmark, Israel, Canada, Hong Kong, Australia and South Africa.
Sweden, Canada, Spain and Portugal reported their first cases linked to the Omicron variant.
US president Joe Biden has said Omicron "is a cause for concern, not a cause for panic". The Centres for Disease Control and Prevention is urging all US adults 18 and over to get booster shots. No further travel restrictions were planned for the US.
President Xi Jinping said China would offer another 1bn doses of Covid vaccines to African countries and would encourage Chinese companies to invest $10bn in Africa over the next three years, Reuters reports.
Poland, Ghana and Norway announced new restrictions on travel and socialising.
Sorgente articolo:
Covid news live: Hong Kong to ban non-resident arrivals from Australia, Canada and parts of Europe; WHO warns Omicron poses 'very high' risk – The Guardian