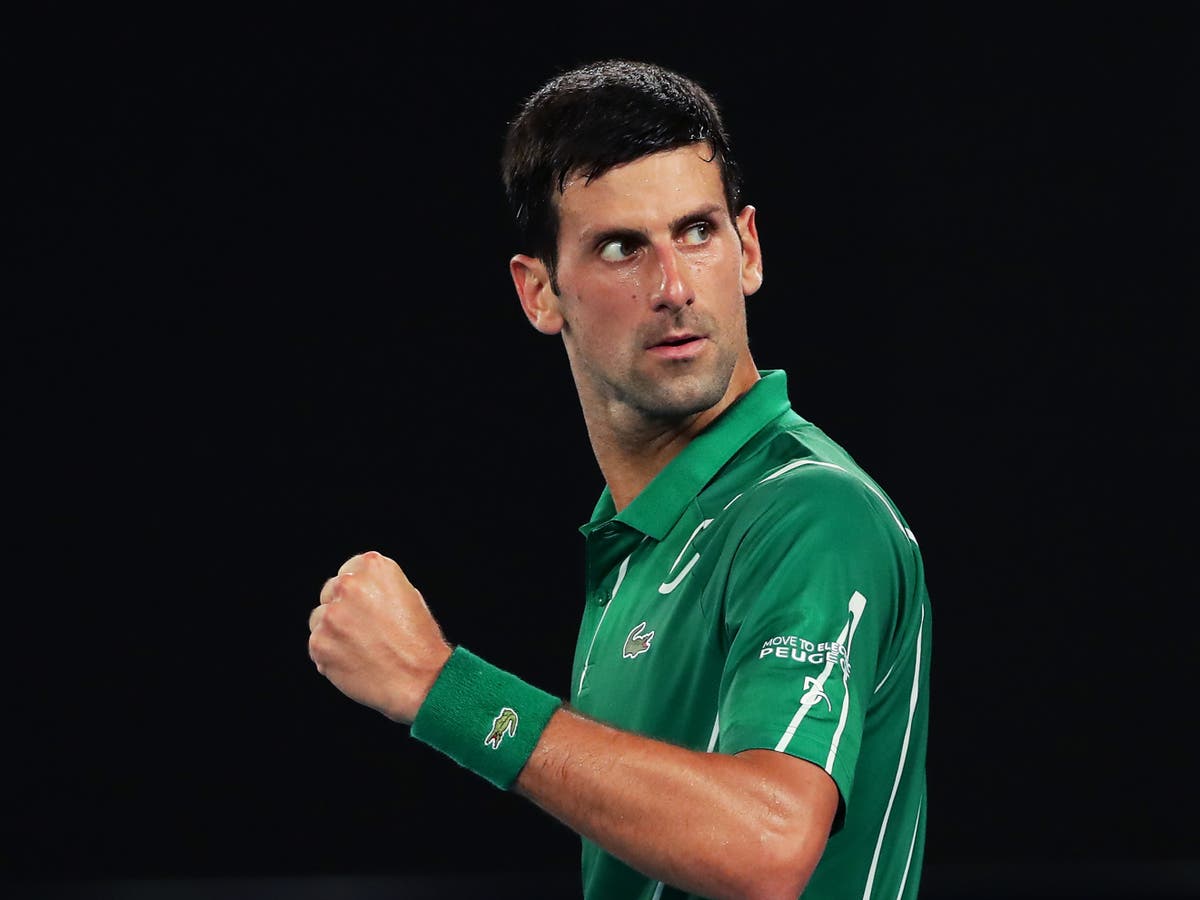 Novak Djokovic: Why was tennis star denied entry into Australia and what happens next?
Novak Djokovic has won his appeal against a decision to refuse him a visa in the Federal Circuit Court of Australia ahead of the Australian Open. The Australian government tried to push the hearing back by 48 hours but a court order by Judge Anthony Kelly said it had been "refused without prejudice" and that the case would be heard at 10am on Monday.
The case centred around whether Australia's government and border force made errors in their handling of Djokovic's visa and their decision to revoke it. The Serbian claimed he satisfied the requirements for a medical exemption because he contracted Covid-19 in December. After lengthy testimony Judge Kelly moved to quash the original decision and ordered the 34-year-old be released from detention immediately.
Djokovic has been in detention in a quarantine hotel in Melbourne ever since Thursday but was allowed to leave to watch these proceedings elsewhere alongside his legal team and will now be allowed to enter Australia. Follow all the latest news and reaction from Djokovic's hearing below.
1641797237
Why Djokovic won his case
As predicted it was Djokovic's experience at the airport upon arrival in Australia that proved key to his case.
Judge Kelly ruled that border control didn't give Djokovic enough time to respond after notifying him of their intent to not grant him a visa with the world number one unable to contact his agent or legal representation.
The government admitted as much ending their case.
Djokovic is now free to enter Australia, pending further intervention from authorities, with the Australian Open a week away.
Ben Burrows10 January 2022 06:47
1641799456
Murray mocks Farage over Djokovic support
Nigel Farage, who had earlier tweeted from Belgrade, said the Australian Government would "look dreadful" if it cancelled Djokovic's visa a second time.
The former UKIP leader is with Djokovic's family as they celebrate the result of today's hearing.
Andy Murray, who earlier suggested the whole saga was "really bad for tennis", saw fit to take to social media to question how a visit to Serbia squared with some of Farage's political policies.
Ben Burrows10 January 2022 07:24
1641798784
Morrison under pressure after Djokovic verdict
The whole Djokovic saga became very political with Australian prime minister Scott Morrison under pressure to get it right.
This decision by the Federal Court is only likely to increase that now.
His political rivals are already queueing up criticise.
Ben Burrows10 January 2022 07:13
1641798672
Novak Djokovic spotted leaving immigration detention centre
Novak Djokovic has been spotted leaving the immigration detention centre where he has been staying in Melbourne before winning his appeal against the cancellation of his visa.
The Serbian was driven away at the latest 5:46pm local time (6:46am GMT) after judge Anthony Kelly ordered his release within half an hour from 5:16pm local time (6:16am GMT).
Jack Rathborn10 January 2022 07:11
1641798229
Judge Kelly: 'The stakes have now risen rather than receded'
Despite Novak Djokovic winning his appeal to quash the cancellation of his visa, as outlined below with the government's intent to pursue exercising a personal power to still cancel the visa, judge Anthony Kelly concludes this is not the end of the story.
"The stakes have now risen rather than receded," he said.
"I cannot purport to encroach on the valid exercise of a minister of executive power."
Jack Rathborn10 January 2022 07:03
1641797819
Novak Djokovic released from detention
Novak Djokovic should have been released from detention now, given Judge Anthony Kelly ordered his release no more than half-an-hour after quashing the visa cancellation.
Judge Kelly made that order at 5:16pm local time (6:16pm GMT), so Djokovic has likely been released at the latest 10 minutes ago (5:46pm local time or 6:46am GMT).
Jack Rathborn10 January 2022 06:56
1641796923
Novak Djokovic visa appeal: What happens next?
We have heard that immigration minister Alex Hawke can now step in to cancel Novak Djokovic's visa on new grounds.
Should the government pursue that process it would raise the prospect of the Serbian being banned from Australia for three years if his visa is cancelled.
Jack Rathborn10 January 2022 06:42
1641796513
Government may move to cancel Novak Djokovic's visa again
While Novak Djokovic has won his visa appeal, the federal minister for immigration maintains they may pursue further powers to cancel the Serbian's visa again.
This development comes just moments after the Federal Circuit Court judge overturned the original decision to cancel it.
And it has been confirmed by Christopher Tan, the lawyer acting for the government, after he told the court that the Minister for Immigration is now contemplating "personal power of cancellation" despite Judge Anthony Kelly overturning the Minister for Home Affairs' decision to cancel the visa.
Judge Kelly subsequently thanked Mr Tan for the warning: "I could have been something approaching incandescent if I had discovered that for the first time… this evening or the early hours of tomorrow."
Jack Rathborn10 January 2022 06:35
1641796199
Novak Djokovic wins visa appeal
Judge Anthony Kelly quashed the visa cancellation and ordered the Australian Government to pay legal costs and release Djokovic from detention within half an hour.
Government counsel Christopher Tran notified the court that the Minister for Immigration, Citizenship, Migrant Services and Multicultural Affairs – not the minister who made the original visa cancellation – will now consider whether to exercise a personal power of cancellation of Djokovic's visa.
Ben Burrows10 January 2022 06:29
1641796032
Novak Djokovic wins visa appeal
Djokovic has been detained at an immigration facility in Melbourne since Thursday morning after his visa was cancelled following scrutiny of the medical exemption for the Covid vaccine he had secured to travel to the first tennis major of the year.
The Serbian's legal team filed papers to appeal against border control's original decision confirming that Djokovic tested positive for Covid last month and recovered.
He used that as grounds in applying for a medical exemption to Australia's strict vaccination rules.
The decision at a hearing on Monday by the Federal Circuit and Family Court of Australia means Djokovic, a nine-time champion, means he will now have the chance to defend his 2021 title.
Ben Burrows10 January 2022 06:27
Sorgente articolo:
Novak Djokovic news LIVE: Court hearing to decide world number one's Australian Open fate – The Independent