Paul Karp has this analysis for us from Australia and how Novak Djokovic has ended up in this situation. His visa has been cancelled in the last few minutes. Paul writes:
When Novak Djokovic landed in Melbourne late on the evening of 5 January, he thought a visa and a medical exemption approved by Tennis Australia's chief medical officer and an independent Victorian government board would guarantee him a shot at his 10th Australian Open and record 21st grand slam.
But his fate was sealed by a hardening view in the Australian government and its Border Force that a recent Covid diagnosis was itself not enough to enter the country quarantine-free, and an error on his immigration paperwork that took days to come to light.
Djokovic challenged his visa cancellation in the federal circuit court, winning because the judge agreed it had been unreasonable of Border Force to renege on a deal to give him more time to address the exemption issue.
First set Djokovic. He took to Melbourne Park, ensuring familiar images of him on Rod Laver arena's Avatar-blue court that seemed to promise another shot at grand slam greatness.
Even public opinion – so long set against Djokovic for his refusal to be vaccinated to play a tournament in one of the world's most locked down cities during the pandemic – seemed to swing back his way.
But momentum swung against Djokovic when it was noted that his presence in Belgrade for Christmas suggested a declaration he hadn't travelled in the fortnight before his flight to Australia from Spain was wrong, to say nothing of his public appearances in the days after his positive test on 16 December.
Read more of Paul Karp's analysis here: What more could Novak Djokovic have done? Get vaccinated, isolate and get the facts right
The Philippines will extend coronavirus curbs in the capital region of Manila and other provinces until the end of January, acting presidential spokesperson Karlo Nograles said on Friday.
Meanwhile, the Philippine government has defended a controversial ban that prevents unvaccinated people from using public transport in the capital Manila, denying that the policy was "anti-poor".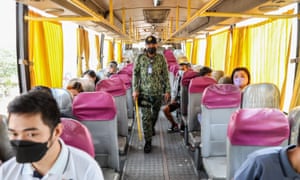 The "no vaccination, no ride" policy is designed to curb a recent wave of infections, and applies to all modes of transport to and from Metro Manila – including public buses, rail, boats and planes. The policy will be fully implemented from Monday, according to local media, when passengers will be required to show proof of vaccination.
The Philippines has experienced a recent surge in infections, which health experts have blamed on the more transmissible Omicron variant. The country reported a record 34,021 cases on Thursday, the highest since the start of the pandemic, half of which were reported in the national capital region. A further 82 deaths were confirmed.
Sorgente articolo:
Covid live: former aide of Boris Johnson apologises for 'anger and hurt' caused by party – The Guardian