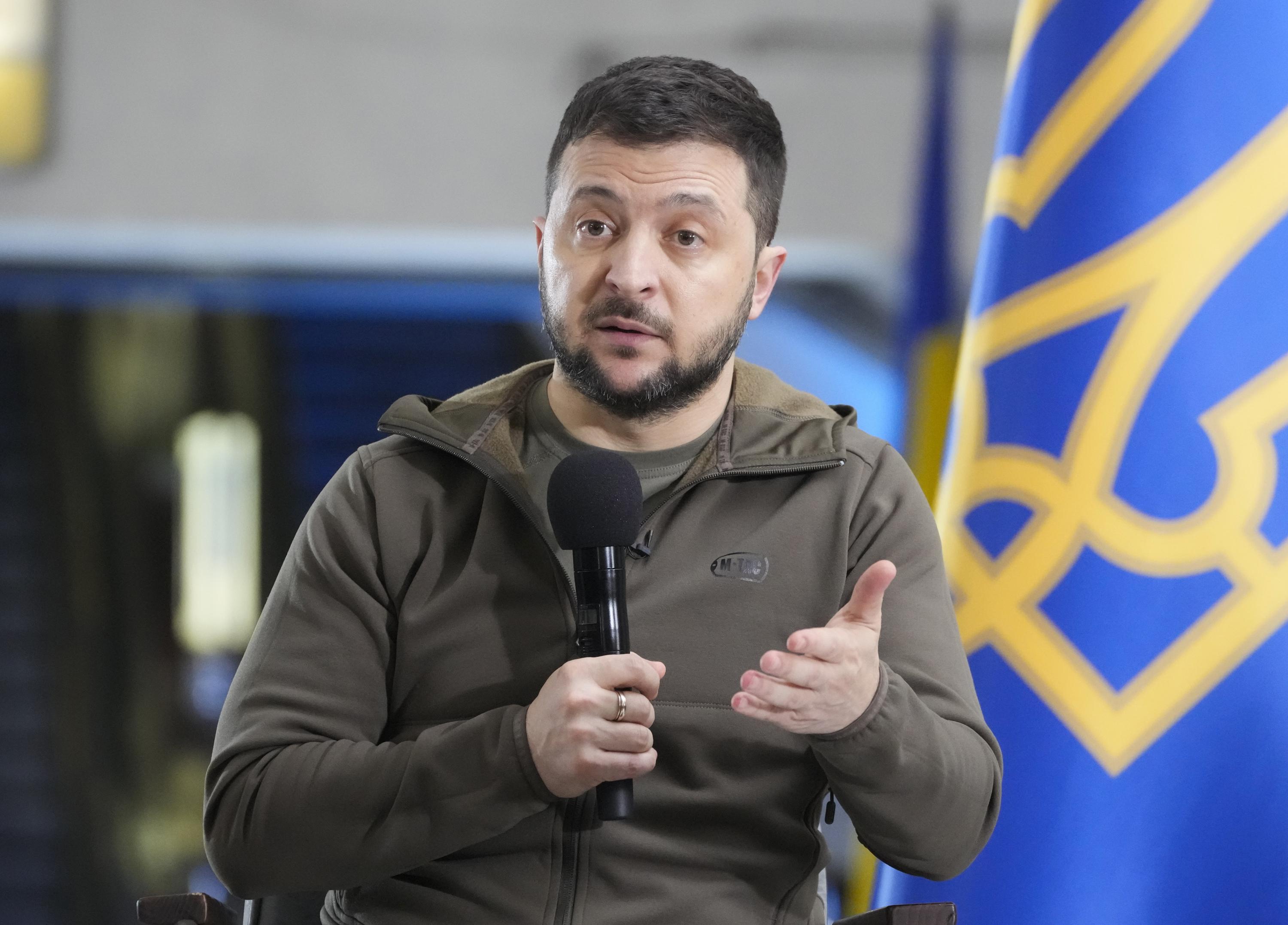 CLAIM: A video shows Ukrainian President Volodymyr Zelenskyy saying he uses cocaine.
AP'S ASSESSMENT: False. A video of a 2019 interview with Zelenskyy was edited in a misleading way, rearranging statements he made about coffee and exercise to make it seem as if they were answers to a separate question about drugs.
THE FACTS: A deceptively edited video that appears to show Zelenskyy admitting that he uses cocaine has circulated widely on social media in recent days.
According to English subtitles in the video, the interviewer asks Zelenskyy what he thinks about cocaine. Zelenskyy responds by saying, "Awesome! Awesome!" and "Seriously! This is energy for the whole day. At 7 a.m. I got up. Took a walk with the dog. And I do snort drugs. This is the mode. I live in it!"
One Twitter user who posted the video wrote on April 19, "Video Emerges Of Ukraine's President Zelensky Allegedly Praising Cocaine." The video in the post has been viewed more than 41,000 times.
But the clip has been manipulated to make it seem as if Zelenskyy confirmed that he uses cocaine. In reality, the video actually shows multiple excerpts from an interview that Zelenskyy gave to Ukrayinska Pravda, a Ukrainian media outlet, in January 2019. The full interview, which was published on the outlet's website and on YouTube, shows that Zelenskyy's quotes were not about cocaine.
During the interview, journalist Roman Kravets tells Zelenskyy there is a rumor he used cocaine, prompting Zelenskyy to deny that he uses drugs, saying, "Great! Great! No, I'm sitting on something white, but it is a chair. It's not cocaine. I don't use drugs."
Later, the journalist asks Zelenskyy, "Do you snort? Do you consume?" Zelenskyy replies, "I breathe coffee, because I am very addicted to coffee. I really like coffee, it's true." He also says he consumes the occasional glass of wine, but makes no mention of cocaine in his response.
In another part of the interview, Zelenskyy discusses his morning routine, saying: "This is the routine I'm doing. At 7 in the morning I get up, take my dog ​​out and exercise. What is the use of exercising? It's about forcing you. Energy for the whole day, I recommend it to everyone, but not through intensive practice because it makes you sleepy during the day."
In the edited video now circulating online, Zelenskyy's comments about his morning routine, coffee, and his denial that he uses cocaine are spliced together to make it seem as if he admitted to using the drug.
Misleadingly edited videos of the same interview have been circulating online for years. In April 2019, Ukrayinska Pravda published an article debunking one manipulated video, and confirming Zelenskyy did not confess to using cocaine in the original clip.
Similar posts suggesting without evidence that Zelenskyy abuses drugs or alcohol have circulated online in recent days A different video of Zelenskyy on a video call with Elon Musk was manipulated to make it look as if there was white powder on his desk, the AP reported Sunday.
During the war, Russian President Vladimir Putin and Russian state media have attempted to falsely paint Ukrainian leaders as "drug addicts," according to AP reporting.
___
This is part of AP's effort to address widely shared misinformation, including work with outside companies and organizations to add factual context to misleading content that is circulating online. Learn more about fact-checking at AP.
Sorgente articolo:
Video of Zelenskyy talking about cocaine is deceptively edited – The Associated Press – en Español