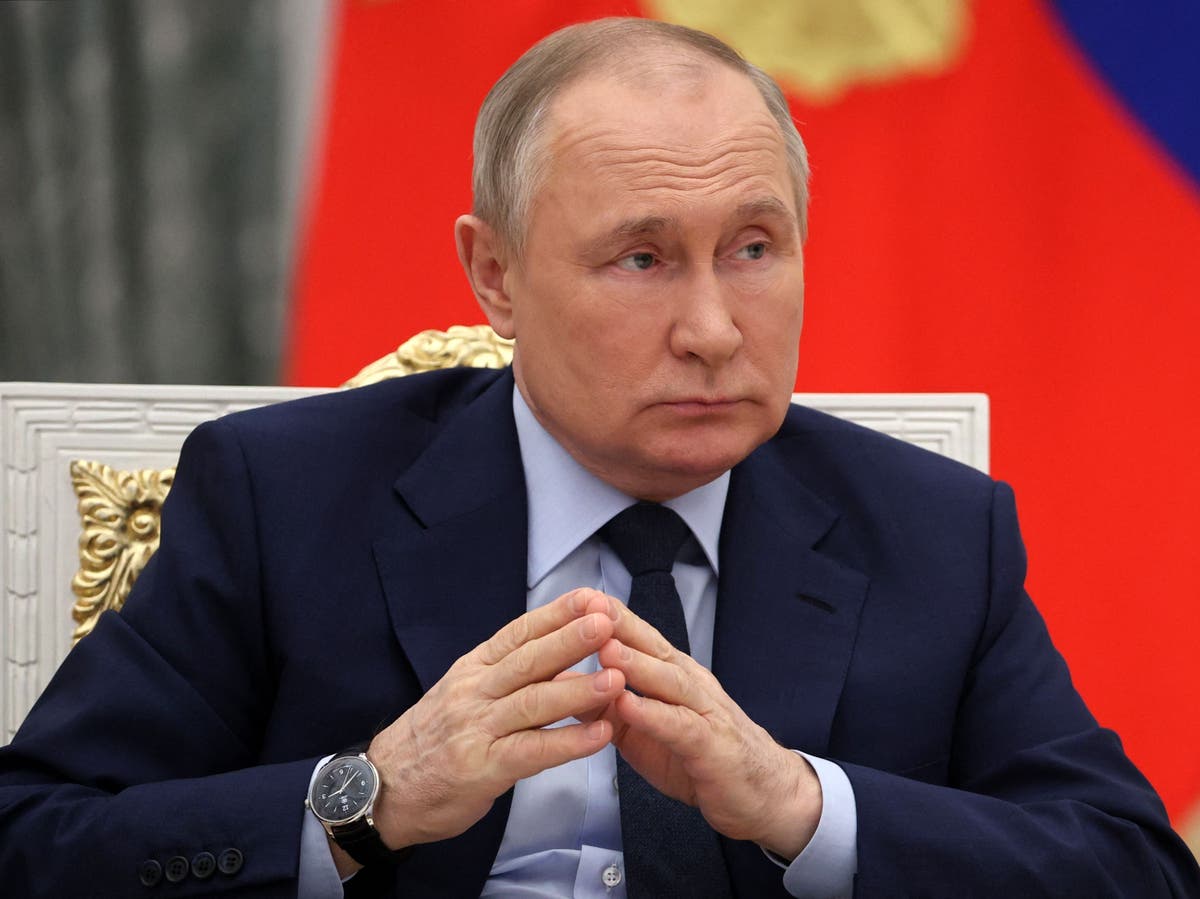 Russian attack destroys apartment building in Kyiv
In a long-awaited humanitarian mission, the United Nations is conducting a "safe passage operation" for civilians near the steelworks serving as the last-remaining Ukrainian stronghold in Mariupol.
Up to 1,000 civilians are thought to have been stuck underneath the Azovstal plant with minimal supplies alongside hundreds of fighters – some said to be suffering with festering wounds – after Vladimir Putin told Russian troops to blockade the area last week "so that a fly can't get through".
The first groups of civilians, totalling around 50 people so far, reportedly including children, were photographed by a Reuters journalist arriving to the relative safety of a temporary accommodation centre in the nearby Donetsk village of Bezimenne on Sunday.
Ukraine's president Volodymyr Zelensky appeared to indicate he would meet with an initial group of 100 evacuees in the town of Zaporizhzhia on Monday.
1651419657
Asda chairman warns of 'knock-on effect' on food prices as Ukraine war impacts wheat and oil supplies
Asda chairman Lord Rose would not predict how much food prices could increase but said "there is knock-on effect" due to the cost of raw materials and the impact of inflation.
Sunflower oil, wheat and oil prices have been affected by the war in Ukraine.
Lord Rose told the BBC Sunday Morning show: "We don't know what will happen to gas prices and whatever else and clearly that will be dictated by however long this war goes on for, but I am afraid there is knock-on effect for all raw materials.
"There is going to be a new level of costs for these raw materials and they won't go down. It is a new high and that is something that people are going to have to accommodate.
"What we are now going to have to think about is, is that going to have a long-term effect on inflation because then will we have a wage spiral, or won't we?
"The converse side of that is we could end up, if we have no growth in the business, having stagflation.
"They are both evil and the Government has got a very difficult and tricky road to navigate."
Thomas Kingsley1 May 2022 16:40
1651418757
Greens still seek UK's exit from Nato despite Ukraine war, says leader
The Green Party would seek to move the UK out of Nato in the long-term once the conflict in Ukraine is over, its co-leader has said.
Adrian Ramsay told Sky News he did not want to "change structures in the middle of a conflict", but believes the UK should leave the military alliance in the future.
Asked on Sky News whether the Greens' position on Nato has changed as a result of the Ukraine conflict, Mr Ramsay confirmed it has not.
He said: "We have a long-term policy about reviewing what structures we need to have to build peace in the world and we have to remember this conflict has happened at a time when we are part of Nato, when we are still seeing nuclear weapons dominate.
"Of course we are not about changing structures in the middle of conflict and what we need to do at the moment is focus on how Ukraine can be supported in a wide variety of ways."
Mr Ramsay suggested the UK needs to focus on "peacekeeping and getting the parties to the table" as well as "stronger economic action".
Thomas Kingsley1 May 2022 16:25
1651417696
Zelensky indicates he will meet first Azovstal evacuees tomorrow
A first group of 100 Ukrainian civilians being evacuated from Mariupol's Azovstal steel works will reach the Ukrainian-controlled city of Zaporizhzhia on Monday, Volodymyr Zelensky has said.
Andy Gregory1 May 2022 16:08
1651416871
'Everyone here is kind and respectful': The Ukrainian family sheltering a Yemeni student
Koshmanivka village in Poltava Oblast is a far cry from the seaport city of Mukalla in eastern Yemen's Hadhramout, reports Charlene Rodrigues.
It is the village where Yemeni aviation engineering student Khalid Bin Jaah, 29, is sheltering with a Ukrainian family after fleeing Russia's bombings in central Kharkiv – a city which he loved and made his second home – after escaping Yemen's brutal war in 2015.
Days before the Russian invasion, Mr Bin Jaah met a Ukrainian lady Halyna Kovalenko at the immigration centre in Sumy and after learning about his immigration situation they exchanged details.
When the war started on 24 February she told him to visit her mother in Koshmanivka village if he needed to find somewhere safe. Here is the full report about his time so far in Ms Kovalenko's family home:
Andy Gregory1 May 2022 15:54
1651414118
Another group 'evacuated from near Mariupol steelworks'
A group of 14 more people have arrived at a temporary accommodation centre after leaving the area around the Azovstal steel plant in Ukraine's Mariupol, Reuters reports, citing one of its photojournalists.
Reuters photographs showed earlier on Sunday around 40 civilians arriving at the centre in the Donetsk village of Bezimenne.
Andy Gregory1 May 2022 15:08
1651413638
One injured in fire at Russian defence facility
One person has been injured in a fire on a defence ministry facility in Russia's southern Belgorod region, its governor has said.
Vyacheslav Gladkov said a local resident suffered minor injuries and his life was not in danger. There were no immediate comments from the Russian defence ministry.
Russia last month accused Ukraine of a helicopter attack on a fuel depot in Belgorod, for which Kyiv denied responsibility, as well as shelling villages and firing missiles at an ammunition depot.
Other Russian regions that share a border with Ukraine have also reported cross-border shelling incidents since Vladimir Putin's invasion, amid some claims that Moscow could be planning false-flag attacks.
Andy Gregory1 May 2022 15:00
1651412832
UN conducting 'safe passage operation' for civilians at Mariupol steelworks
In a long-awaited humanitarian mission, the United Nations is conducting a "safe passage operation" for civilians from the Azovstal steelworks in Mariupol, a spokesperson for the UN Office for the Coordination of Humanitarian Affairs has said.
The operation began on Friday before arriving at the steelworks on Saturday morning, and is being coordinated with the International Committee of the Red Cross, Russia and Ukraine, the spokesperson told Reuters.
He said that no further details could be released so as not to jeopardise the safety of evacuees and the convoy.
Last Thursday, Vladimir Putin told Russian troops to blockade the area "so that a fly can't get through"
Andy Gregory1 May 2022 14:47
1651411771
Fire at defence ministry facility in Russia, officials say
A Russian defence ministry facility in the country's southern Belgorod region has caught fire, officials have said.
There was no immediate information about damage or casualties, the regional governor said in a post on Telegram.
Images posted to social media showed a large funnel of smoke rising above the ground.
Andy Gregory1 May 2022 14:29
1651411260
Angelina Jolie taken to safety as air-raid siren sounds during Lviv visit
Hollywood actor and UN special envoy Angelina Jolie was yesterday spotted in the western Ukrainian city of Lviv.
Regional governor Maksym Kozytsky said Jolie had come to speak with displaced people who have found refuge in Lviv, including children undergoing treatment for injuries sustained in the missile strike on the Kramatorsk railway station in early April.
Here is the moment she was taken to safety after an air-raid siren sounded during a visit to a refuge:
Angelina Jolie runs for cover amid sirens in Lviv
My colleague Ellie Harrison has more details here:
Andy Gregory1 May 2022 14:21
1651409716
UK hunger striker describes 'surreal' reunion with Ukrainian best friend
A hunger striker who secured a visa for her Ukrainian best friend has spoken of her relief after their reunion in the UK.
Kristina Korniiuk, 34, of Kyiv, was granted a visa under the Ukraine Sponsorship Scheme and arrived at the Cambridge home of Rend Platings on Sunday, after a journey which took more than 24 hours.
Mother-of-one Ms Platings, whose house is painted in the colours of the Ukraine flag, said it is both "wonderful" and "surreal" to have her friend by her side.
Ms Platings, who went on hunger strike for 21 days after the visa application was made for her friend, said their reunion was "amazing".
Sorgente articolo:
Ukraine news – live: UN conducting 'safe passage operation' at Mariupol steelworks – The Independent