Dozens feared dead after Ukrainian school is bombed
At least two people have been killed and 60 more are feared dead after Russian bombs hit a school in the Ukrainian village of Bilohorivka, Serhiy Gaidai, governor of the Luhansk region, said on Sunday.
Gaidai said Russia dropped a bomb on Saturday afternoon on the school where about 90 people were sheltering, causing a fire that engulfed the building. Thirty people have been rescued.
"The fire was extinguished after nearly four hours, then the rubble was cleared, and, unfortunately, the bodies of two people were found," Gaidai wrote on the Telegram messaging app. "Sixty people were likely to have died under the rubble of buildings."
Separately, Gaidai said that according to preliminary information, shelling in the village of Shypilovo destroyed a house and 11 people remained under the building's debris.
Putin's choices filled with peril on eve of Victory Day parade
On the brink of its May 9 Victory Day celebrations, Russia looks very far from triumph in its war in Ukraine. And all of its options going forward are fraught with danger.
After a disastrous assault on Kyiv, Russia is engaged in an attempt to take territory in Ukraine's east, as its military nears exhaustion and sanctions continue to escalate.
"With the current force that they have, the push that they're attempting now is all that they have left," said Jeffrey Edmonds, former director for Russia on the US national security council and senior analyst at the CNA thinktank.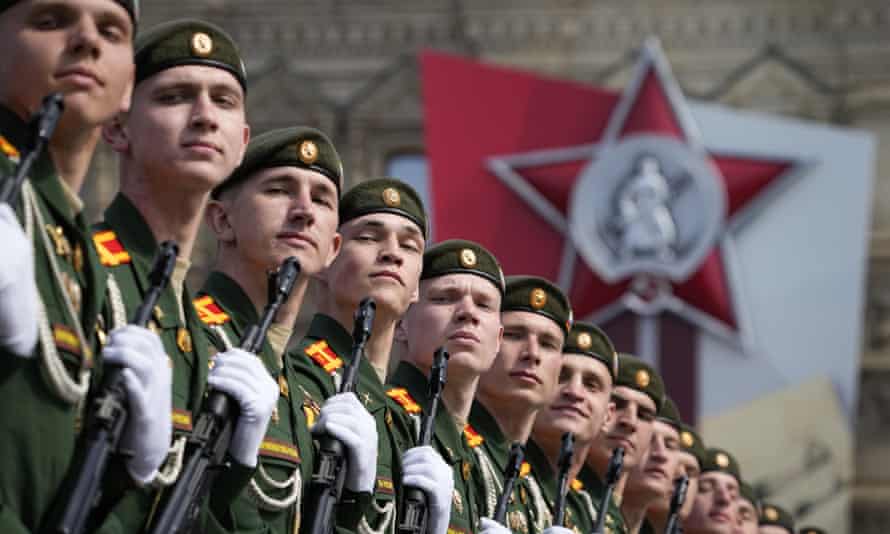 "Militaries just don't recover that quickly from such a devastating loss. And given how effective the Ukrainians have been with our support, I just don't think they're going to be able to achieve their objectives within the coming weeks. And the coming weeks are going to be the telltale of where this is going."
Facing setbacks, officials have suggested that Vladimir Putin may use the May 9 holiday to repackage the war in Ukraine. Dramatic options include escalation through a formal declaration of war or general mobilisation – or de-escalating by proclaiming victory.
Alternatively, Putin could offer up a "sandwich", as one analyst put it, that praises the Russian army's "victory" while preparing the population for a grinding and painful conflict as status quo.
As international efforts to pressure the Russian leader continue, G7 leaders, including US President Joe Biden and Ukraine's Zelenskiy, are set to discuss Western support for Kyiv via videoconference today.
German Chancellor Olaf Scholz will host the call and Zelenskiy will "take part and report on the current situation," government spokeswoman Christiane Hoffmann said.
Further sanctions or at least a tightening of the huge array of economic punishments already inflicted on Russia are expected to be discussed.
Ambassadors from EU member states will also meet in Brussels today to discuss their sixth round of economic sanctions against Moscow, which this time should include a phased ban on imports of Russian oil.
Ukraine claims drones have sunk Russian ship
Military authorities in Kyiv have claimed one of their drones sunk a second Russian ship in the Black Sea as part of their offensive on Snake Island.
The Ukrainian claim to have destroyed another Russian ship – after the sinking of the warship Moskva in the Black Sea last month – was accompanied by footage showing what was said to have been a strike by a Bayraktar drone on a vessel docked at Snake Island.
"The traditional parade of the Russian Black Sea fleet on 9 May this year will be held near Snake Island – at the bottom of the sea," tweeted Ukraine's Ministry of Defence.
Snake Island, located some 35 kilometers (20 miles) off the coast, figured in a memorable incident early in the war when Ukrainian border guards stationed there defied Russian orders to surrender, purportedly using colourful language.
Ukraine counter-offensive gathers pace in north
In a sign of the unexpectedly effective defense that has sustained the fighting into its 11th week, Ukraine's military flattened Russian positions on a Black Sea island that was captured in the war's first days and has become a symbol of resistance.
Satellite photos analyzed by The Associated Press showed Ukraine targeting Russian-held Snake Island in a bid to impede Russia's efforts to control the Black Sea.
An image taken early Saturday by Planet Labs PBC showed that most of the island's buildings had been destroyed by Ukrainian drone attacks, as well as what appeared to be a Serna-class landing craft against the island's northern beach.
Western military analysts also said a Ukrainian counteroffensive was advancing around the country's second-largest city, Kharkiv, even as it remained a key target of Russian shelling.
The most intense fighting in recent days has been in eastern Ukraine, where the two sides are entrenched in a fierce battle to capture or reclaim territory. Moscow's offensive there has focused on the Donbas, where Russia-backed separatists have been fighting since 2014.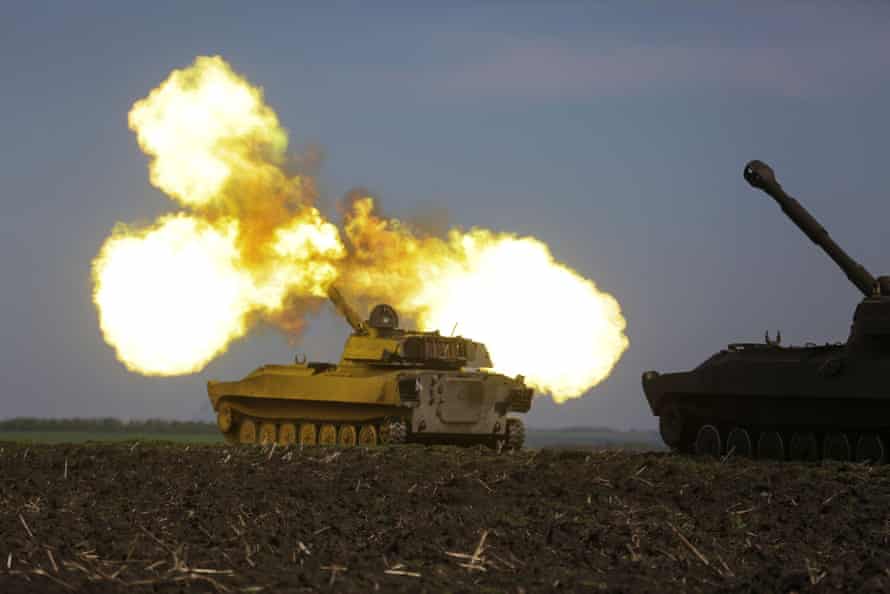 The governor of the Luhansk region, one of two that make up the Donbas, said a Russian strike destroyed a school in the village of Bilogorivka where 90 people were seeking safety in the basement.
Gov. Serhiy Haidai, who posted pictures of the burning rubble on Telegram, said 30 people were rescued. The emergency services later reported that two bodies had been found and more could still be buried under the rubble. Rescue work was suspended overnight but was to resume on Sunday.
Haidai also said two boys aged 11 and 14 were killed by Russian shelling in the town of Pryvillia, while two girls aged 8 and 12 and a 69-year-old woman were wounded.
Moscow also has sought to sweep across southern Ukraine both to cut off the country from the sea and create a corridor to the breakaway Moldovan region of Transnistria, long home to Russian troops. But it has struggled to achieve those objectives.
Six Russian cruise missiles hit Odesa
On Saturday, six Russian cruise missiles fired from aircraft hit Odesa, where a curfew is in place until Tuesday morning. Videos posted on social media showed thick black smoke rising over the Black Sea port city as sirens wailed.
The Odesa city council said four of the missiles hit a furniture company, with the shock waves and debris badly damaging high-rise apartment buildings. The other two missiles hit the Odesa airport, where the runway had already been taken out in a previous Russian attack.
Ramzan Kadyrov, the head of Russia's republic of Chechnya, said on Sunday his soldiers have taken control of most of the eastern Ukrainian city of Popasna, while Ukrainian officials said a battle for the town in the east of the country is ongoing.
In mid-April, Russian forces launched a new offensive push along most of Ukraine's eastern flank, with some of most intense attacks and shelling taking place recently around Popasna in the Luhansk region.
"Fighters of the Chechen special forces … have taken most of Popasna under control," Kadyrov, who has often described himself as Russian President Vladimir Putin's "foot soldier", wrote in a post on the Telegram messaging app.
"The main streets and central districts of the town have been completely cleared."
Reuters was not able to independently verify the reports.
There was no immediate response from Ukraine, but late Saturday Oleksiy Arestovych, an adviser to President Volodymyr Zelenskiy, said heavy fighting for the town continues.
"A battle for Popasna is ongoing," Arestovych said in a video on social media.
"Russian propagandists have joyfully reported that they have already taken it, but this is not quite how it is. This is their 117th 'capture of Popasna' claim only this week."
Anguish for partners of Mariupol's defenders as Russian assault goes on
"Holding up", wrote Denys Prokopenko, commander of Ukraine's Azov regiment, in his latest WhatsApp message to his wife Kateryna from the besieged Azovstal steelworks in the Ukrainian port city of Mariupol.
Speaking via Zoom from Krakow, in eastern Poland, alongside three fellow wives and partners of soldiers living under the remorseless Russian shelling and infiltrating raids, Kateryna, 27, says she is doing everything she can think of to ensure the message at 10pm on Friday evening is not one of her husband's last.
It is now two weeks since the last Ukrainian defenders of the flattened city of Mariupol, in south-east Ukraine, withdrew to the sprawling complex of hot and fetid tunnels, along with thousands of terrified civilians, including children.
For the 2,000 soldiers, 700 of whom are said to be injured, hope, however, is quickly dwindling, as has become cruelly clear from the irregular messages coming out of the works. "The last message was yesterday," Kateryna says of the text from her 30-year-old husband. I said 'Hold up, we will do everything in our power to save you.'"
The Ukrainian president Volodymyr Zelenskiy condemned Russia's targeting of Ukrainian cultural monuments and institutions, saying that "nearly 200 cultural heritage sites already" had been damaged or destroyed.
His comments, made in his nightly address on Telegram on Saturday, followed the destruction of a museum dedicated to the 18th century philosopher and poet Hryhoriy Skovoroda after it was hit by Russian shelling.
"Targeted missile strikes at museums — this is not even every terrorist can think of," said Zelenskiy.
"Every day of this war, the Russian army does something that is beyond words. But every next day it does something that makes you feel it in a new way."
Fighters battle to hold in Mariupol
With supplies running low, amputations conducted in a ramshackle clinic, and corpses piling up, the fighters trapped at the besieged steel plant in Ukraine's Mariupol are battling to hold on as Russian forces tighten their grip on the city's last redoubt.
A smattering of Ukrainian units making their last stand are sheltering in the labyrinth of Soviet-era bunkers and tunnels snaking beneath the sprawling steelworks along with an untold number of wounded and dead combatants.
Details about the chaotic final defence and desperate efforts to tend to the wounded have been painstakingly pieced together by military medic Yevgenia Tytarenko, whose husband and colleagues remain trapped inside the factory.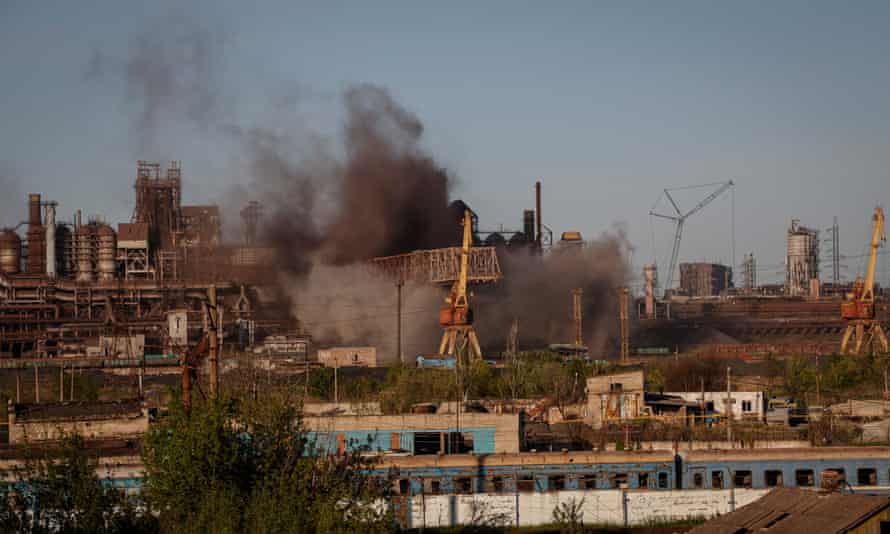 "Lots of soldiers are in serious condition in the hospital. They are injured with no medicine. Food and water are running out," said Tytarenko, who remains in regular contact with people inside the Azovstal plant.
"I'll be standing until the end," Tytarenko's husband and medic Mykhailo texted to her on Friday, in a message shared with AFP.
For weeks, Russian forces have pounded the steelworks by land, air, and sea – while attempting to breach its defenses that have led to fierce firefights at the facility.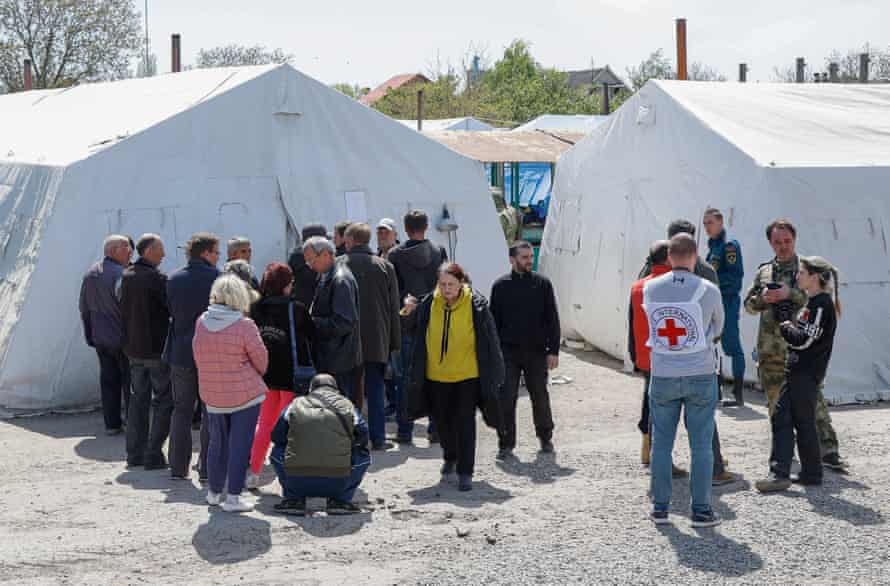 Commanders have issued their final goodbyes to loved ones as supplies dwindle and the Russians close in, while the possibility of extracting the fighters looks increasingly unlikely, said Tytarenko.
"Commanders have already said their farewells to their wives. One of them messaged his wife: 'Don't cry. We'll be back home in any case – alive or dead'," said Tytarenko.
Tytarenko described a chaotic and complex operation inside Azovstal with fighters battling the Russians while also shepherding civilians along with the bodies of those killed to different parts of the plant.
Without refrigeration, the bodies of the dead have been packed in plastic bags and are rotting, but the fighters remain committed to preventing them from falling into the hands of the Russian forces.
"Almost everywhere, they are carrying corpses with them," said Tytarenko. "They deserve to be evacuated – those who are alive, injured, and dead."
All women and children evacuated from Azovstal, says Zelenskiy
Ukrainian president Volodymyr Zelenskiy said that over 300 civilians had been rescued from Azovstal steel plant in Mariupol, where they had been trapped for 72 days.
Speaking in his nightly Telegram address, he said:"I am grateful to the teams of the International Committee of the Red Cross and the United Nations Organisation, who helped us organise the first phase of the evacuation missions from Azovstal," Zelenskiy said in a video posted to Telegram.
However, while the Ukrainian government said that "all women, children and the elderly" had been evacuated , there were still doctors and soldiers, including many wounded, stuck in the bunkers of the Mariupol steel plant, which is still undergoing vicious shelling and attacks by Russian forces.
Ukraine on Saturday urged aid agency Doctors Without Borders (MSF) to evacuate its soldiers from their last holdout in Mariupol.
Ukraine "calls on MSF to organise a mission to evacuate the defenders of Mariupol and Azovstal and provide medical care to the wounded people, whose human rights were violated by Russian Federation," the ministry of reintegration of temporarily occupied territories of Ukraine wrote in a statement in English.
They have been "for 72 days in a row under… ongoing shelling and attacks by the Russian army", it added.
"Now, there is a lack of medicines, water and food, wounded soldiers are dying because of gangrene and sepsis."
Good morning and welcome to the Guardian's live coverage of the war in Ukraine.
Here are the latest developments:
Russian forces fired six cruise missiles at the southern Ukrainian city of Odesa on Saturday and continued to bombarded a besieged steel mill in Mariupol. Russia appears to want to complete their conquest of Mariupol in time for Victory Day celebrations on 9 May.
The Ukrainian government has said that it has destroyed another Russian ship. The ministry of defence claimed that Ukrainian Bayraktar TB2 had hit the landing craft of the Serna project, tweeting: "The traditional parade of the Russian Black Sea fleet on May 9 this year will be held near Snake Island – at the bottom of the sea."
Ukrainian President Volodymyr Zelenskiy said more than 300 civilians have been rescued from the besieged Azovstal steel plant in Mariupol, where they had been stuck for 72 days during a bitter battle for the city. Zelenskiy said they were now preparing for a "second stage of evacuation" to rescue doctors and soldiers still trapped there. The Ukrainian government have urged Doctors Without Borders (MSF) to help with the evacuation
Zelenskiy also expressed regret at the cultural devastation caused by the war. In his nightly address on Telegram, he said "nearly 200 cultural heritage sites" in Ukraine had been lost or damaged
A Russian bomb hit a school in the eastern Ukraine village of Bilogorivka where 90 people were sheltering, according to the governor of Luhansk. He said several bodies had been pulled from the rubble.
CIA Director William Burns said the war is in a dangerous phase because President Putin "thinks he cannot afford to lose" . Burns said the huge amount of western military support for Ukraine was not a deterrent to the Russian President
Britain has pledged to provide another £1.3bn ($1.60bn) in military support and aid to Ukraine. The new funds will almost double Britain's previous spending commitments to Ukraine. British Prime Minister Boris Johnson said in a statement, "Putin's brutal attack is not only causing untold devastation in Ukraine – it is also threatening peace and security across Europe."
The Group of Seven (G7) leaders will hold a video call on Sunday with Zelenskiy in a show of unity the day before Russia marks its Victory Day holiday, the White House said. Talks will focus on the latest developments in Russia's invasion of Ukraine, efforts to bolster the country and ways to demonstrate "continued G7 unity in our collective response, including by imposing severe costs for Putin's war", a spokesperson for the White House said.
Sorgente articolo:
Russia-Ukraine war: evacuation of women and children from Mariupol steelworks complete; Kyiv claims sinking of second Russian ship – live – The Guardian