The vaccine Imvamune will be available to people in Quebec who are in close contact with confirmed or suspected monkeypox cases.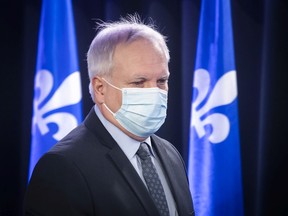 Article content
There are 25 confirmed cases of monkeypox in Quebec, while as many as 30 more are under investigation, public health authorities said Thursday.
Article content
Fourteen of the cases are in the Montreal area, said Geneviève Bergeron, the medical officer for health emergencies and infectious diseases at the city's public health department. Analyses are under way to understand whether the cases are linked, she said Thursday.
The announcement comes barely a week after Quebec confirmed its first two cases of monkeypox, a virus that's typically endemic in parts of western Africa. Most of the cases in Quebec were found in men who had sex with other men, though one of the patients is a child who has recently been in contact with school friends, said Dr. Luc Boileau, Quebec's interim director of public health.
"It's a serious outbreak," Boileau said at a press conference in Montreal Thursday. "We think it's a serious situation, but it's not the same as the COVID situation. It's not expected that there will be rapidly a very huge number of cases. This is why we think that it can be eradicated. I mean, we hope that it could be. So we have to be very careful with this problem and insist that infected people would really be careful with their contacts."
Article content
Monkeypox spreads by close, prolonged contact with an infected person. It can also be transmitted via droplets, said microbiologist and Université de Montréal professor Caroline Quach. Symptoms include fever; a rash with blisters on the face, hands, feet, eyes, mouth or the genitals; swollen lymph nodes; headaches and muscle pain.
The incubation period for monkeypox usually lasts five to seven days, sometimes stretching to as many as 21 days, Boileau said. In most of the cases, the disease disappears by itself within two to four weeks. Complications can occur "in very rare cases," Boileau said.
This is only the second known outbreak of the disease in North America in the last two decades. The first one, which occurred in 2003, affected 71 people in multiple U.S. states. It was traced back to rats that were imported from Ghana and housed near prairie dogs in Illinois. The prairie dogs were sold as pets and later developed signs of infection.
Article content
"This is a bit concerning," Donald Vinh, an infectious disease specialist and medical microbiologist at the McGill University Health Centre, said in an interview. "In the last week, we have had an increase from zero to 25 confirmed cases. For a disease that we have never seen before in Canada, that seems to be a relatively big increase. What we're seeing now is a ripple effect. We're not at the start of the ripple, but we're somewhere along the way. The question is, how many more patients are there?"
Since monkeypox is closely related to the virus that causes smallpox, administering a smallpox vaccine can prevent people from contracting the disease or make it less severe.
Quebec has received its first doses of the Imvamune smallpox vaccine from the federal government, and vaccination could begin as soon as Friday, Boileau said. "Several hundred" doses of the vaccine were delivered Tuesday, though a widespread vaccination campaign is not being planned, Boileau said.
Article content
High-risk contacts of a confirmed or probable monkeypox case may be vaccinated with a single dose of Imvamune within four days of exposure, according to recommendations made by Quebec's immunization committee. A second dose may be administered only if the risk of exposure is still present 28 days later.
Physicians in Quebec have been required to report monkeypox cases since May 19, when the province started an epidemiological investigation.
At least 12 countries — including Australia, Belgium, Portugal and the U.K. — have reported monkeypox cases over the past two weeks. As of Saturday, the World Health Organization counted 92 confirmed laboratory cases in several regions of the world. Cases have "mainly but not exclusively" been identified among men who have sex with other men, the WHO said.
Article content
In Quebec, several possible links are under investigation, including trips by patients to the U.S., Belgium and Mexico, Bergeron said.
Health officials who briefed reporters Thursday warned against stigmatizing the gay community.
"Stigmatization is counterproductive," Bergeron said. "Our enemy is the virus. It's not the people who are affected."
"It's quite unusual we're seeing the emergence of this disease in multiple countries at the same time," Bergeron said. "We are very early in the process of understanding those connections, but we are looking at them and gathering the information" to understand how the disease got here, she said.
Authorities provided few details on the infected child other than to say they attend school in Greater Montreal. The child is in isolation, Boileau said.
"We are in an investigation, and we are mobilizing the resources to make sure that there will be actions that will be taken," Boileau said. "Things are done very carefully and rigorously right now."
ftomesco@postmedia.com
The Canadian Press contributed to this report.
Montrealers 'do not have to panic' about monkeypox, Drouin says

Canada may deliver vaccines to Quebec to combat monkeypox
Sorgente articolo:
We're seeing a 'ripple effect' in monkeypox cases, McGill's Vinh says – Montreal Gazette