Ukraine's President Volodymr Zelensky said that Americans balking at the cost of U.S. support for Kyiv's fight against Russian aggression should keep in mind "we are fighting for absolutely communal values."
In an interview with journalist and broadcaster Piers Morgan, Zelensky was asked whether he was worried that Americans might be concerned at the amount Washington was spending in its military support for Kyiv's forces.
In June, inflation over the previous 12 months hit 9.1 percent, its highest level since 1981. In May, President Joe Biden signed a $40 billion support package for Ukraine, and the U.S. supply of M142 High Mobility Artillery Rocket Systems, or HIMARS, has made a difference on the battlefield against Russian forces.
Facing spiraling costs at home, the price tag for U.S. support for Zelensky could become an issue at the ballot box for Americans in November's midterms.
But Zelensky said the war that Washington was helping Kyiv fight was "still the war against those values that are professed in the United States and in Europe."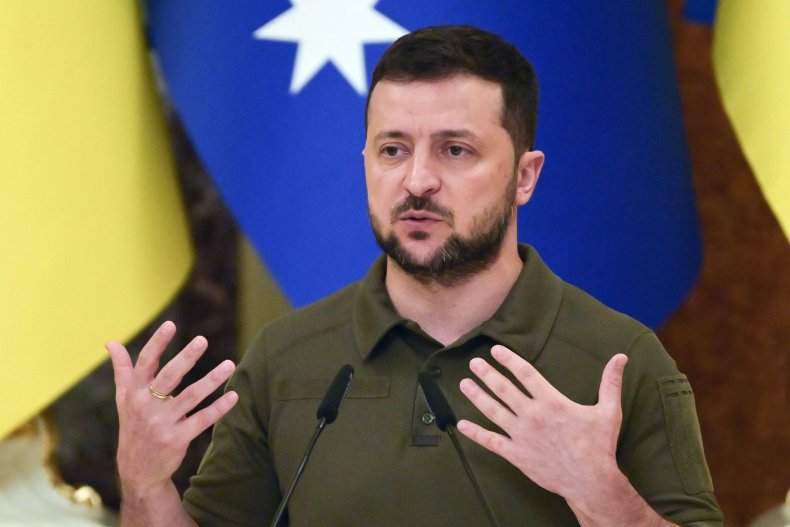 "As long as we are resisting it, the integrity of the United States will continue, therefore we are giving our lives for your values and the joint security of the world," he told the New York Post.
"Inflation is nothing, COVID is nothing," he said, "ask those people who lost their children, their peace, their property at the beginning of the full-scale Russian invasion. Who is thinking about masks and COVID? Who is thinking about inflation?
"These things are secondary, the most important thing is to survive and preserve your life, your family, and your country," he said. "We are doing this job, but the West has to help us."
"We are fighting for absolutely communal values."
Morgan interviewed Zelensky alongside his wife Olena Zelenska, who had just returned from Washington, DC, where she made a plea to Congress for more help to fight the war.
A number of Western leaders have gone to Ukraine to speak with Zelensky in person, including British Prime Minister Boris Johnson. Biden, while in regular contact with the Ukrainian president by phone, hasn't taken up the invitation to visit Kyiv.
When asked if Biden should come to Kyiv, Zelensky replied: "Very much" because it would be "the strongest signal which can be given in support of Ukraine."
He said that ultimately such a visit would be a security decision. "I think if he has a chance, he will come."
Zelensky also said that the scariest thing about Vladimir Putin is "that he is in fact sane, and he understands what he's doing. He knows how many people he kills. He knows how many people were raped."
When asked if the U.S. could do more to help Ukraine, Zelensky replied: "The help would not be sufficient until the war is over, and until we win."
Newsweek has contacted the White House for comment.
Sorgente articolo:
Zelensky Responds to Americans Unhappy With Spending to Support Ukraine – Newsweek