Russian soldiers reportedly blew up their own ammunition while unloading train cars under the cover of a smoke screen meant to hide the process from view and protect them from HIMARS attacks, according to Ukrainian intelligence.
The Main Directorate of Intelligence of Ukraine's Defense Ministry said in a new report Tuesday that the explosion took place on Monday. A train with military equipment and ammunition for Russian forces arrived at the Kalanchak station in Ukraine's Kherson region on Sunday, and the personnel began unloading the next morning, the report said. An explosion was reportedly heard in the work area at about 11:20 a.m. local time.
Immediately after the explosion, the convoy of train cars began moving in the direction of Crimea "without any warning," and Russia's personnel "scattered in panic," according to the report. While the intelligence agency said that it was not possible to determine the nature of the explosion, it presumed that it was due to "careless" handling of the ammunition or a fire "that arose as a result of inept use of pyrotechnics during the creation of a smoke screen."
The HIMARS, an acronym for M142 High Mobility Artillery Rocket Systems, that Ukraine said Russia was trying to hide from using the smoke screen have been praised by U.S. and Ukrainian officials for their effectiveness in the counteroffensive. The Biden administration announced Monday that it was sending more HIMARS ammunition to Ukraine as part of a new $550 million security assistance package.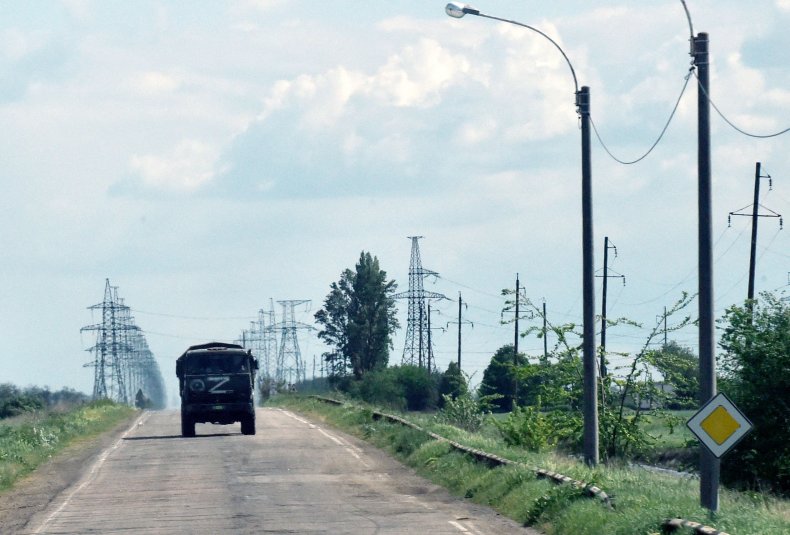 Russia has been increasing its military presence in the occupied southern Kherson region, according to assessments from the Institute for the Study of War (ISW), which provides frequent updates on the conflict in Ukraine. The ISW noted in its August 1 report that Vadym Skibitsky, representative of Ukraine's Main Intelligence Directorate, recently said that Russian forces withdrew airborne tactical groups from the eastern Donetsk region and redeployed them to Kherson two weeks earlier. The comments from Skibitsky were reported by The Guardian on Sunday.
He also said that Russia was preparing for a Ukrainian counteroffensive in the southern part of the country, as well as strengthening its positions in occupied areas of the south and increasing activity in "relevant areas."
"Social media footage has showed Russian forces moving equipment and personnel to both Zaporizhia and Kherson Oblasts in recent weeks," the ISW said. Zaporizhia is a region in southeastern Ukraine.
Newsweek was not able to independently verify the report on the Kalanchak explosion, and the Ukrainian directorate did not specify how it obtained the information. Russia's Defense Ministry and Ukraine's intelligence agency were contacted for confirmation and comment.
Sorgente articolo:
Russia Blows Up Its Ammunition While Trying to Hide From HIMARS: Report – Newsweek