Truss and Sunak face Sky grilling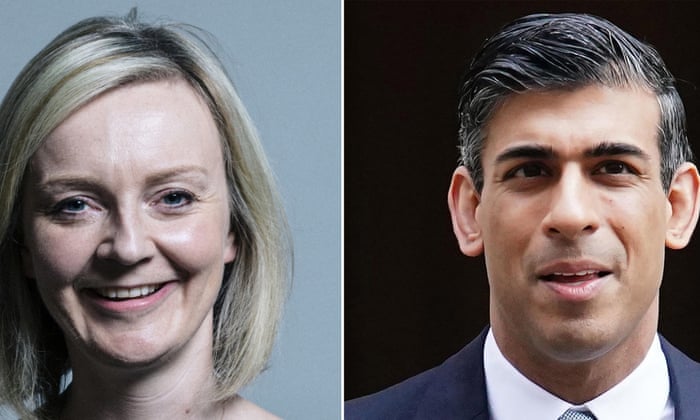 Liz Truss and Rishi Sunak will take part in a live televised debate tonight at 8pm.
Sky News' The Battle for Number 10 will see the two leadership hopefuls field questions from a studio audience comprising Conservative party members.
Truss and Sunak will then be interviewed by Kay Burley.
The 90-minute live broadcast can be watched on among others Sky News and viewed on Sky News' YouTube channel and here.
Key events
Here is a summary of today's events:
The Bank of England raised interest rates by 0.5 percentage points to 1.75% and warned the economy is heading toward a recession.
Labour said the interest rise was "further proof" that the Conservative party has lost control of the economy.
In light of the rise, Rishi Sunak said he would "prioritise gripping inflation, growing the economy and then cutting taxes" while Liz Truss said there was a need "for the bold economic plan that I am advocating. We need to take immediate action to deal with the cost-of-living crisis, grow the economy and delivering as much support to people as possible."
Labour has called on the government to scrap tax breaks for oil and gas producers as more families are pushed into financial difficulty.
NHS leaders have accused Liz Truss and Rishi Sunak of offering "glib soundbites, gimmicks and political rhetoric" on the health service rather than proper solutions to its growing crisis.
Chancellor Nadhim Zahawi, said he was aware that the forecasts "will be concerning for many people" adding that "addressing the cost of living is a top priority".
The Conservative former chancellor Ken Clarke has suggested that Liz Truss's plan for immediate tax cuts could make inflation "worse" and risks "contributing to the problem".
Michelle O'Neill, Sinn Féin's first minister designate, has sparked a backlash in Northern Ireland for saying there was "no alternative" to the IRA's armed campaign during the Troubles.
Labour has called for an investigation into claims Liz Truss broke strict spending rules by failing to declare thousands of pounds spent on a champagne dinner attended by Conservative MPs.
A poll by Ipsos found more than half of the British public believe the Conservatives do not deserve to be re-elected, but that many remain unconvinced that Labour is ready to take over.
The shadow treasury minister Abena Oppong-Asare has accused Boris Johnson and the chancellor, Nadhim Zahawi, of being "missing in action" as it emerged they are both on holiday despite warnings of inflation soaring further and the economy entering the longest recession since the 2008 financial crisis.
Sir Keir Starmer has been found to have breached the MPs' code of conduct by failing to register on time eight interests, including gifts from football teams and the sale of a plot of land.
Liz Truss and Rishi Sunak took part in a television debate for Sky News tonight. In a (very unscientific) show of hands from the live studio audience, Sunak came out as the choice for leader.
During the Sky News debate Truss said the forecast of a recession was "very worrying…but not inevitable".
Also during the debate, Truss was asked whether integrity has been lost in the Westminster bubble?
Truss said: "I would make sure we had zero tolerance for bad behaviour and also offer support to MPs."
She said she would look at the role of the ethics advisor.
"I slightly worry about outsourcing ethics to somebody else," she added.
During the debate, there was a question on trust. Nadine Dorries says you cannot be trusted, Burley directed to Sunak.
"Boris Johnson deserves enormous credit for what he achieved at the time," he replied. "It got to a point when it got too difficult for me to stay. It is simply impossible for a chancellor and PM not to be on the same page on economic policy."
He added that the government was on the wrong side of an ethical problem and "enough was enough".
Sunak referred to the Chris Pincher scandal.
"It wasn't OK to defend it because it was wrong. We need to bring trust and integrity and decency back into politics."
George Parker, political editor of the Financial Times, has picked up on Truss' response to the windfall tax.
Ian Birrell has criticised Sunak for playing the "populist" card during the debate.
The i's Paul Waugh on Kay Burley's question: "Will the real Liz Truss please stand up?" It will be revisited, and often, he says.
Full Fact has posted on Twitter regarding Liz Truss' comments tonight about going to fight in Ukraine.
After technology to measure who the studio audience would vote for between the two candidates "crashed", Burley resorts to a show of hands. The vast majority would vote for Sunak.
Some more from tonight's debate, Burley asked Sunak why so many people have come out in support of Liz Truss and not him?
"Plenty of people who sat around the cabinet table are supporting me," he said.
He said the Conservative party are "all one team, all one family and will come together after the leadership election."
Burley asks if he is too rich to be prime minister?
"I think the British public judge people by their character and actions, not by their bank account," he says.
Sorgente articolo:
Truss and Sunak face Sky grilling as Bank warns of long recession – as it happened – The Guardian