Russia has not managed to destroy any of the U.S.-supplied HIMARS in Ukraine in spite of Russian Defense Minister Sergei Shoigu saying otherwise, according to a Pentagon official.
Acting Pentagon spokesman Todd Breasseale directly refuted Shoigu, who said this week that Russia had destroyed six of the HIMARS in total, Reuters reported on Wednesday.
"We are aware of these latest claims by Minister Shoigu and they are again patently false," Reuters quoted Breasseale as saying. "What is happening, however, is that the Ukrainians are employing with devastating accuracy and effectiveness, each of the fully accounted for precision missile systems the U.S., our Allies, and partners have provided them to defend against Russia's brutal, criminal invasion."
Breasseale's comments did not appear to be publicly available on the Department of Defense's website as of Wednesday morning. Newsweek reached out to the Pentagon for access to the full statement from Breasseale.
The United States has so far sent 16 HIMARS, an acronym for M142 High Mobility Artillery Rocket System, to Ukraine, four of which Ukrainian Defense Minister Oleksii Reznikov announced on Monday had arrived. United States and Ukrainian officials have praised the effectiveness of the rocket launching systems in the war, which began on February 24, but the U.S. and Russia have offered conflicting accounts on whether any have been destroyed.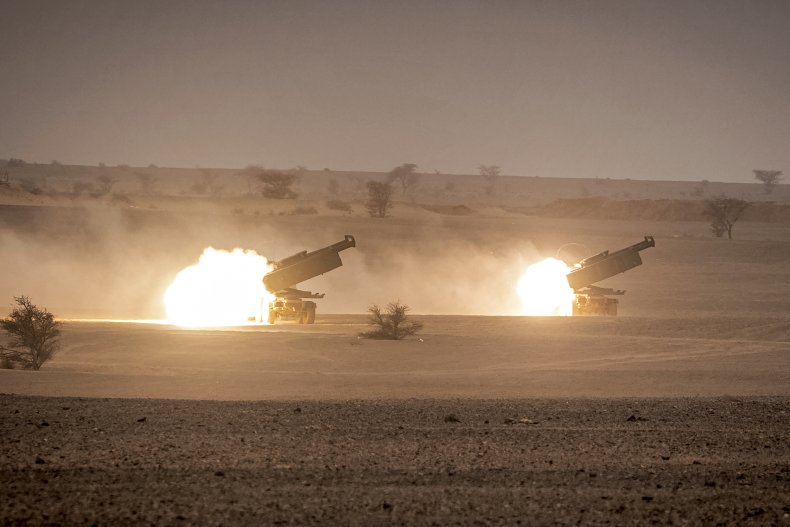 U.S. General Mark Milley, the chairman of the Joint Chiefs of Staff, said at a July 20 news conference that Russia had not destroyed any of the HIMARS by that time.
"To date, those systems have not been eliminated by the Russians, and I knock on wood every time I say something like that," Milley told reporters. "And they're [Ukrainians are] being very effective at using them, employing precision weapons against targets."
The next day, a spokesperson for Russia's Defense Ministry said that Russia's army had destroyed four U.S.-supplied HIMARS in Ukraine over a period of two weeks.
The same spokesperson, Lieutenant-General Igor Konashenkov, announced on Monday that two more HIMARS had been eliminated in Ukraine, bringing the total up to six. In reporting Shoigu's comments on the six HIMARS Russia said were destroyed, Reuters cited Interfax, though Newsweek was not able to locate the report it referenced.
Russia also said last week that it destroyed more than 100 HIMARS missiles in a strike on a Ukrainian ammunition depot, which Newsweek was not able to independently verify.
Newsweek reached out to Russia's Defense Ministry for comment.
Sorgente articolo:
U.S. Denies Any HIMARS Systems in Ukraine Destroyed by Russia – Newsweek